Contract and Contract-to-Hire with Flexible Service Options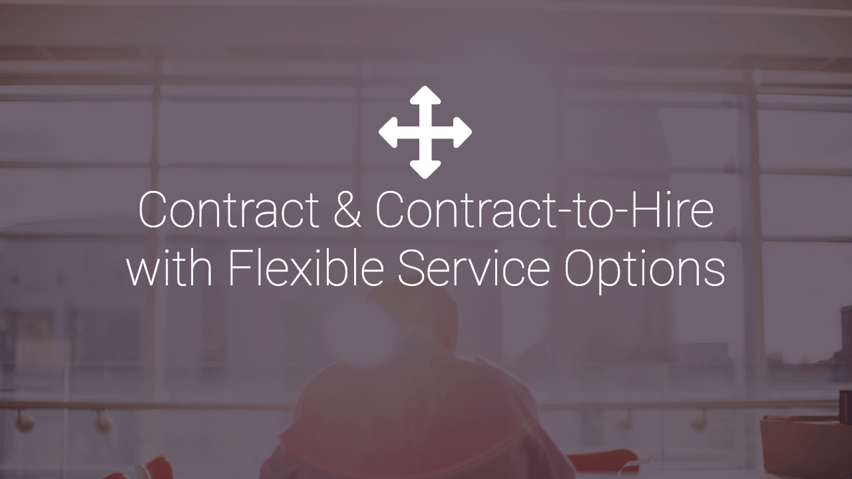 "Talent 101 has demonstrated the ability to not only locate qualified candidates, but goes a step further by understanding TI's business needs and then provides innovative approaches to meeting those needs." -Rob Simpson, Vice President of TI Worldwide Procurement and Logistics.
In an organization, an empty seat is like an open wound. This painful distraction interferes with a company's core mission. When there's a vacancy, managers must redistribute the workload or it's left undone. This can result in stress, costs, delays, and lost opportunity—as well as lower revenue. What's more, hiring to fill empty seats can take weeks or months, adding strain and extra costs.
Professional Expertise + Flexible Service Contract Options
Talent 101 recruits and delivers professional expertise to fill resource openings in your labor force. This allows for flexibility in project resource planning and execution phases. We also provide our client's with budgeting and financial flexibility by offering contingent labor as a variable cost.

Often, our clients are so impressed with our associates' abilities they seek to employ the person on a full-time basis. Talent 101 recognizes the client's ability to identify top-tier talent and their desire to retain that talent; therefore, Talent 101 has implemented favorable and flexible terms for the conversion of contingent labor to permanent employees.
Talent 101 recruits and delivers top talent in the following areas as related to the semiconductor and electronics industries:
Engineering
Embedded Development
Information Technology (IT)
Project Management (PM)
Marketing Support
Accounting & Financial
Business Analysis
Security and Chip Design and IT Systems
Why is Talent 101 successful in recruiting for hard-to-fill positions?
We live in an on-demand world. Every day, we access an abundance of products and services at the click of a mouse or touch of a button. Many companies have installed apps and other devices that allow employees to order food, report updates, and procure supplies in an instant. Talent 101 applies this same convenient access to recruiting.
"Downloading" the next hire should not be a reactive process where people begin a search with a stack of resumes. At Talent 101, we've increased the flow of talent by implementing our CIRCUIT.
We combine a pool of skills with better selection, interviewing, and quality checks to build a talent inventory focused on the semiconductor and electronics industries. The talent inventory presents qualified candidates to our clients the moment they are needed. Quick and decisive hiring—filling roles with greater speed, more accuracy, and less effort—should be a non-negotiable standard to service the hiring manager. Do you need to fill any open seat? Use Talent 101's CIRCUIT, we can achieve a zero-to-fill result.
Still have questions about using a contingent workforce? Try reading our recommend article: What is a contingent workforce, and why should you use it?