Talent 101 Recognized for Excellence by Texas Instruments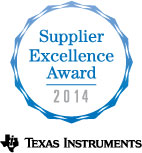 The annual award honors companies whose dedication and commitment in supplying products and services meet TI's high standards for excellence. Recipients are an elite group of suppliers chosen for their exemplary performance in the areas of Cost, Environmental & Social Responsibility, Technology, Responsiveness, Assurance of Supply, and Quality.
Out of 10,000 suppliers globally, only 16 companies received the award and Talent 101 is the only recipient in the staffing services category.
Frequently Asked Questions by TI Managers
RESOURCE
I found a qualified resource myself. How can we onboard and start the resource on my project?
For resources that TI managers recruit directly to work as a contractor on their projects, Talent 101 will provide payroll services. Talent 101 will hire, employ and support your resource as their own employee on a W2 basis and comply with all Federal and State benefits. Talent 101 will manage all the TI on-boarding, including background check, drug test, safety training (if required), getting the badge and delivering the resource to your location on the first day. We can provide this service for long or short term contract, or if your intent is to hire the contractor later as a full time TI employee, we can do contract-to-hire.
INDEPENDENT CONTRATOR
I have identified a contractor to work on my project. She/he works as an Independent Contractor (IC) on a 1099 bases. Can you onboard this contractor?
Talent 101 can help. Recent updates by the IRS on the definitions of who is an Independent Contractor (IC) and who is an employee requires Talent 101 to first qualify the status of your contractor according to IRS rules. It is like a duck: if it walks like a duck and quacks like a duck, it's a duck. In other words, if the position requires the contractor to be directed as to how, when, where, and with what to do the job and does not have his or her own company, then get quacking… she/he is a W2 employee. We do this qualification and proper classification to protect Texas Instruments from IRS audits. If the IC qualifies, Talent 101 can sub-contract, on-board and start the Independent Contractor on your project. If the IC does not qualify, Talent 101 can payroll your candidate as our employee on a W2 basis.
NON-TI VENDOR
I found this company who can help me with a solution. They are not preferred or approved TI vendors. How can I engage this company to do the work?
Talent 101 works with the TI procurement department in sub-contracting non TI vendors. Talent 101 will qualify the vendor to make sure they are a real company in good standing. Next we will provide them with a sub-agreement for services at TI with a purchase order and Statement of Work (SOW) for deliverables. Talent 101 will on-board the sub-contractors' worker(s) that will be doing the work at TI, according to TI rules.
SERVICE AREA
Where can Talent 101 provide their services to TI?
Talent 101 takes a global approach to the services it provides TI. We have or have had employees and sub-contractors working for TI organizations around the world.
NON-ENGINEERING SERVICES
My organization within TI is non-engineering. Can I still Talent 101 services for payrolling, sub-contracting or bringing in an Independent Contractor?
Yes. Talent 101 focuses exclusively on the semiconductor industry, and although engineering is our core business, we can provide services to other departments. At TI, Talent 101 supports Information Technology, Accounting, Human Resources, Flight Operations, Marketing/Communications, Manufacturing, Facilities and other operations with our services.