Talent 101 has received the Texas Instruments (TI) 2014 Supplier Excellence Award.
The annual award honors companies whose dedication and commitment in supplying products and services meet TI's high standards for excellence. Recipients are an elite group of suppliers chosen for their exemplary performance in the areas of cost, environmental & social responsibility, technology, responsiveness, assurance of supply, and quality.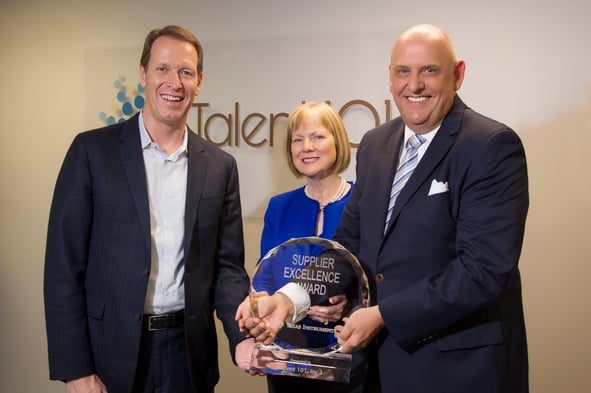 Rob Simpson (above left), vice president of TI Worldwide Procurement and Logistics, along with members from TI's engineering and IT departments, presented the award to Talent 101 CEO Janet Trompert on May 13, 2015. The award was first announced on April 2, 2015 – TI recognizes 16 suppliers for excellence. At the announcement, Simpson said, "Along with our more than 100,000 customers, we expect world-class performance and execution from our suppliers. These winners have demonstrated outstanding commitment and ability to support and provide value to TI."
Out of 10,000 suppliers globally, only 16 companies received the award, and Talent 101 is the only recipient in the staffing services category.
Talent 101 was recognized in part for their exemplary service in supporting TI's engineering and IT departments by providing value above placing skilled technical talent at TI.
"Talent 101 has demonstrated the ability to not only locate qualified candidates, but goes a step further by understanding TI's business needs and then provides innovative approaches to meeting those needs. One innovative approach resulted in significant savings for TI while improving performance," said Simpson.
Janet Trompert, CEO of Talent 101 says, "We were honored to be included in TI's supplier mentoring program in 2012. The knowledge we received from working closely with the TI procurement team helped us shape our offerings to achieve positive results for both companies."
Established in 2010, Talent 101 is a global services provider for the semiconductor industry and offers a total workforce solution for recruiting, hiring, statement-of-work and management requirements. We specialize in top technical talent in the fields of engineering, testing and IT. We're also proud to be a WBENC – Certified Women's Business Enterprise.