There's no denying that AMD is no longer the proud anti-Intel company it once was, but that doesn't mean it's irrelevant. The chip-maker recently announced that it will begin shipping samples of its ARM-based Opterons later this quarter, a move that might help it to regain some lost ground in recent years.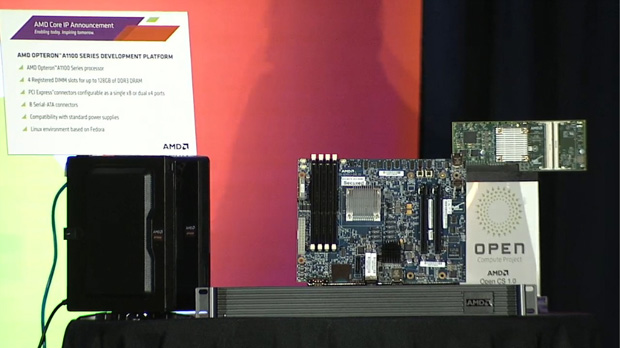 (image via techreport.com)

Codenamed "Seattle," the ARM server chip dubbed as the Opteron A1100 is AMD's promise of a greener future for the cloud. The shift from desktop to mobile means that the general public is becoming increasingly reliant on the cloud for their computing needs. ARM-based servers, though they won't completely make x86-based servers obsolete, are perhaps solutions that will help to cut down on the amount of energy it requires to run a datacenter.

"The needs of the data center are changing. A one-size-fits-all approach typically limits efficiency and results in higher-cost solutions," said Gopalakrishna, vice president of AMD's server business unit. "The new ARM-based AMD Opteron A-Series processor brings the experience and technology portfolio of an established server processor vendor to the ARM ecosystem and provides the ideal complement to our established AMD Opteron x86 server processors."

The Opteron A1100 system-on-chips (SoC), manufactured on the 28nm process, features 8 ARM Cortex-A57 cores, with 4MB of L2 cache and 8MB shared L3 cache. AMD has also enabled the chip to support up to 128GB of DDR3 or DDR4 ECC memory—unbuffered, registered or SODIMMS. On the I/O front, the SoC allows for eight PCI-E 3.0 lanes, eight Serial ATA 3.0 ports and two 10Gb/s Ethernet ports.

The sample development kit which AMD will ship later this quarter is packaged in a micro-ATX form factor, with the Opteron A1100 SoC as the centerpiece. Developers will have access to the board's four RDIMM slots, two PCI-E connectors (single 8X or dual 4X configuration), eight Serial ATA and UEFI boot. The kit comes with Linux based on Fedora, while operating systems like Red Hat and SUSE will also be supported. Developers will also be able to utilize popular languages like Perl, PHP, Python and Ruby right away on the ARM-based board.

There's a certain amount of doubt in just about any AMD products as of late, and we'll have to wait to see if the struggling chip-maker can carve out a spot for itself in the emerging ARM-based server segment. AMD states that its Opteron A1100 series are interoperable with existing x86 setups, making this ARM proposal an easy transition for any vendors wishing to test the water.

Although the demand for cloud solutions is growing exponentially, some forms of data are more in demand than others. For instance, an old photo album may be in much lower demand than a chart-topping sound track. In this case, it is better that the old photos remain in cold storage—that is, they should be stored in parts of the cloud that doesn't require too much energy to run. ARM-based servers like that of AMD's Opteron A1100 series may be able to serve that purpose.