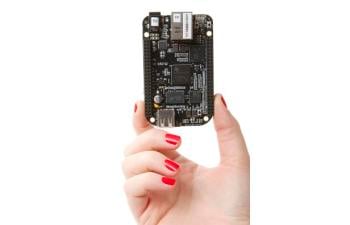 (Image via T.I.)
The BeagleBone Black has been one of the popular low-cost ARM development boards coming out of Texas Instruments in recent months for budget-minded hobbyists due to its $45 price-tag, being Linux friendly, and support for powering off a USB cable. The BeagleBone Black launched in Q2'2013 with the AM335x.
This AM335x ARM SoC runs at a mere 1GHz and is only a single core solution. Other specs on this single-core ARM development board is 512MB of DDR3 RAM, 2GB of eMMC on-board flash storage, a 3D graphics accelerator, and two PRU 32-bit micro-controllers.
This is far from being the fastest ARM development board around. The specs on the BeagleBone Black are steps ahead of the Raspberry Pi with its ARM1176JZF-S that has a 700MHz single-core ARMv6k processor while also boasting just 512MB of system memory. This AM335x 1GHz ARM Cortex-A8 development board with 512MB of RAM and 2GB eMMC on-board flash also has a microSD slot, a single USB 2.0 host port, a mini-USB 2.0 client port for power (or a +5V DC jack), one 10/100 Ethernet port, a debug serial header, and microHDMI for video output. The graphics support up to 1920 x 1080 at 24Hz. The SoC relies upon PowerVR SGX530 for its 3D graphics, which will immediately frighten most Linux desktop users due to the lack of open-source support and working PowerVR blobs can be hard to come by for different configurations.
Over the original BeagleBone, the Beagle Bone Black Edition runs at 1GHz compared to 720MHz on the earlier version, the original BeagleBone only had 256MB of RAM and only a microSD card with no eMMC, and did not have any video output support.
The BeagleBone Black shipped with Angstrom Linux on its 2GB eMMC storage. Aside from the embedded-focused Angstrom Linux, there's also support for Android and Ubuntu on this ARM development board plus there's been spins of Fedora Linux and other ARM Linux distributions for this sub-$50 ARM board. For a hobbyist that is just starting out the BeagleBone Black is a good option to have when shopping for ARM development boards.
What project are currently working on? Learn how to connect with other semiconductor professionals through LinkedIn features outlined in our free guide.