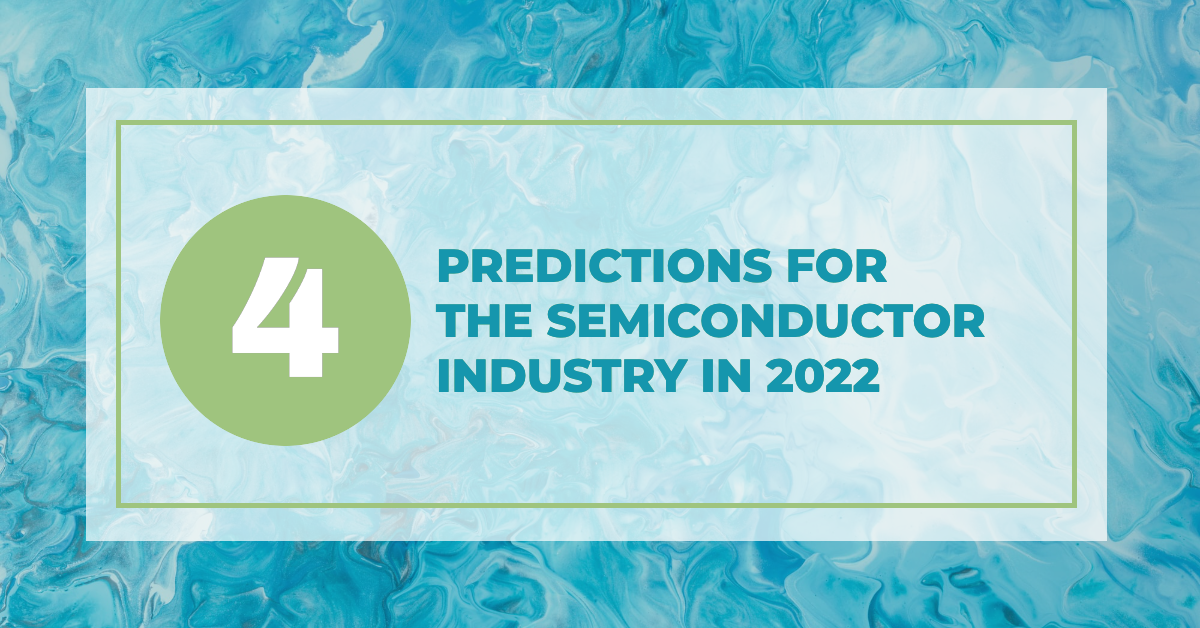 Predicting the future is typically a fool's errand— especially given the way the last few years have played out. However, there are some solid predictions for the semiconductor industry this year that are based on solid evidence from experts in the field. We sought insights from leading sources to share some of the top forecasts for 2022. Among them are semiconductor sales, technology breakthroughs, supply chain status, and labor trends.
SALES FORECAST
In December, the Semiconductor Industry Association (SIA) announced worldwide sales of semiconductors were $48.8 billion in October 2021, an increase of 24% over the October 2020 total of $39.4 billion. It was also 1.1% more than the September 2021 total of $48.3 billion.
"Global semiconductor demand remained high in October, with year-to-year sales increasing substantially across all major regional markets," said John Neuffer, SIA president and CEO. "Annual chip sales and units are projected to reach moderate annual growth in 2022."
The global market in 2022 is projected to generate moderate growth of 8.8% to reach $601.5 billion in annual sales. Regionally, year-to-year and month-to-month sales increased across all major markets include: the Americas (29.2% year-to-year, 2.6% month-to-month), Europe (27.3%, 2.8%), Japan (23.7%, 1.1%), Asia Pacific/All Other (22.6%, 0.2%), and China (21.1%, 0.3%).
TECHNOLOGY FORECAST
In September 2021, the market research company, TrendForce, published a list of the 10 major semiconductor technology trends expected to emerge in 2022. They include:
Micro- and mini-LED display development will revolve around active-matrix solutions.
More advanced AMOLED technology and under-display cameras will support the next stage of smartphone revolution.
The foundry industry will welcome the arrival of 3nm process technology from TSMC's FinFET and Samsung's GAA technologies.
DDR5 products will gradually enter mass production, and NAND Flash stacking technology will reach beyond 200 layers.
Mobile network operators will undertake more trial projects for 5G SA network slicing and low-latency applications.
Satellite operators will compete over the low-earth orbit satellite market, with 3GPP supporting non-terrestrial networks.
As part of the IoT evolution, development will likely focus on CPS (cyber-physical systems), which combine 5G, edge computing, and AI technologies.
AR/VR equipment manufacturers are expected to deliver fully immersive experiences via integration of additional sensors and AI processing.
Automated valet parking is expected to emerge as a natural extension of autonomous driving technology.
The third-generation semiconductor industry will move towards 8-inch wafers and new packaging technologies while expanding production capacity.
SUPPLY CHAIN FORECAST
While 2022 won't see the end of the supply chain struggle, experts say it will be the year that we are over the hump.
According to Deloitte Global, many types of chips will still be in short supply throughout 2022, and the shortage could continue into 2023. However, shortages will become less severe and will not affect all chips. By early 2023, the industry is expected to reach a supply-demand equilibrium.
Accenture predicts that, as demand for chips continues to soar, supply chains could remain constrained. In the meantime, semiconductor manufacturers should focus on building more resilient supply chains and use just-in-time models selectively.
According to Supply Chain 247, the electronic components supply chain will grapple with lead time delays, availability issues, and pricing fluctuations throughout 2022. Here are some specifics:
Chips:

Multiple component company executives believe that the chip bottleneck will ease up in the second half of 2022. By early 2023, it will "move into the rearview mirror."

Flash Memory: Industry insiders anticipate that DRAM and NAND prices will decrease in 2022. However, they also forecast that availability will become a bigger problem for specific products, such as higher capacity smartphones and PCs, in the second half of the year.
Networking and Server Components: Supplies will be constrained until mid-year. But the industry should catch up in the second half of 2022 as components become more readily available.
LABOR FORECAST
The semiconductor labor shortage was one of the hottest topics of 2021. The heat is likely to remain high in 2022. However, there are many hopeful signs pointing to a light at the end of the tunnel. One hopeful report is from the Semiconductor Industry Association's new workforce study, which theorized a solution. The project team analyzed the U.S. semiconductor workforce and the economic benefits that could be generated from a robust federal investment in domestic chip production.
The study projects that a $50 billion federal investment program to incentivize domestic semiconductor manufacturing could create an annual average of 185,000 temporary American jobs and add $24.6 billion to the U.S. economy. The enduring positive impact of such a program would be to add 280,000 new jobs to the U.S. economy of which 42,000 would be directly employed in the semiconductor industry. This would boost U.S. semiconductor industry employment to 319,000 and its total jobs impact to 2.13 million by 2027.
Just as we witnessed in 2021, the semiconductor industry will continue to face many challenges in 2022. However, as these four leading trends indicate, forces are underway to overcome the challenges and help the industry to begin to move past them in 2022.
Looking for qualified candidates to fill open positions at your company? Let the Talent101 Circuit help.