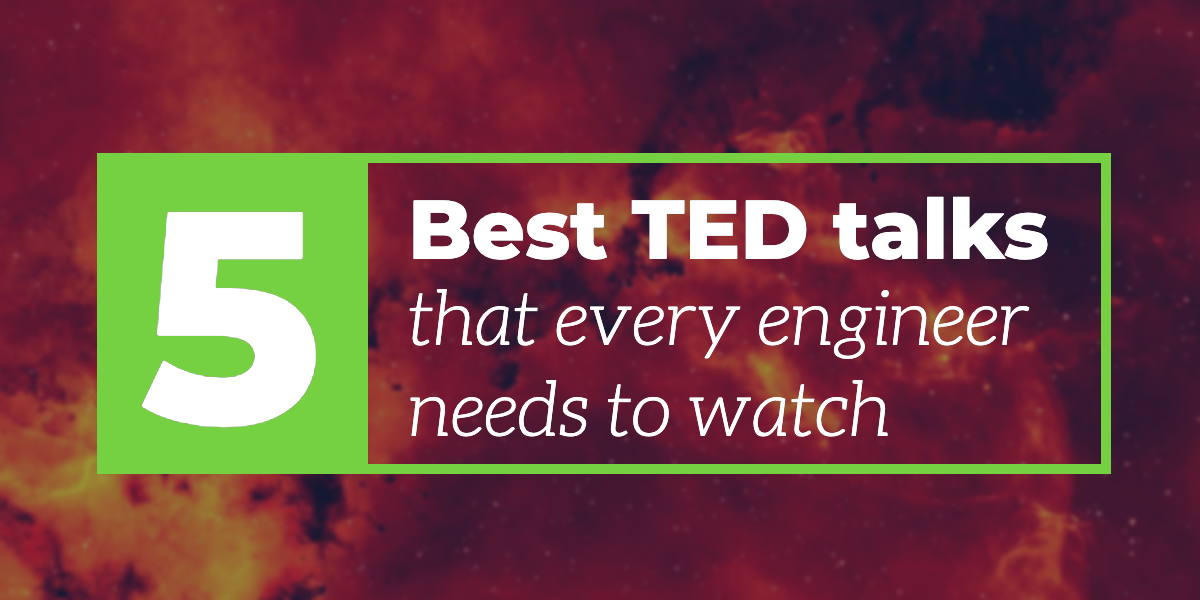 Today, we're closer than ever to innovative breakthroughs in connected devices, autonomous cars, AI-driven machines, and robots. There has never been a better time for engineers to dive into more advanced technology and rethink the way they work. Yet, with more and more on engineers' plates, it can be challenging to find time for learning, inspiration, and personal growth.
For engineers who are feeling uninspired or lost in their careers, help is on the way. We've curated a list of five inspiring TED talks ranging in topic from personal development and work management to new technology and creative ways to innovate. Here's what you need to watch:
"Procrastinating is a vice when it comes to productivity, but it can be a virtue for creativity." — Adam Grant
In this talk, Adam Grant explores the science of originals, people who are nonconformists, drive creativity and change the world — people we might assume to be like Steve Jobs or Martin Luther King Jr. Yet, Grant finds that originals today look nothing like you'd expect. He takes you through three things he has learned about recognizing original thinkers and how we can all become a little more like them.
"I do see a place where, ultimately, instead of using data only to become more efficient, we will all use data to become more humane." — Giorgia Lupi
If data represents just a snapshot of reality, how do we translate those numbers into relatable concepts? An advocator for humane data, Giorgia Lupi talks about envisioning ways to use data to build empathy and connect with others on a deeper level. In this talk, she explores how to be faithful to scientific accuracy while also allowing space for exceptions to flourish.
"The worlds of art and design were not, in fact, incompatible with science and engineering. I realized, when combined, you could create things that were amazing that couldn't be done in either domain alone." — Bran Ferren
The marvels of ancient art, like the Pantheon, are undoubtedly built through ingenious feats of engineering. In this talk, Ferren shares that the domains of art and engineering are more powerful together than separate. He makes us recognize that the ingredients for miracles like the Pantheon are all around us, waiting for visionaries with multidisciplinary skills and passion to harness them and drive us toward a better, more advanced future.
"I think the value of beauty and inspiration is very much underrated, no question. But I want to be clear. I'm not trying to be anyone's savior. I'm just trying to think about the future and not be sad." — Elon Musk
When you think about someone who can achieve the impossible, you might think of Elon Musk — the brains behind SpaceX, Tesla, Hyperloop, and the SolarCity production facility. The ideas he presents in this insightful lecture opens the world of innovation to new streams of probability, advancing what's inevitable and engineering what's not. From sustainable tech to a multi-planet species, Musk talks about bringing larger-than-life ideas a bit closer to reality.
"The goal is not to do business with everybody who needs what you have. The goal is to do business with people who believe what you believe." — Simon Sinek
There's a reason why this talk has garnered an incredible 44.5 million views. In his lecture, Simon Sinek codifies a simple but powerful model based on how all great leaders think, act, and communicate. Using the principle of why (and biology), he explains how anyone can lead and forge success with this timeless, tried-and-true philosophy.
There are many more TED talks dedicated to helping engineers and leaders expand their knowledge and creativity while driving personal growth. By watching lectures that fit your passions and teach you new skills and perspectives, any engineer or technology leader in the semiconductor field can stimulate their creativity and hunger for learning.
For more resources on engineering talent and advice, subscribe to our blog.