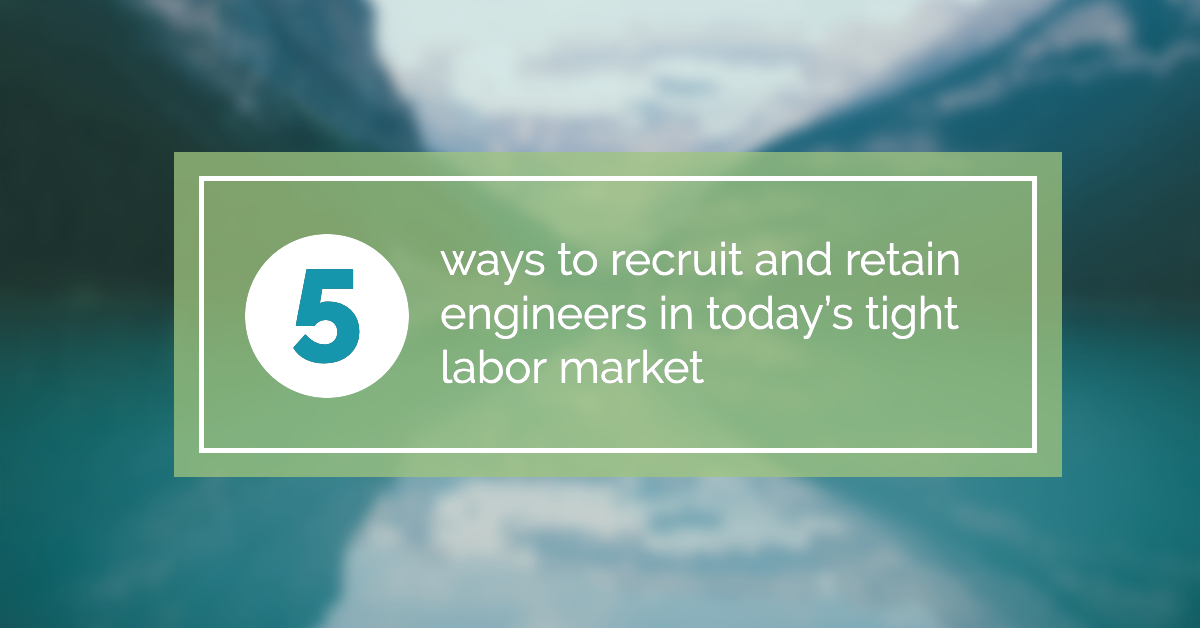 Skilled engineers are more in demand than ever. To keep pace with the rapid rate of change in today's world, engineering opportunities are being created faster than employers can fill them. This is particularly frustrating now, when the semiconductor industry is struggling to keep up with demand for products and innovations thanks to a chip shortage.
In today's marketplace, it's difficult, but not impossible, to attract and retain talent. To overcome the challenges, employers need to stay current with the latest hiring trends. Here are five ways to be more proactive.
Understand engineers' point of view
Talented candidates, particularly at high levels, are weighing their opportunities differently now. Factors such as meaningful work and proximity to family have taken on added importance. The freedom to work remotely has become a major consideration. Also, employees want to have some level of control over the scope of their jobs. The point is that merely offering ping-pong and free snacks isn't going to cut it anymore.
Gartner found that today's job candidates are doing their research and scrutinizing companies to understand them better before accepting job offers. More that 65% of candidates have cut short the hiring process because they found certain aspects of the job — work-life balance, development opportunities, company culture, for example — unattractive.
Sell your company to potential employees
Today's engineers can pick and choose their preferred places of employment. As a result, the best candidates are increasingly selective about whom they work for. To be in the running, companies need a compelling employment value proposition.
Selling your company also means proactively approaching potential employees. "Companies seek to fill their recruiting funnel with as many candidates as possible, especially 'passive candidates,' who aren't looking to move," stated the Harvard Business Journal. "Often employers advertise jobs that don't exist, hoping to find people who might be useful later on or in a different context."
Take a long-term view
Rather than merely dusting off a list of job requirements and posting it on job sites the next time you need to hire an engineer, take a long view of the position. Look beyond the immediate needs of the business units and consider what skills the larger organization must acquire to succeed in the future. In other words, identify the long-term talent gaps at the organizational level.
This approach allows hiring managers to look beyond the traditional talent pool. For example, they could look at in-house talent with adjacent skills, candidates whose skills are self-taught, and people working in different geographic locations.
Retain the engineers you already employ
In such a tight talent market, retaining existing workers is as important as attracting new ones. Most companies need to update their approach to retention. Improving relations with existing talent can help companies hold on to the top performers long enough to weather the storm.
The secret lies in providing employees with the benefits and tools they value most. Consider these three tips for retaining the best engineering talent.
Offer better upskilling opportunities: Companies should institute training programs that are attractive to engineers.
Provide a great workplace experience:

According to Gallup

, only two in 10 employees strongly agree that their performance is managed in a way that motivates them to do outstanding work. Companies need to do more to turn this situation around.
Boost your benefits and pay: Many engineers with "follow the money." To be competitive, companies need to make sure their compensation packages are competitive.
Know when to call an expert
Sometimes the best way forward is to call on the expertise of people who recruit for a living. The advantages of seeking the support of a professional hiring firm include having immediate access to an existing pool of top talent, saving internal resources the time and effort, and gaining the advantages that best practices bring to the art and science of hiring the right engineers. With this approach, you can take advantage of a fast and convenient hiring process, versus a long, difficult, and challenging hiring marathon.