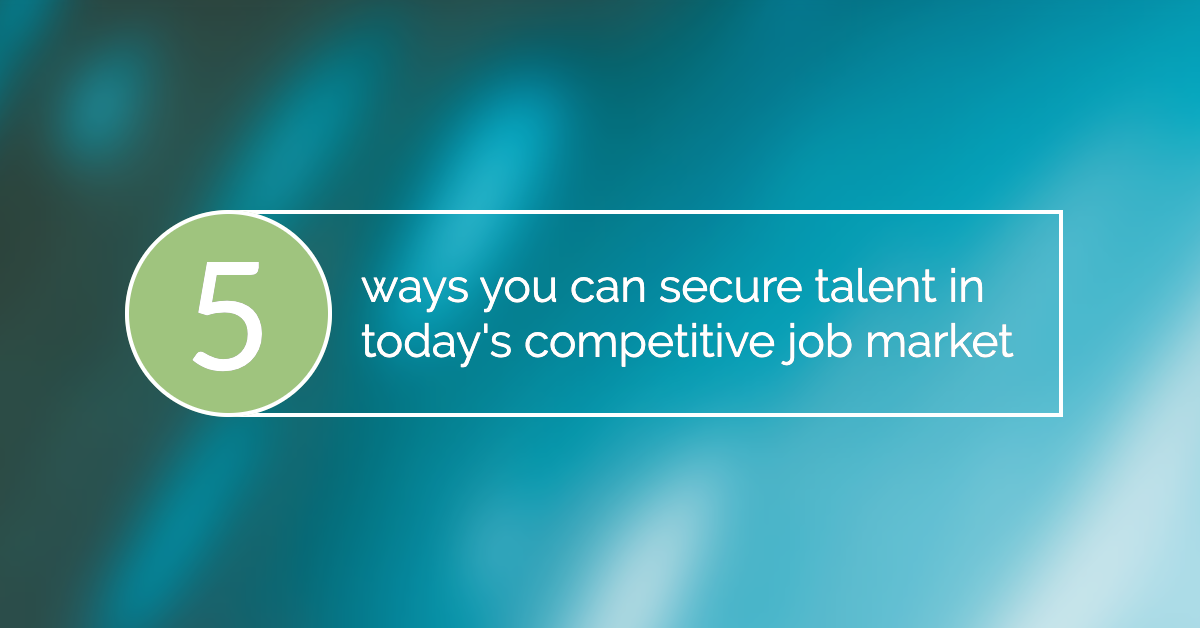 Today's job marketplace is more competitive than ever — not for employees, but for employers. Nearly every industry is struggling to fill in-demand positions. In fact, in 2022, there have been an average of 11 million U.S. job openings every month, but only about six million candidates looking for work, according to the U.S. Bureau of Labor Statistics (BLS) Job Openings and Labor Turnover (JOLT) monthly reports.
Rather than seeing the glass as half empty, some experts advise employers to view the current environment as an opportunity to improve their hiring processes; for example, by promoting their company's positive attributes and realigning its priorities with what today's workforce wants from an employer.
In this article, we pulled together five of the best tips for attracting and employing new talent in a competitive marketplace.
1. Start the applicant experience with dynamic job postings
You might be familiar with the concept of the "buyer's journey." It's the path that buyers take before they make a purchase. It demarcates where companies can improve their sales strategy along the selling pathway. Similarly, the concept can be applied to the "applicant experience." Map out the steps applicants take before they are offered a job with your company, then optimize each step of the experience — in particular, by working to build relationships with your top candidates and reducing friction throughout the process.
The applicant experience begins with the way you write your job description. Applicants will begin forming an opinion of your company as they read it. Is your job posting giving them all the information they need? Is it inspiring them with the possibility of an excellent employment opportunity in your company? Does your job post share insight into the identity, values, and beliefs of your company? All these factors will go into your applicants' first impression of your company and the job opening.
2. Rethink your recruiting tech stack
If you haven't deployed a tech stack that can enable more personable and interactive people experiences, you may want to do that now. The right technologies can help your recruiting process in several important ways. For example, AI chatbots can provide a way to answer applicants' basic questions on the spot. As a result, they won't have to wait for answers. When they talk to a live recruiter they'll be well past the basics, which means they can have a more in-depth discussion with a real person.
Other additions to your recruiting tech stack could include referral automation, sourcing technology, recruiting intelligence, programmatic advertising, and marketing automation. Not only can the right technologies support the recruiting and onboarding process, but also they can help employers provide applicants with a more positive recruiting experience and, thereby, make a strong first impression.
3. Stay in touch with top candidates
One of the biggest mistakes that employers make in the hiring process is taking too long to hire, according to Robert Half. In fact, 62% of professionals said they lose interest in a job if they don't hear back from the employer within two weeks after the initial interview. That number rises to 77% if there is no status update within three weeks. The risk is that job candidates will likely move on if they're left waiting to hear back.
To avoid this potential missed opportunity, the staffing agency advises companies to stay in touch with top candidates. "Keeping in close contact with leading candidates will reinforce your interest in bringing them aboard. Be as transparent as possible. Let them know you haven't forgotten about them and be clear about the next steps. In addition, ask if they have questions that arose after the interview."
4. Promote your employer brand, culture, and benefits
Today's job applicants want more from their employers than just a paycheck. While income is, of course, important, they also want to know that their employers' mission and vision align with what they hold to be valuable. They want a workplace culture that gives them the workplace experience they are looking for. And they want to know that their potential employer is generous when it comes to employee benefits.
Share more about your company in your job postings and on your social media platforms, too. For example, tell candidates why your company exists and what it stands for. Also, share the behaviors and character traits your employees value and support. Communicate what aspects of your workplace culture impact workers' day-to-day experiences and help bond your teams together. Applicants want to gather this kind of workplace insight.
What's more, to ensure your benefits package is competitive, continually evaluate your offering against expectations in today's labor market.
5. Work with a talent solutions provider like Talent 101
Talent 101 connects high-quality employees with our global technology clients' projects. We've already done the hard work of finding technology experts. Our talented candidates value the opportunity to work hard, be creative, show leadership, and have fun on the job. They are looking for contract and direct-hire (full-time) positions in information technology, engineering, accounting, office administration, and support. If you need quality workers in these fields, let us know. We'll work with you to help you fill your open positions with the right candidates.