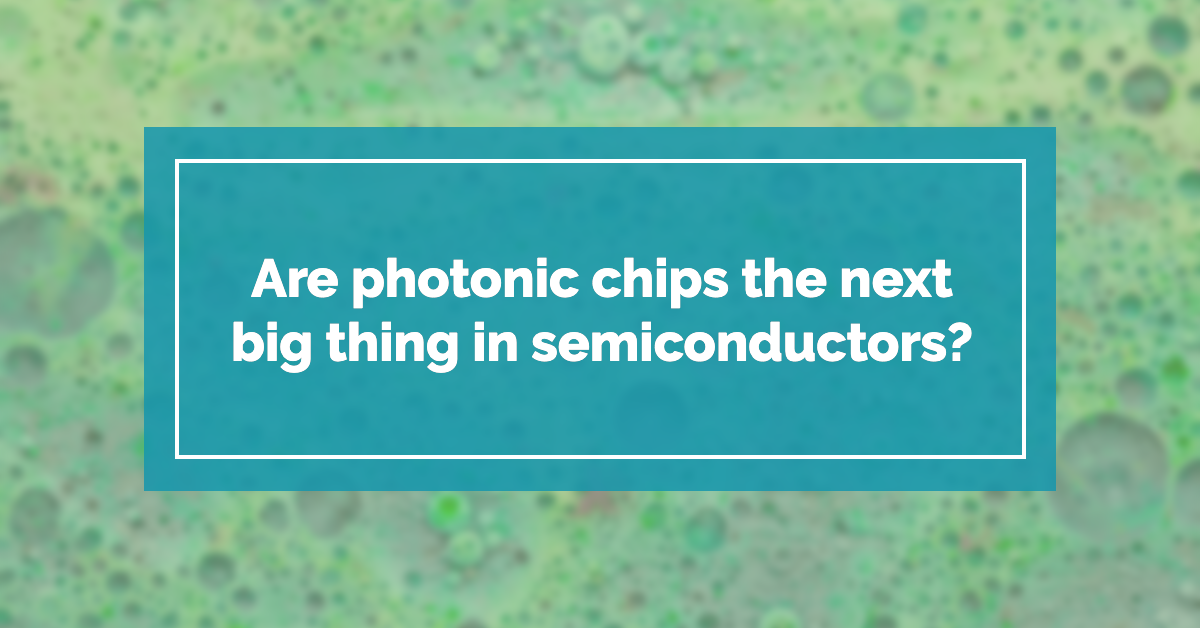 Interest in photonic chips is expanding at lightning speed. The market for silicon photonics is expected to quintuple from 2020 ($516 million) to 2025 — reaching $2.6 billion, according to Gartner. In fact, speed is one of the three factors driving this accelerated growth.
Photonic chips transmit signals with light instead of electricity. The advantage of photonics over electronics is that light is faster and more functional over large bandwidths. The most common method of deploying photonics in chip design currently is silicon photonics, which pairs photonic architecture with traditional circuits in a single chip.
An "increased interest in artificial intelligence and machine learning workloads needs faster networking. So we need faster interconnections and higher and higher bandwidth," which can be provided by integrating photonics, says Gartner.
Just a few of the latest developments in photonic chips include:
Scientists at

Oxford University

claimed a breakthrough in

chip design

when they unveiled a light-based silicon photonic chip said to be 300-times faster than a traditional electronic semiconductor.
One set of chips developed by

Swiss Federal Institute of Technology

in Lausanne boosts signals a thousandfold due to their unprecedented output power.
The

University of Pennsylvania

designed a photonic chip that can recognize an image in under 0.57 nanoseconds. The test chip was just 9.3mm square and is said to be "the first deep neural network implemented entirely on a scalable integrated photonic device."
Based on the sheer number of news reports about this technological breakthrough, it certainly looks like photonic chips are poised to become the next big thing in the semiconductor industry. Here are some things to know:
Multiple uses for photonic chips
Although much of the development is in the early stages, the number of practical applications for photonic semiconductors on the market is expanding as organizations seek new solutions. Here are a few use case examples:
Deliver increased performance and greater energy efficiency in settings such as data centers, particularly as the limits of traditional chip technology are reached at the end of Moore's Law.
Employ silicon photonics chips to power large and complex AI workloads.
Deploy heterogeneous integration to enable integration of chiplets and different designs.
Allow parallel processing on a single chip.
Power supercomputers and quantum computers by creating and stabilizing qubits, which power quantum machines.
Use as part of Lidar systems in autonomous vehicles.
Create affordable point-of-care diagnostics.
Increasing investments in photonic chips
Based on their potential, investments in photonic chips are on the rise from semiconductor businesses, private equity firms, and businesses like Meta, Google, and Microsoft. Three examples of investments this year include:
PhotonDelta secured $1.019 billion in public and private funding to support photonic chip companies. The firm works with MIT to produce a roadmap for the development of photonic semiconductors. The company says that interest in silicon photonics has "never been higher."
According to CEO Ewit Roos, "Photonic chips are one of the most important technological breakthroughs of the last decade. Not only do they allow for the creation of devices that are faster, cheaper, more powerful, and greener — but also they enable radical new innovations like affordable point-of-care diagnostics or quantum computing to become a reality."
iPronics raised $3.765 million to accelerate the adoption of programmable photonic chips. The company's goals include opening the window of opportunity to commercial applications that require faster computation, lower power, cost-effective solutions such as 5G, data centers, and real-time deep learning.
According to co-founder of iPronics, Jose Capmany, "We know that photonic computing is the answer to many of the bottlenecks of new killer applications, but designing and building one photonic chip for each of those applications is not practical. Reconfigurability of photonic chips with software is the answer."
Ayar Labs secured $130 million in additional financing for its work in chip-to-chip optical connectivity. The company's optical I/O solution eliminates the bottlenecks associated with system bandwidth, power consumption, latency, and reach. This enables new, previously unrealizable solutions for AI, high-performance computing, cloud, telecommunications, aerospace, and remote sensing applications.
According to Will Graves, Chief Investment Officer, "We believe that silicon photonics-based optical interconnects in the data center and telecommunications markets represent a massive new opportunity."
The impressive early-stage movement in photonic chips speaks to a promising future in accelerating the development of the next new thing in semiconductors. To stay up to speed on photonics and other developments in the semiconductor industry, make sure you're subscribed to the Talent 101 semiconductor blog.