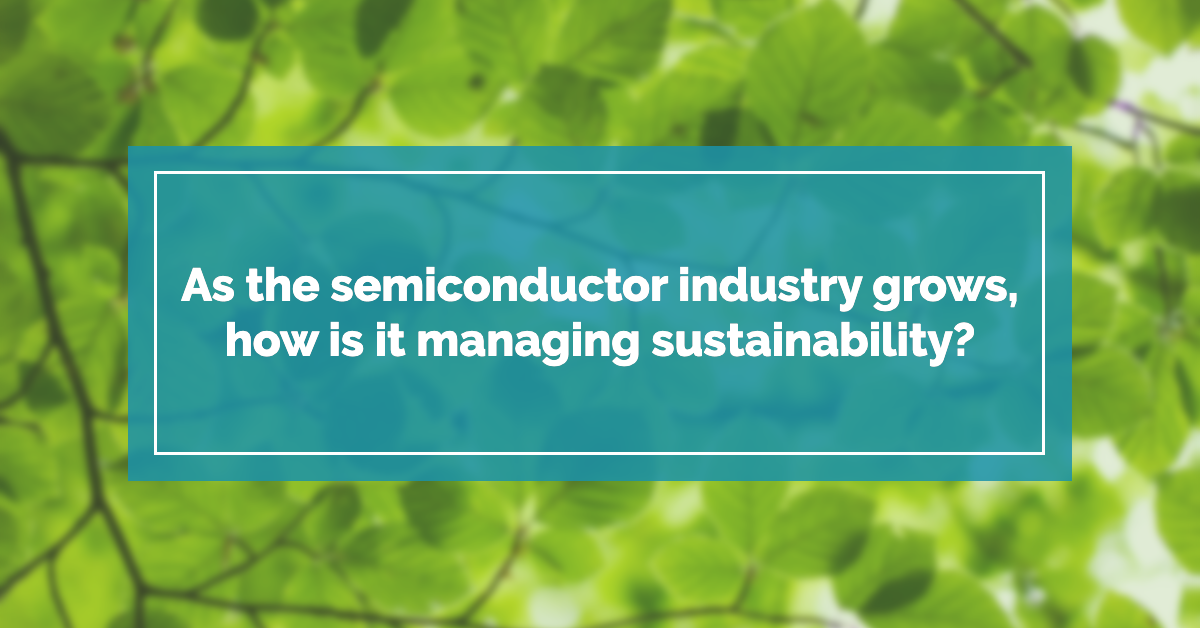 Attendees at the U.N. climate conference, COP27 Summit, which will be held on November 6 to 18 in Egypt have many topics to discuss, from financing the transition to clean energy to protecting the world's forests and future-proofing its cities. Another important topic is achieving sustainability in the semiconductor industry.
At a time when there is a push to expand semiconductor production, there is also a focus on making the industry greener. A 2020 study by Harvard researchers on the energy costs of computing found that chip manufacturing "accounts for most of the carbon output attributable to hardware systems."
So where does the industry stand today on the issue? Here are some of the latest reports from the field.
Advancing sustainability in semiconductor operations
Sustainability has become a growing concern within the semiconductor industry, according to McKinsey. The trouble is rooted in the industry's success. An annual growth rate of about 10% has led to a worldwide boom in fab expansion and construction, with more than 80 new fabs scheduled to come online by 2025.
While some semiconductor companies have created ambitious targets for reducing their emissions and doing their part to limit global warming to 1.5°C, many others have been less ambitious. The pressure to act may soon increase, however, since businesses across industries are now scrutinizing emissions along their entire supply chain.
Several of the industry's important end customers, including Apple, Google, and Microsoft, have committed to reaching net-zero emissions for their full value chain and set aggressive timelines. Some semiconductor companies have responded by setting their own emissions goals, for example:
Infineon plans to reduce greenhouse-gas emissions by 70% by 2025 and aspires to reach carbon neutrality by 2030.
Intel committed to net-zero GHG emissions in its global operations by 2040 and has targeted achieving 100% use of renewable electricity by 2030.
Several players have also committed to science-based targets, including STMicroelectronics, NXP, and UMC.
Over the next few years, more companies are expected to commit to ambitious emissions targets as well.
Samsung to invest Over $5B toward net-zero emissions by 2050
Samsung Electronics will invest over $5.02 billion as part of several environmental initiatives aimed at reaching carbon neutrality by 2050. The tech giant said it will invest in R&D for technology aimed at filtering out greenhouse gases and capturing carbon dioxide generated during chip production. Also, it is planning to make its devices business carbon neutral by 2030. And it plans to boost recycling of resources such as lithium and plastic. Samsung said it joined a group of global corporations committed to 100% renewable energy, called RE100, following in the footsteps of Apple, TSMC, Intel, and others.
"In the end, we are a technology company ... So we will contribute positively to climate change through technology development," said CEO Kim Ki Nam. "Since we are a large company and our products are widely used, we will make an impact through scale."
A quest to unite the industry around sustainability
According to Mousumi Bhat, Vice President of Sustainability at Semi, the semiconductor industry has a bigger carbon emissions problem than many realize, and it's about to get much bigger. As of mid-2022, she oversees a mission to pull together the world's semiconductor and other electronics companies to curb the greenhouse gases they directly or indirectly generate.
This sustainability mission is among the world's most ambitious — as well as one that presents daunting challenges, requiring a massive marshaling of innovation, investment, and commitment far beyond anything it's done before, according to EE Times Asia.
"Our industry's carbon footprint makes up about 1% of the world's footprint today," Bhat explained. "But soon, it will be about 12%. At this rate, by 2030, we're going to be more than a factor of 2 behind where we've committed to be in our emissions-reduction goals."
"In recent years the industry has made significant cuts in carbon emissions," noted Bhat. "But now what's left are the hard problems, and they require solutions that must be implemented at scale and at high speed."
One project is the launch of a first-of-its-kind Semiconductor Climate Consortium. Among its key goals are sharing technological solutions to Scope 1 problems, including ways to implement them in as little as two years instead of a decade; pushing companies throughout the global electronics supply chain to reduce their own footprints; and engaging governments to increase the availability of green energy.
This industry is all about creating solutions," Bhat said. "With our talent and intellectual curiosity, we should be able to help the larger world."
How New York is balancing semiconductor growth with sustainability
In October, CityandStateNY.com announced that "New York's favorite new industry has a climate problem." It stated that as semiconductor growth is accelerating, so is the potential for environmental issues.
New incentives are fueling the industry's growth. For example, Micron is building more semiconductor plants, including a "megafab" that will create nearly 50,000 jobs. As it invests $100 billion in Central New York, the company said it has committed to achieving net-zero emissions by 2050.
New York state passed a "Green CHIPS" bill at the end of its past legislative session that makes semiconductor manufacturers eligible for the Excelsior Jobs Tax Credit Program. "New York is poised to lead the nation in semiconductor manufacturing — and, as always, we're doing it in the cleanest, greenest way possible," said Governor Kathy Hochul. "Central New York will be one of the greenest, most sustainable chips manufacturing facilities in the country."
To stay up to speed on all semiconductor industry news, make sure you're subscribed to the Talent 101 Semiconductor Blog.