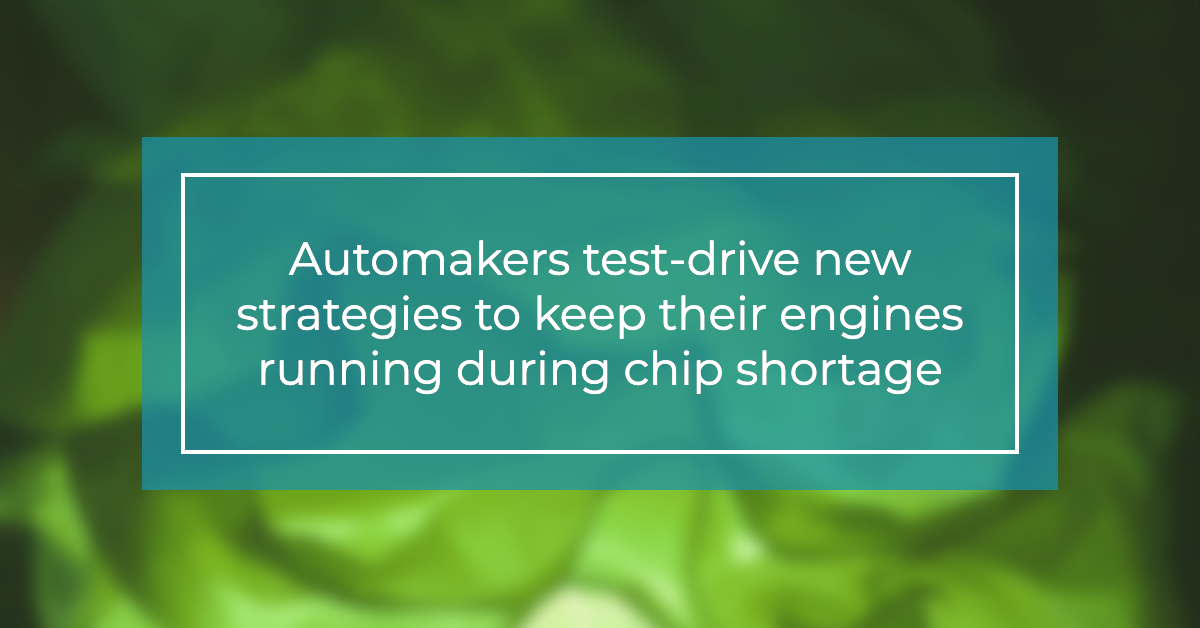 Early in the pandemic, the automotive industry slowed production due to lower demand for new vehicles. But once they were ready to ramp back up, the manufacturers were surprised to find a semiconductor chip shortage was derailing their production capabilities and threatening to prolong their recovery cycle.
The result has been devastating for the auto industry. Impacts include:
Impacts that occurred early in the pandemic have contributed to the current auto industry challenge. A McKinsey report found that the actual demand for semiconductors in the auto industry in 2020 trailed a pre-pandemic estimate by around 15%. Over the same period, most other segments experienced rapid expansion, which resulted in an increase from 5% to 9% in semiconductor sales beyond the forecasted growth. When the auto sector's demand recovered faster than anticipated in the second half of 2020, the semiconductor industry had already shifted production to meet demands in other industries.
Now, many automakers are taking matters into their own hands. Rather than letting the global semiconductor chip shortage devastate their businesses, they are developing innovative strategies to keep their engines running, from shipping vehicles without non-critical features, to redesigning vehicle software, to "hole shoring"— an industry term for stockpiling.
Here are some of the workarounds some vehicle manufacturers are deploying until the chip crisis abates:
Ford Motors ships vehicles without chips
In an effort to deal with its growing inventory and lack of semiconductor chips, Ford reported in March 2022 that it will be shipping and selling its vehicles without some non-critical features, such as wireless chargers, automatic start-stop, lumbar support in passenger seats, and extra key fobs. The vehicle manufacturer said it will install them in sold vehicles within a year.
Also, to help boost auto chip manufacturing, Ford announced a new partnership with GlobalFoundries, a multinational semiconductor contract manufacturing and design company. The goal of the collaboration is to advance U.S. semiconductor manufacturing and technology development and boost chip supplies for the U.S. automotive industry.
General Motors also reduces chip-driven features
Like Ford, General Motors has taken a step toward temporarily reducing vehicle features, such as heated seats, to deal with the chip shortage. The manufacturer reported that it's aiming to provide a retrofit option in late 2022.
General Motors has also said it will work with chip manufacturers like Qualcomm and Infineon to develop microcontrollers that combine several functions previously controlled by individual chips. "We are trying to create an ecosystem that is more resilient, more expandable, and always available," a company spokesperson said.
Volkswagen and Mercedez-Benz seek strategic chip partners and more
Historically, vehicle manufacturers have all purchased semiconductor chips from the same manufacturers. But due to the chip shortage, many of them are shifting age-old practices and looking for their own unique chip suppliers. This is the strategic approach chosen by Volkswagen, which is looking for new strategic partnerships in Asia.
Another strategy the company is looking at is the possibility of clearing space on the motherboards of control systems and developing more modules using fewer chips. "If we change the software, we can use fewer chips and achieve the same functionality," said Annette Danielski, CFO of Volkswagen's trucking unit.
"Historically, we've made decisions as if chips were nearly infinite so each and every module required a chip, every window lift, every modulator," CEO Scott Keogh. Now the company will explore a new direction going forward.
Daimler, the manufacturer of Mercedes-Benz vehicles, is also looking into setting up a direct line of communication with chip suppliers, including wafer producers in Taiwan. Further, in an effort to expand its chip options, Daimler to designing new control units that are chip agnostic.
To support these independent chip producer relationship strategies, Ondrej Burkacky, a senior partner at McKinsey, advises automakers to consider making direct investments in production or creating longer contracts with terms of more than 18 months.
It's not yet clear how well these automakers' innovative chip-reduction strategies will perform in the long run. "The bill will be presented in mid or late 2022," noted Burkacky. "That's when we'll see who came out of the crisis well and who did not."