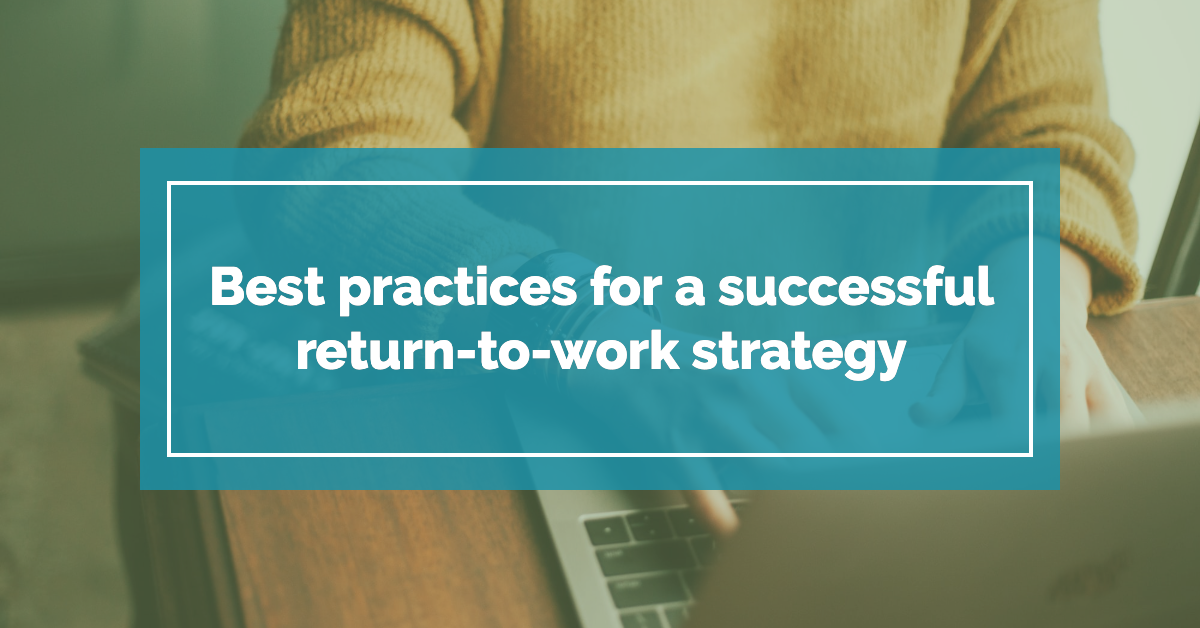 As state and local governments ease restrictions and more non-essential businesses can reopen fully, many organizations are developing plans to return to the physical office. But every business's return-to-work plan will look different. For example, some companies want all their employees to return to the workplace full-time, while others are aiming for a more hybrid and flexible approach.
Creating the right strategy requires companies to not only think about the needs of the business, but also workers' preferences. For example, one study reported that nearly 70% of people want to work in the office for most of their workweek. This comes with a major asterisk, however; employees returning to the office want to see changes, including modifications to pre-pandemic density levels and more cleanliness and safety protocols.
If your company is planning on moving employees back to the office in some capacity, these best-practice recommendations can help you prepare for a smooth transition. Important considerations include business continuity planning, creating an ideal hybrid work option, and providing returning employees with workplace perks.
Make a return-to-work list and check it twice
The Society for Human Resource Management (SHRM) created a comprehensive checklist for companies that want to cover their bases as they prepare for employees returning to the workplace. The list covers everything from workplace safety to compensation to business continuity planning.
For example, on the topic of business continuity, the SHRM says: "Employers will have learned valuable lessons regarding their business continuity plans, or lack thereof, during the past pandemic. Now is the time to review and revise the plan to prepare for future emergencies."
SHRM recommends these steps among others for continuity planning:
Create a business continuity plan that includes infectious disease control if a plan did not exist prior to the COVID-19 crisis.
Establish a pandemic task force to continuously monitor external and internal data and implement appropriate protocols.
Update resources and contact information to ensure accuracy.
Create the right hybrid work option
Because most workers want to be able to access the office at least a few times a week, HR Executive reported that a key takeaway from the pandemic is the value of being flexible. As such, companies should create the right hybrid model— one that strikes the right balance between what works for the organization and what works for employees.
"People always vote with their feet, so companies should keep a close pulse on forms of hybrid work that their own employees value, rather than relying on what may be deemed conventional wisdom. Additionally, considering a company's brand, culture, and approach to employee health and wellbeing are all critical foundational factors to keep in mind when creating a hybrid work environment."
Consider how your workplace can better support workers
Two UK organizations conducted a study about post-pandemic flexible workplaces. They found that flex offices are expected to increase, from a flat 5% level of growth in 2020, to a high of 12.5% to 20% by 2023. Study results included insight into how people feel about returning to the office now, what they expect from their employer and their workspace, and what the future of work will look like in light of these changes. Here are a few of the study's insights:
Post-covid, workers want design values, authenticity, amenities, and embedded technology in their office spaces.
Employees expect optimized experiences and spaces physically aligned to their tasks and activities.
Employees would like workplace amenities that show appreciation, such as free beverages and food, happy hours, and wellness events.
Consider creative options
The U.S. Chamber of Commerce overviewed five ways employers can support employees returning to work amidst the waxing and waning of the COVID-19 pandemic. Its suggestions include:
Enhance sanitation and build out extra space for social distancing.
Set up a staggered work schedule to accommodate fewer people at the worksite at a time.
Consider offering in-home or virtual childcare.
Consider offering benefits to support employees' mental health and well-being
Stay current on leading return-to-work strategies
Preparing a return-to-work strategy will likely be an ongoing process for many companies as they transition to a "new normal." We'll help keep our finger on the pulse of today's evolving workplaces, so you can stay on top of the latest insights.
If you're one of the many companies looking for talented and experienced candidates to join your team, take a look at our Talent 101 Circuit, and feel free to reach out to us so we can help you find the right people for your open roles.