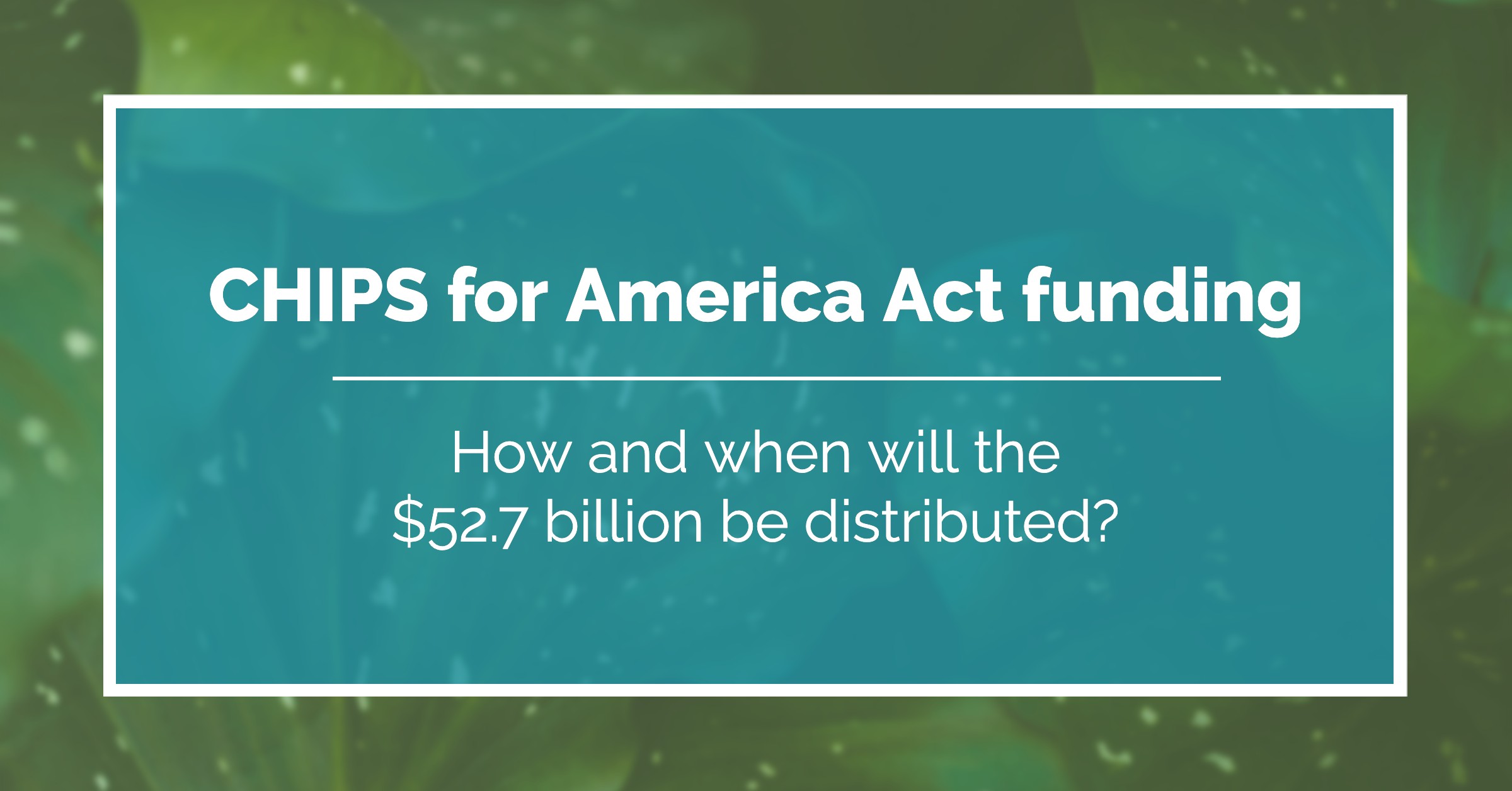 The CHIPS for America Act and FABS Act represents a much-anticipated boon for the U.S. semiconductor industry, providing $52.7 billion for investment.
In August 2022, the U.S. Congress approved the funds for semiconductor manufacturing and research, plus a 25% investment tax credit for chip plants (an estimated additional $24 billion). That credit applies to projects that start construction after January 1, 2023.
The U.S. Commerce Department said it plans to use $28 billion to "establish domestic production of leading-edge logic and memory chips that require the most sophisticated manufacturing processes available today."
It also supplements the funds with a tax credit that was not included in the original CHIPS Act, and includes $10 billion for new manufacturing capacity for "mature and current-generation chips, new and specialty technologies, and for semiconductor industry suppliers," which includes automotive, defense and medical device chips.
Commerce can also use up to $6 billion to support loans or loan guarantees rather than grants and "could be leveraged to support a $75 billion credit program."
How will the funding process work?
Commerce said "funding documents, which will provide specific application guidance ... will be released by early February 2023. Awards and loans will be made on a rolling basis as soon as applications can be responsibly processed, evaluated, and negotiated."
"We're going to negotiate these deals one at a time," said Commerce Secretary Gina Raimondo. She added that they would need companies to prove government funding is necessary for production.
When will the program be implemented?
The program's first priority is to get a team in place to oversee the program. Next, it will issue high-level principles and guidelines for how it will run the program.
By February 2023, the U.S. Commerce Department plans to begin seeking applications for $39 billion in government semiconductor chips subsidies to build new facilities and expand existing U.S. production in the New Year.
The agency hopes some funds could be awarded by spring 2023.
Who is on the team?
In early September, the Biden Administration announced the program's team, completing the first step of the process. It will include the following members:
Chief economist Aaron "Ronnie" Chatterji at Commerce will serve as White House Coordinator for CHIPS Implementation at the National Economic Council (NEC). He will help coordinate a unified approach to implementation priorities adding guardrails and oversight to ensure responsibly spending.
At Commerce, Treasury official Michael Schmidt will serve as CHIPS Program Office director. Schmidt previously served as New York State Department of Taxation and Finance commissioner.
Eric Lin, director of the government's Material Measurement Laboratory, will be interim director of the CHIPS Research and Development Office.
Todd Fisher, a Commerce Department economic official, will serve as CHIPS Program office interim senior advisor in the CHIPS Program Office.
Former Palm Computing CEO Donna Dubinsky is Raimondo's senior counselor for CHIPS implementation and Commerce official J.D. Grom will serve as senior advisor on CHIPS implementation.
A CHIPS Implementation Steering Council will manage the work. Commerce Secretary Raimondo said the CHIPS team will include about 50 people.
She added, "These leaders bring decades of experience in government, industry, and the R&D space, with a special emphasis on standing up and implementing large-scale programs."
We're excited to see what this investment will mean for the state of U.S. chip manufacturing in the face of increasing competition from other countries with similar investments, and how much innovation may arise industry-wide. To stay up to speed on semiconductor industry news, make sure you're subscribed to the Talent 101 blog.