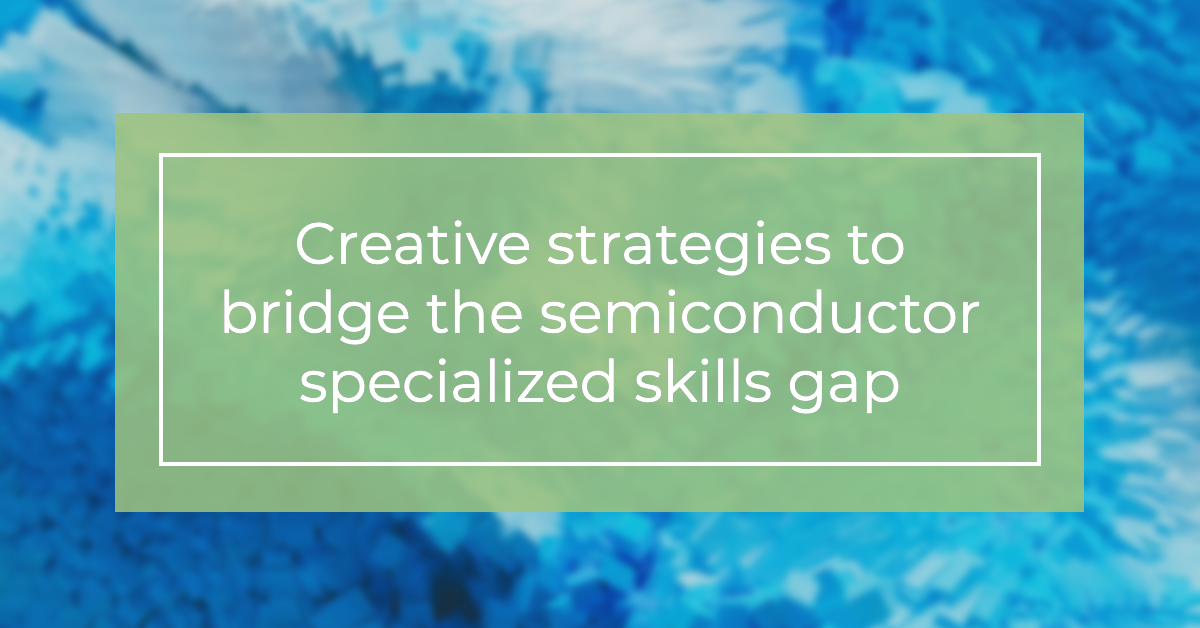 The semiconductor industry is projected to reach $1 trillion by 2030, but experts say that will only be possible if the current talent shortage is addressed on a global level. The specialized skills required by today's industry are getting harder to find. Until some of the many education programs ramping up around the world bear fruit, semiconductor organizations that need specialized talent must get creative and develop staffing strategies they can deploy now to bridge the gaps.
Here are some of the solutions that can help teams work around the skill challenge— from rethinking organizational structure to engaging in international staffing cooperation.
Create compelling new job titles
Engineers just starting their careers are plentiful, but it's often much harder to find for experienced engineers with specialized knowledge. "The hard-to-fill jobs are what we call 'combo jobs,' where companies have merged job skills to form a new hybrid type of role. When they combine these skill sets into one position, it makes it a lot harder to find the right person," said Andee Nieto, senior vice president and chief people officer at Xilinx. But "a creative job title can help attract the right talent for the opening." For Xilinx, enticing titles include "software engineer: ML/AI/DevOps and applications," "hardware engineer: board and system engineers," and "hardware design engineer."
Break down organizational silos
For companies to remain competitive, they may need to be willing to reevaluate their existing team structures. Specialists with deep knowledge in a specific skill have traditionally been prized in the industry, but in the face of hiring difficulties, some experts are discussing the need for more creative cross-disciplinary coordination to allow teams to continue meeting their targets.
"It is not just a knowledge gap," says Anoop Saha, senior manager for strategy and business development at Siemens EDA. "Fundamentally it is a hardware/software co-design problem that has to be solved… Today, you have the hardware team where everyone is an expert in hardware, and the same with the software team. But what we need is a combined team that consists of a certain number of hardware engineers and software engineers, so the combined team knowledge is useful."
Think diversity
Many believe that erasing the semiconductor jobs gap will require more than just a massive investment in education. It will require the industry to hire more competitively and diversely, including recent graduates, millennials, minorities, veterans, and women. Women currently only represent about 10% to 25% of the semiconductor workforce, and racial minority groups are also underrepresented in the industry. That gap presents a massive opportunity for growth. Investment in educational initiatives aimed at training people from diverse backgrounds may be a sound long-term strategy for industry leaders looking to ensure a plentiful pipeline of talented engineers and designers in the future.
Tap into military vets
Another untapped labor resource is U.S. military veterans. Companies can help create pathways to semiconductor careers for them. SEMI has announced a new partnership with Heroes MAKE America, an initiative of the Manufacturing Institute (MI) to build connections between the U.S. military community and the manufacturing industry. The MI is the 501(c)3 nonprofit workforce development and education partner of the National Association of Manufacturers.
"About 200,000 men and women transition out of the military each year, and many of them have skills and experience that would position them to excel in our industry," said Ajit Manocha, SEMI president and CEO. "These highly trained, team-focused, disciplined, and talented individuals have the opportunity to be successful in challenging and mutually rewarding careers with SEMI member companies."
Engage in international cooperation
While global initiatives to strengthen semiconductor educational pathways and career prospects lumber along, new incentives for trusted international partners to pool their talent could offer a more direct solution to the worker shortages currently plaguing the industry. Legislation establishing better security standards among a select grouping of semiconductor producers could provide the necessary assurances for the industry to participate in a multilateral talent exchange.
For example, the Microelectronics Training Industry and Skills (METIS) initiative is an international consortium aimed at filling the semiconductor manufacturing skills gap. The SEMI Foundation's Global Workforce Development Initiative and the Global Semiconductor Alliance also apply a multi-stakeholder approach to attracting and retaining qualified engineers.
Solving the issues of the talent shortage and skills gap in the semiconductor industry will require extensive investment and innovation from industry leaders, but it's a necessary and worthwhile problem to tackle.