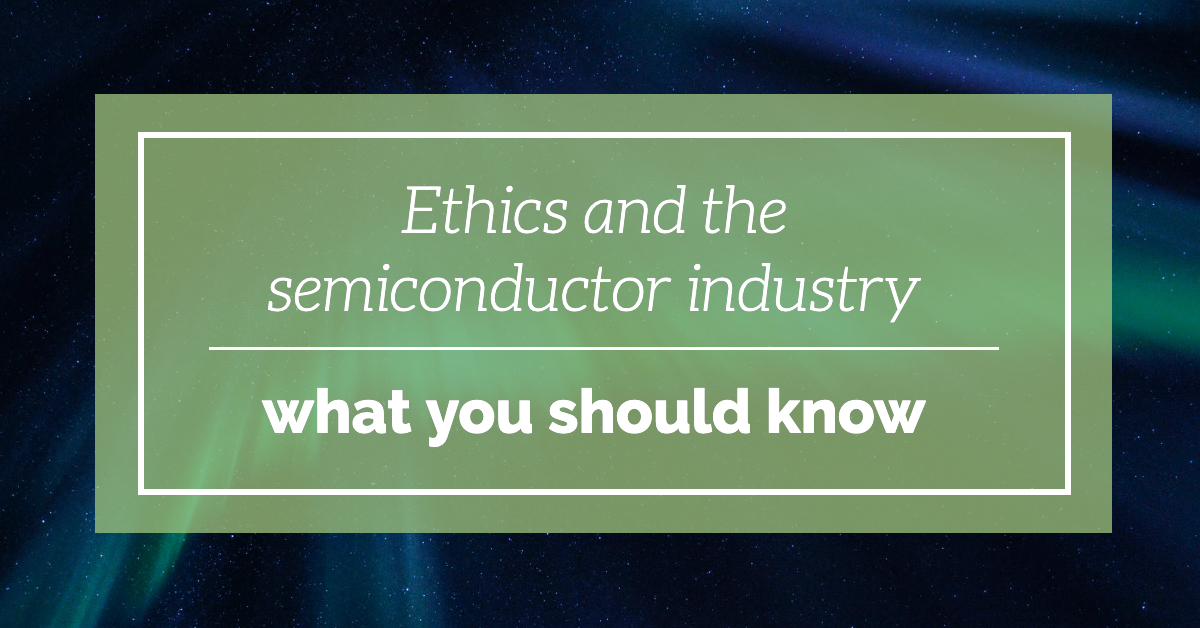 Semiconductors are the lifeblood of modern technology products. The innovative devices produced by semiconductor companies enable everything from life-saving medical research to increased workplace productivity, green technology, and connectivity among people around the world, according to the Semiconductor Industry Organization. As semiconductors have become smarter, faster, and more efficient, they promise to deliver even more life-improving capabilities — from medical research to workplace productivity.
However, one fly in the ointment could derail the industry's best-laid plans — ethics. In fact, just as they help create significant solutions for the good of humanity, semiconductor-based products can also be exploited for unethical purposes. Among the ethical risks are human rights violations, such as unlawful surveillance and acts of digital oppression. With all that in mind, here's what some industry leaders are doing to ensure their products are being created and used ethically:
Bolstering the Chip Industry's Commitment to Ethics
To support optimum ethics and human rights within the industry, SIA has released a set of Voluntary Ethical Guidelines for Surveillance, Policing, and Semiconductors. The guidelines cover four areas: due diligence, customer relations, development and design, and transparency and traceability.
The organization states that the guidelines "are not exhaustive, but they serve as a starting point and enumerate voluntary principles the industry believes should be followed for the development and sale of semiconductor products, particularly those used in surveillance applications technology powered by AI."
Further, SIA stated, "SIA and its members recognize the industry's responsibility to continue to examine measures to prevent semiconductor technologies from enabling oppressive or unlawful surveillance and policing capabilities that curtail human rights."
Ethisphere Institute Honors the Most Ethical Companies of the Year
The Ethisphere Institute is the global leader in defining and advancing the standards of ethical business practices that inspire corporate character, marketplace trust, and business success. Ethisphere states that it "has deep expertise in measuring and defining core ethics standards using data-driven insights that help companies enhance corporate character and measure and improve culture."
Every year, Ethisphere honors superior achievement in ethical business operations through its World's Most Ethical Companies recognition program. The company's methodology employs its proprietary Ethics Quotient®, which it describes as the World's Most Ethical Companies assessment process. It includes more than 200 questions on culture, environmental practices, social practices, ethics and compliance activities, governance, diversity, and initiatives to support a strong value chain.
Ethisphere publishes its annual list of the most ethical companies in its Ethisphere magazine. Among the honorees every year are many semiconductor companies. For example, in 2021, three semiconductor firms were recognized for their commitment to ethics, sustainability and inclusion: Arm, Intel Corporation, and ON Semiconductor.
ON Semiconductor Honored as One of the World's Most Ethical Companies in 2021
Speaking about its position as one of the most ethical companies of 2021, CEO and president of ON Semiconductor, Hassane El-Khoury, said, "ON Semiconductor is committed to engineering a better tomorrow through the actions we take every day. As our company continues its evolution, we will focus on improving how we operate — whether it be related to our business, governance and ethics, our people, our environment, or our communities.
According to Jean Chong, vice president of ethics and corporate social responsibility (CSR) at ON Semiconductor, "Our company continues its commitment to ethical, energy-efficient operations. They truly are the cornerstone of a successful business, guiding far-reaching decisions that affect shareholders, customers, suppliers, and employees. Demonstrating our core values of respect, integrity, and initiative in a variety of ways during an extremely challenging year shows how we remain deeply dedicated to positively impacting our employees and the communities in which we operate."
Clearly, many semiconductor companies are committed to maintaining high ethical business standards with their employees, customers, shareholders, and other stakeholders. This commitment will be important for the whole industry as companies expand into even more innovative and sophisticated capabilities. It's important that everyone work together to safeguard our privacy and personal rights.