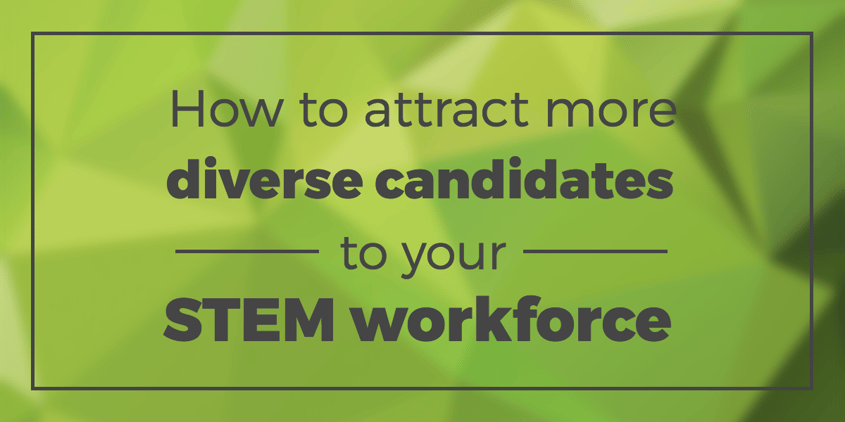 There's a misconception about the underlying reason behind the lack of representation of women and minorities in STEM-related jobs: women and minorities are not choosing to pursue degrees in these fields and therefore not available for hire. It's easier for recruiters or hiring managers to shrug off the importance of bringing in diverse candidates when they can blame the universities and the lack of graduates coming down the pipeline. But this way of thinking contributes to passive bias and lack of action to find more diverse candidates for STEM positions.
Certainly, we cannot deny the need to cultivate more awareness and education for women and minorities in STEM. And there are a lot of groups working to make that a central focus for our education systems. But as an employer or hiring manager, you have more influence on which candidates get hired than which students choose to pursue a degree in science, tech, engineering, or mathematics. Instead of shrugging off a problem as someone else's to deal with, we can attack the issue from all sides. We can kickstart more diverse representation in our workforces, particularly in STEM fields.
While the numbers may not be equal, the people are still out there. There are still far more black and hispanic students graduating with STEM degrees compared to those represented in STEM-related jobs. According to a report from the American Community Survey data, over 40 percent of Asian STEM graduates go on to get jobs in STEM fields. Whereas, only 16 percent of black graduates and 12 percent of Hispanic graduates get jobs in STEM fields.
Reports show that even minorities with degrees in STEM fields are less likely to proceed to a career in STEM due to biases in job posting language and communications with recruiters, lack of recruiting efforts toward minority groups, and the white/male-leaning culture of the STEM (particularly tech) world. But statistics and studies continue to show that diversity in the workforce brings about many benefits, including at the bottom line. If the diverse candidates are out there, how can your company attract them to your STEM workforce?
Make your intentions known
Like any potential relationship, whether business or personal, people like to know the intentions behind it before diving in. Decide why diversity is important to your company, then make sure your employees and potential job candidates know about it too. Candidates can spot phony mission statements from companies trying to reach a diversity quota compared to those who truly believe in what diversity can bring to the company.
Refresh your recruiting
One major problem with the underrepresentation of minorities in STEM careers comes in the form of recruiting. Companies continue going to the same places and talking to the same people they always have, sticking with what "works." Yet, students pursuing these degrees don't look the same as they used to, and they aren't always found in the same places. Put your recruiting and hiring processes through an audit. What do the language and images in your promotional materials say about your company and its culture? Is it exclusive or inclusive? Do your networking events attract more than one type of person? Connect with the many groups who are already working to network directly with women and minorities.
Evaluate employee benefits
While you're evaluating your recruiting methods, evaluate your employee benefits and flexibility options too. As companies grow, their culture shapes around the employees and leadership. Work norms and perks shape around that too. If white males have historically dominated the makeup of your company, your culture and employment options will be naturally shaped to fit in with their traditional lifestyles. As companies need to change when new generations enter the workforce, so too do they need to change to attract and accommodate more diverse employees. Today's employees may need more flexible work options that allow them to care for an ill parent, attend a child's school program, or take breaks for nursing. Revisit your parental leave policies, flex-work options, and other benefits to best fit a diverse workforce. Show potential candidates you're committed to having them on board.
These are a few ways you can work to attract more diverse candidates to your STEM organization. But, it's important to remember to keep an open mind when it comes to your workforce and the people you hire to fill it. Because a certain ethnic group or gender has not historically been represented in STEM does not mean a candidate of that ethnicity or gender will not be a great fit in your workforce. In fact, they could be the exact thing your workforce needs to provide a fresh, new outlook on a project or product.
Want to learn more about optimizing your hiring process and getting top talent for your engineering teams? Get the Guide to Hiring Top Engineering Talent today!