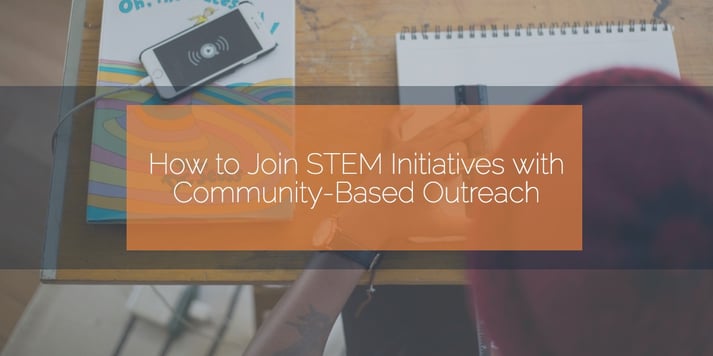 Have you ever thought how STEM initiatives can help your community—and your company? Using community-based outreach to promote STEM initiatives in education is a great way to develop young minds, inspire them to better our planet, and help prepare them for a career that will make a difference.
However, getting students excited about STEM (Science, Technology, Engineering, and Mathematics) isn't always easy. And for some students, the access to STEM programs isn't available at the middle or high school age leaving them at a disadvantage in college-level courses, should they choose to continue their education at that level.
Why should students care about STEM?
Aside from the fact that a STEM career can help the future success and technological advancement of our world in innumerable ways, there are also some practical reasons a student should choose a career in STEM.
Demand for jobs in STEM are growing
The job potential for those graduating in 2022 and heading out into the workforce is much brighter than those from just a decade before. As the class of 2022 enters high school now and goes to college in four years, more and more jobs will be available in STEM fields. By the time they graduate in eight years, there will be more jobs in STEM than any other occupation. It's estimated that by 2024, the number of STEM jobs will grow 17%.
Unemployment is STEM is low
According to the U.S. Census Department, between 2011-2014, the unemployment rate for jobs in STEM was 3.1% compared to 7.4% in non-STEM occupations.
Jobs in STEM pay better
When you compare the median hourly wage for jobs in the US is $18.68 with the median hourly wage of STEM jobs at $37.44 (more than double), it's easy to see STEM jobs pay better.
How are businesses getting involved in STEM initiatives?
Fortunately, businesses like Texas Instruments and Lockheed Martin have committed to helping kids have more opportunities for STEM learning and programs and help them choose a career in STEM. Other organizations have devoted to help close the gender gap in STEM.
Texas Instruments gave grants to improve STEM education from kindergarten to 12th grade totaling $5.4 million this year. Part of these grants will also go toward engagement for teachers, volunteers, and mentors.
"Our focus," says Andy Smith, executive director of the TI Foundation and TI director of corporate philanthropy, "is on collaborative strategies to improve teaching effectiveness and student success in STEM education."
TI is working with Southern Methodist University in Dallas to do just that. Last month, the TI Foundation gave $1.7 million in grants to help fund SMU's STEM Teacher Academy.
Texas law requires public school students to choose a career track before entering high school. These tracks include STEM, business, public service, humanities, and multidisciplinary studies. Since the law passed in 2013, less than 17% of Dallas ISD students have chosen the STEM pathway.
The STEM Teacher Academy at SMU's Simmons School of Education and Human Development aims to help teachers develop new and innovative methods to engage students during this important decision-making time of their education, when they choose their career path.
"It's going to take a collaborative effort to meet our critical need for scientists, mathematicians, and technology experts," said SMU President R. Gerald Turner. "Texas Instruments, the Dallas Independent School District, and SMU are combining strengths to ensure that Dallas middle schoolers choose to continue studying these important subjects through high school and beyond."
How can your business help STEM initiatives in your community?
While we're grateful for the large steps companies like TI take to improve STEM interest in middle school and high school students, not every organization can afford to give millions and millions of dollars every year. And that's okay. There are plenty of other ways for you and your organization to get involved in STEM initiatives in your community. Money isn't the only need for STEM programs, either. Sometimes time is the greatest need of all.
Try some of these ways to get involved with community-based STEM initiatives:
Have employees volunteer as mentors to students in STEM programs or start your own mentorship program through your organization.

Donate supplies like calculators, lab equipment, or electronics to your local school district.

Get involved in the community through science fairs and career days. You can even allow employees to take volunteer hours/time off for these events.

Sponsor events like robotics competitions or other engineering development days.

Invite students to your facilities for free tours and interest events to get a first-hand look at what a day in a STEM job looks like.

Host a summer program for students to learn about your specific STEM field and shadow employees. You can also partner with organizations like

Girls Who Code

and provide a venue for their summer programs.

Partner with other local businesses to help your dollar go further for things like scholarships, grants, and fundraisers.
There are plenty of ways to get involved with STEM initiatives without overspending your budget. As mentioned, your time can be the most valuable thing to these young minds.
When you help promote interest in STEM for students, you also help promote the values of your company to both your employees and to the outside world. Today's talent isn't interested in salary alone. Studies show millennials consider a company's community impact and social good when looking into a job. By creating a company culture that encourages mentorship and volunteerism, you're empowering current employees, attracting future candidates, and showing your clients how much you care for the community around you.
Raising awareness and getting employees excited about the opportunity to help students will go a long way in helping improve STEM in your community and in America. And it will help your company along the way.
Want to learn more about hiring top engineering talent for your organization? Get your free guide.