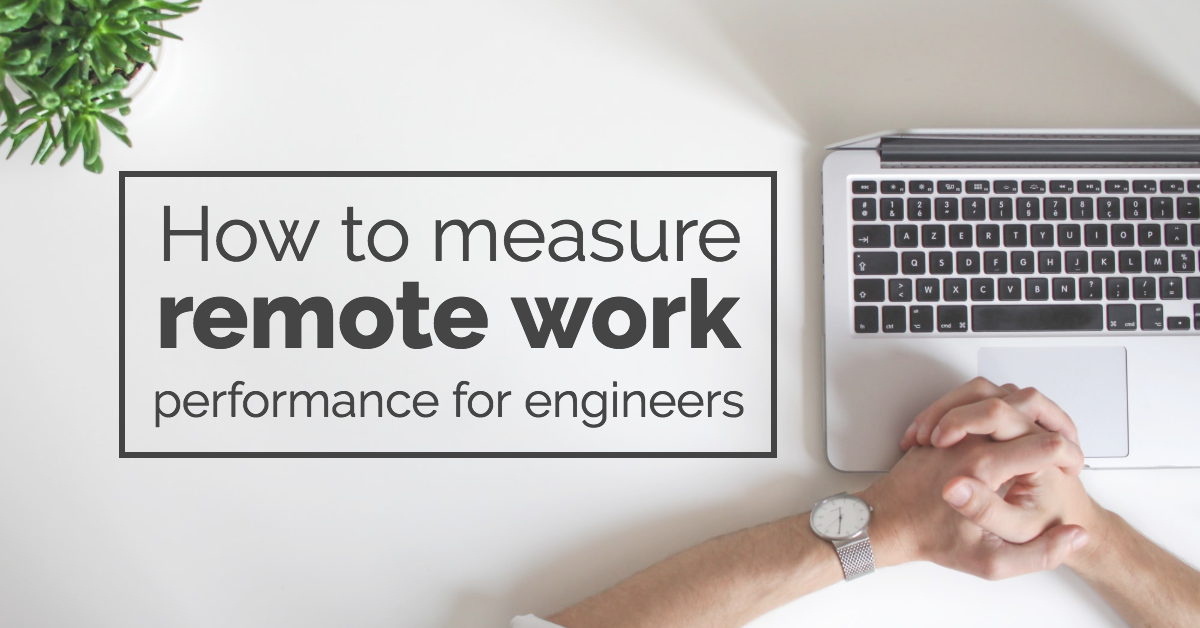 As an engineering manager, you may have given plenty of feedback in the form of performance reviews or one-on-one meetings over the course of your career. But what happens when a global pandemic throws organizational goals and talent management off their usual course?
Like so many other companies and employers, you may have found that the abrupt shift to managing a remote workforce has affected company culture, morale, and long-term plans. In these uncharted circumstances, maintaining and measuring productivity, fairly and effectively, can be tricky for both managers and employees.
So how can engineering managers measure remote work performance in the current circumstances? Here are three strategies to help you do this:
Reflect on what you're evaluating
For starters, think about why you're measuring in the first place. Traditionally, managers use performance reviews to determine pay raises, promotions, or other talent efforts. If these priorities have changed since going remote, you should rethink your strategy.
Do you need to maintain operations or develop creative solutions to new business challenges? Your engineers may also need more flexibility or resources while working from home. Do you have a framework in place to support their needs? Allow these thoughts to guide your expectations and performance management efforts.
Focus on metrics that matter
Productivity metrics can look good on paper, but not all metrics are useful in measuring team performance. A team's skills, size, engineering consistency, and availability shift all the time — especially in the context of remote work. Instead, focus on which company priorities engineering can impact. A few elements to consider measuring include team collaboration and outcome-based metrics like:
Throughput measures the rate of output and quantifies how fast someone develops products. According to EETimes, measuring and improving throughput is key to meeting time-to-market and, thus, profit and revenue. You can also use throughput to pinpoint potential employee burnout or product complexity.
Lead time is the amount of time spent from the moment someone started working on an item to the moment it's done. Looking at lead time can provide insights into team capacity and product roadmap. It can also help teams recognize misaligned priorities and make investment decisions.
Commit-to-deploy time (CTD) is the time it takes for code to get from one end of the pipeline to the other. Measuring CTD can help managers identify roadblocks and improve test processes.
Starting with these metrics can help provide a bird's eye view of your engineers' accomplishments. But measuring a team's performance shouldn't be limited to hard numbers. Evaluating their morale, initiative, and behavior is equally crucial, which brings us to the next assessment method:
Use peer and team reviews
Whether an engineer oversees a group of scientists, triages bugs for other teams, or communicates with clients, they need effective collaboration to deliver successful outcomes. While working remotely doesn't change that fact, managers may not have the same visibility into engineers' collaborative abilities that they once had in an office or lab setting. That's why the best step in getting qualitative insights is collecting feedback from peer perspectives.
To get an idea of how each individual team member is performing, consider reaching out to colleagues they've recently worked with and ask the following questions:
Has the engineer played a key role in impacting the team or project goals?
Did the engineer apply his or her competencies to work goals? How?
Were there any unforeseen circumstances that changed the priorities of the team? How was this resolved?
Peer feedback can be useful to measure employees' skills, morale, and productivity, but you also need to ensure comments are objective, accurate, and specific to produce helpful assessments. Once you've gathered enough information, you can develop a thoughtful improvement plan designed for each engineer.
Despite times of uncertainty, measuring your team's performance is a great way to acknowledge employees, support their growth, and assess where they're going. By using the strategies above, engineering managers can manage remote performance with intention, clarity, and empathy.