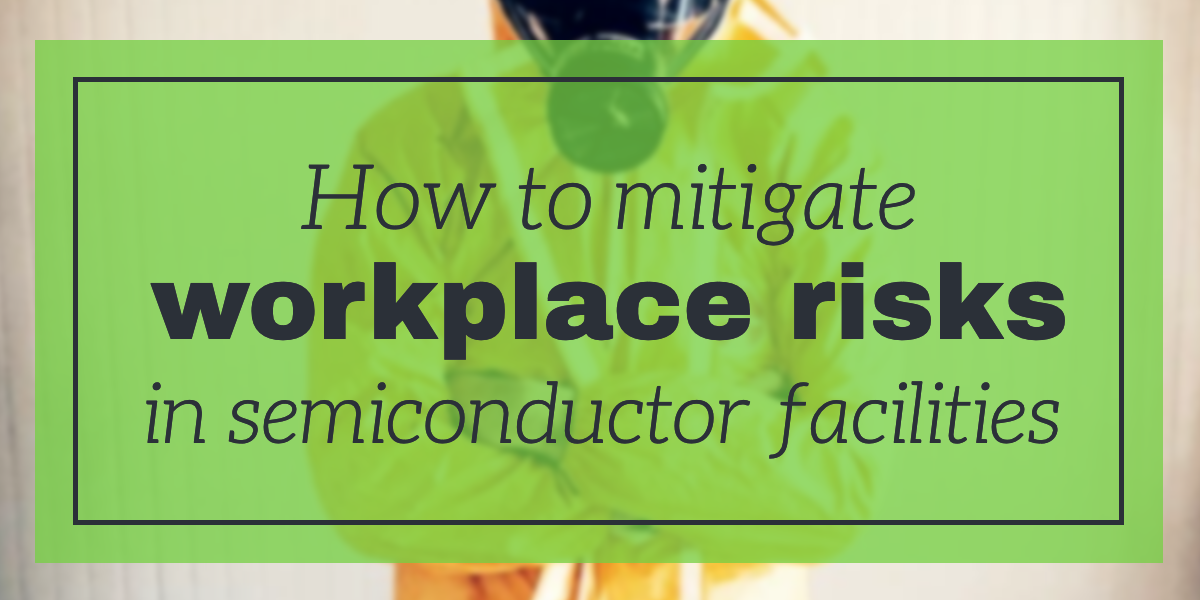 In an ideal world, it would be easy to ensure your chip engineers are taken care of just by following simple compliance, training, and safety protocols. But in real life, it's rarely this straightforward.
Semiconductor operations and manufacturing are full of potential industrial health and safety hazards such as toxic gases, flammable acids, and other harmful solvents. Equipment mishandling or safety control slip-ups can further contribute to unsafe conditions in cleanrooms, laboratories, and fabrication plants.
While national standards exist to address worker safety and health, accidents can happen when they're least expected. And without the right preparation and safeguards, these hazards can pollute the work environment and hurt employees.
Because some risks aren't obvious, it's crucial to stay vigilant to the causes of workplace accidents and find ways for engineering leaders to safeguard engineers' wellbeing.
Workplace risks
According to Randstad, some of the leading causes of workplace accidents include distractions, rushed processes, and lack of training.
Distraction
For busy engineers in the workplace, it's easy to fall get distracted with conversations, and constantly checking notifications, or even attempting to multitask. When these distractions are left unchecked, engineers may unknowingly miss an important step in a process that ensures safe and focused working conditions.
Rushing
Time is tight for most people at work, but rushing through work can have negative consequences. In the interest of time, engineers may choose the wrong tool or act impulsively — thus endangering themselves and people around them.
Lack of training
Ample safety training extends far beyond a one-and-done onboarding presentation. Engineers, management, and contractors should have regular thorough instructions about how to use the equipment, electricals, and chemicals right. Insufficient safety training can introduce significant hazards to the workplace.
How to mitigate workplace risk and accidents
Develop a risk assessment
Developing a thorough risk assessment is key to identifying and evaluating occupational safety and health issues in the workplace. Assessments should always be reviewed and revisited whenever new processes, changes, and hazards are identified.
To plan for risk assessment in fabrication plants, an expert or team must determine the scope of the risk, the necessary resources, the type of risk analysis measure, relevant stakeholders, and any laws, regulations, codes or standards that may apply. It's also best practice to supplement the assessment with specific details such as methods/tools used in processing, duration and frequency of the job, and any possible impact to other areas or people.
Coordinate on-the-job training
Health and safety training is required for every new hire, but that should not be the extent of their training. Employees should continue to receive continuous monthly or quarterly training throughout their careers, especially if their job responsibilities have changed over time.
Employers can tailor each employee's training for his or her role using a mix of online courses, certifications, and webinars. Using programs equipped with a full suite of courses like Semitracks or SESHA helps educate semiconductor employees about workplace hazards and how to handle chemicals, emergency responses, product labeling/packaging, and more in every part of the fabrication lab setting.
Implement safety controls and resources
Implementing safety controls into semiconductor operations allows everyone in the workplace to take proactive and preventive measures on the materials they use. This may involve providing documentation that outlines how to carefully select, test and cross-check materials, exposure levels to the legal requirements, and guidelines for how to conduct a proper routine safety analysis. Additionally, employers and managers can consider reaching out to vendors or independent third parties to conduct audits or verify safety inspections.
For more information on the semiconductor processes, hazards, and controls, check out OSHA's silicon device manufacturing page. Another valuable resource is the Prevention through Design safety control approach, which helps high-tech and semiconductor industries create safe and productive work environments.
Next steps
At the end of the day, on-the-job safety is everybody's responsibility. Health and safety should be management's top priority and should be an integral part of employees' work culture and commitment. Putting in the effort today to mitigate and prevent future workplace accidents can save lives and hassle down the line.

For more valuable insight and resources in the semiconductor space, subscribe to the blog.