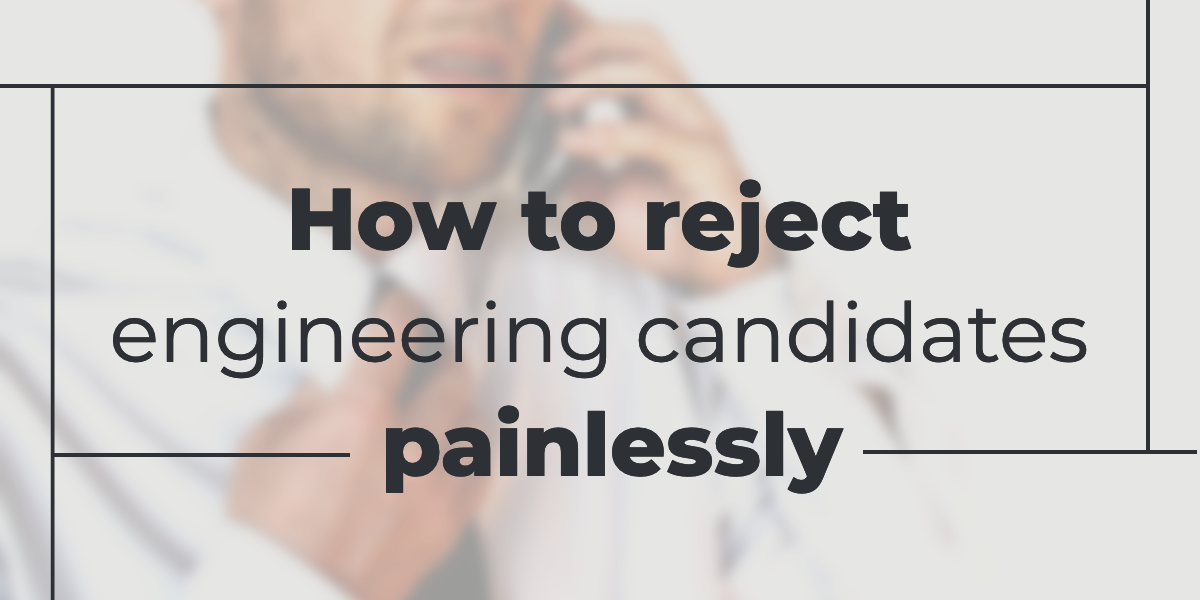 As a hiring manager, you'll often face the challenging decision of choosing between multiple highly qualified candidates for one open role. And once you've made your selection and sent a job offer, you'll have to break the news to the candidates who didn't make the cut. Without careful planning and sensitivity, these rejections can leave candidates with a negative impression of your organization.
While it may be easier to send a curt rejection response, impersonal communications can hurt your company's reputation and affect your ability to attract top engineering talent in the future. Even if you've already made your hiring decision, putting some extra thought into rejection calls or emails can open opportunities for future job openings or contract work.
In this article, we'll explore a few simple ways to create a considerate (and painless) experience when rejecting engineering candidates.
Call the candidate
Calling candidates offers a more personable and genuine experience when delivering news—good or bad. Candidates invest a significant amount of effort into your hiring process, so it's important you do your due diligence and follow up properly with those who aren't moving forward.
Take a few minutes out of your day to pick up the phone and have a conversation. Be open, thank the candidate warmly, and be prepared to share any feedback. While it doesn't have to be a long conversation, taking this step shows you care about a candidate's time and experience. However, if the candidate doesn't answer your call, sending an email is the next best option.
Give constructive feedback in emails
Although canned email responses are convenient, templated messages can come across as cold and insulting to rejected candidates. Those receiving sensitive news deserve some empathy and explanation, especially after a rigorous technical interview process. When candidates aren't available for calls, crafting a constructive email is a good coaching opportunity for applicants.
To send a constructive email, review your interview notes, including those from different stakeholders or other engineers who also took part in the hiring process. Outline your email by highlighting the candidate's most positive skills and qualities. It's also important you provide a reason why you've chosen to pursue another candidate. For example, "We're currently focusing on hiring more senior technicians whose skills better align with the technical qualifications for this role."
You may opt to keep the explanation more general or specific and actionable, depending on how far the candidate made it in the interview process. By offering a bit more detail and encouragement, they may re-apply again in the future.
Before sending your email, you may want to ask a colleague or another member of the hiring committee to review your draft. A well-written, constructive email can offer closure that's mutually beneficial for both parties in the long run.
Be forthcoming but don't give false hope
It can be tempting to soften the blow with the promise of a new job opening down the line or following up later. But giving candidates false hopes wastes everyone's time and can negatively affect your reputation as an employer. Hiring managers should aim to set reasonable expectations for the aftermath. If you can't see a future for a candidate, it's best to end the relationship by wishing them well in their job search.
If you wish to keep the applicant in mind for future opportunities, then be sure to set a follow-up reminder for yourself to check in with the candidate. If open roles or contract opportunities are uncertain, connect with them through LinkedIn and save their contact details for future reference. Top engineering talent can be challenging to find, and by keeping the lines of communication open, you can proactively prepare to fill your talent pipeline in the future.
Notify candidates timely
After you reach a decision, make sure you don't wait too long to notify the engineering candidates who won't be moving forward. While you need to have enough time built in to fully assess each candidate and feel confident in your hiring decision, it's also important to show all candidates you value their time by contacting them as soon as you've reached a hiring consensus.
As a rule of thumb, you should notify candidates within three days of your decision. If at any point the hiring process stalls, it's important to communicate this to candidates, too. For example, if you have to reschedule a final interview and this pushes your decision-making timeline, be sure to let candidates know. For example, you may email them and say, "We're still finishing up this round of interviews. We plan to make our final decision next week, and will reach out to you with an update before next Friday."
Providing a status update reassures candidates you haven't forgotten about them and provides insight into where they stand in the hiring process.
Leave the door open
Respectful treatment of all candidates means investment in a future talent pool of interested, skilled engineers. If a qualified candidate doesn't fit the bill now, you have the option to leave the door open for opportunities down the road and build a diverse, qualified network of engineering talent for the next job opening or future project needs.