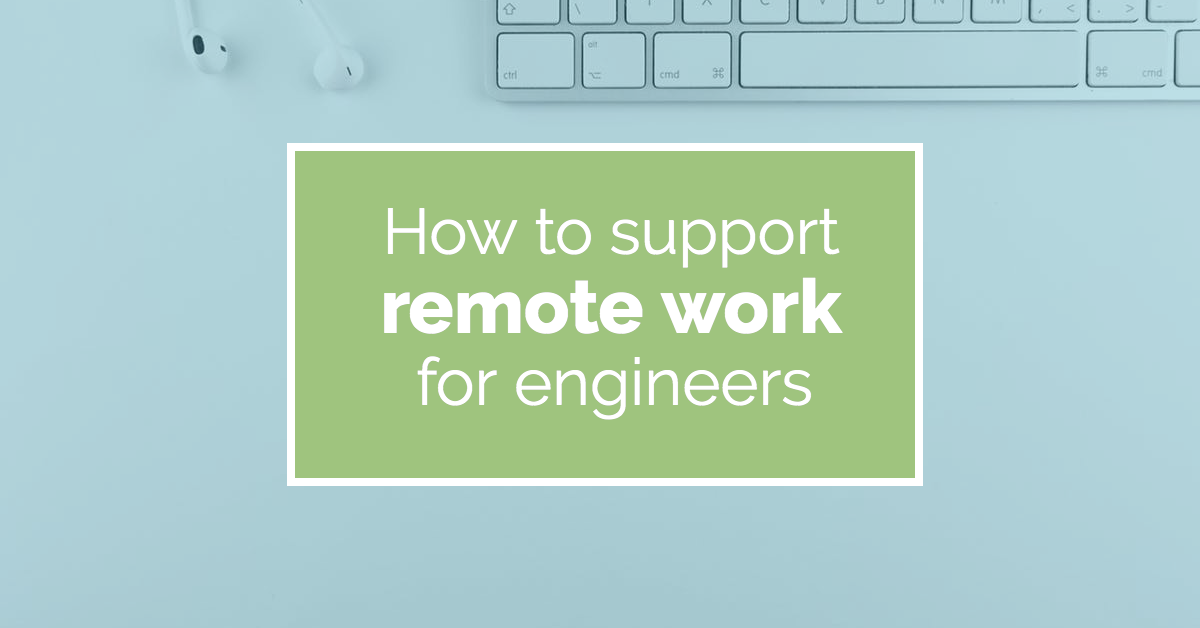 For some companies that have not typically offered flexible work arrangements, recent events may have caused them to reconsider. Changing employee preferences and technological advances had already started the trend, but the COVID-19 pandemic has made remote work a necessity for many employers to keep projects moving forward.
Offering remote work may ultimately be a good thing for these companies. According to FlexJobs, a majority of businesses confirmed that providing the opportunity for employees to work remotely increased productivity (85 percent), morale (90 percent), and loyalty (76 percent). While remote work isn't an option in every industry, it's becoming an essential part of office culture and work-life balance for many knowledge jobs.
As remote work becomes the norm, industry leaders need to learn how to manage virtual teams well. For engineering managers, knowing how to navigate flexible or remote work thoughtfully will help transition operations in this. In this article, let's explore four ways to support remote work for engineers:
Set expectations for communication
With offsite engineers, managers need to set clear expectations about remote communication. Will everyone in different time zones be expected to work the same hours? Will all planned projects and deliverables be moving forward? How often should engineers communicate updates? Setting expectations around communication beforehand can help prevent issues down the road and give leaders a more complete picture of everyone's contributions.
Start by connecting with colleagues around response times, success metrics, and work priorities. Establish daily check-ins or weekly video conferences with key employees. With many ways to communicate, it's wise to clarify how employees should relay information, note progress, or reach managers. As a bonus, consider dedicating a chat thread or channel for casual conversations to keep morale up and prevent feelings of isolation.
Match technology to the task
Having good systems in place to handle project management is critical for any company, but it's even more vital for remote teams. Do employees have the tools necessary to work effectively from home? It's easy to default to convenient tools, but some technologies are better suited for certain tasks than others. For instance, using a common development platform like Github may be a great way to share and manage code between a few people, but for larger-scale projects, software like Jira can enable code collaboration, review, and deployment at a larger scale.
Take a look at available tools and identify their pros and cons. A good ecosystem of tools should help engineers access key dashboards, reporting tools, app integrations, and assets in a centralized place. Ensure your remote engineers have access to crucial software or equipment. If additional gear like monitors or wireless devices remain unused in the office, consider lending them to employees who could use the extra supply at home.
Document everything
As with any important process, make sure you're providing adequate documentation. Confusion is the last thing you want for remote engineers who can't open critical files or fix bugs. Walk through processes and policies in a shared document. Make sure to spell out details with screenshots and ways to troubleshoot errors. For further training, try hosting webinars or recording how-to videos for common issues or new applications.
Once you have solid documentation around procedures, organize it in a central location and ensure everyone can access it remotely via VPN or a secure password bank. Empower employees to make their own additions and improvements as needed. By having essential operations well documented, you can maintain accurate processes for anyone working remotely.
Practice patience and self-care
Technical glitches can happen and the unexpected can derail your schedule. Family life may also require attention during the workday, and normal working hours turn into shifts for working parents. As remote work becomes more common, leaders need to have a good understanding of everyone's situation as well as a backup plan if things don't go as planned.
Leaders should also encourage everyone on their teams to be mindful of their physical and mental health, especially during uncertain times. It's not reasonable for leaders or engineers to expect maximum productivity or focus all day. Encourage employees to carve out time for breaks, exercise, or their family—and make sure to lead by example. Organize blocked times to handle personal care. If projects break, devote some time and planned resources to fixing it.
Remote work is quickly becoming a reality and a positive opportunity for many employees. As an engineering manager, you can use these methods to effectively tailor your management and become a capable virtual leader. Whether remote work is a temporary provision or not, managers may find a motivated team who is willing to put in time and effort to make remote work an ongoing possibility.