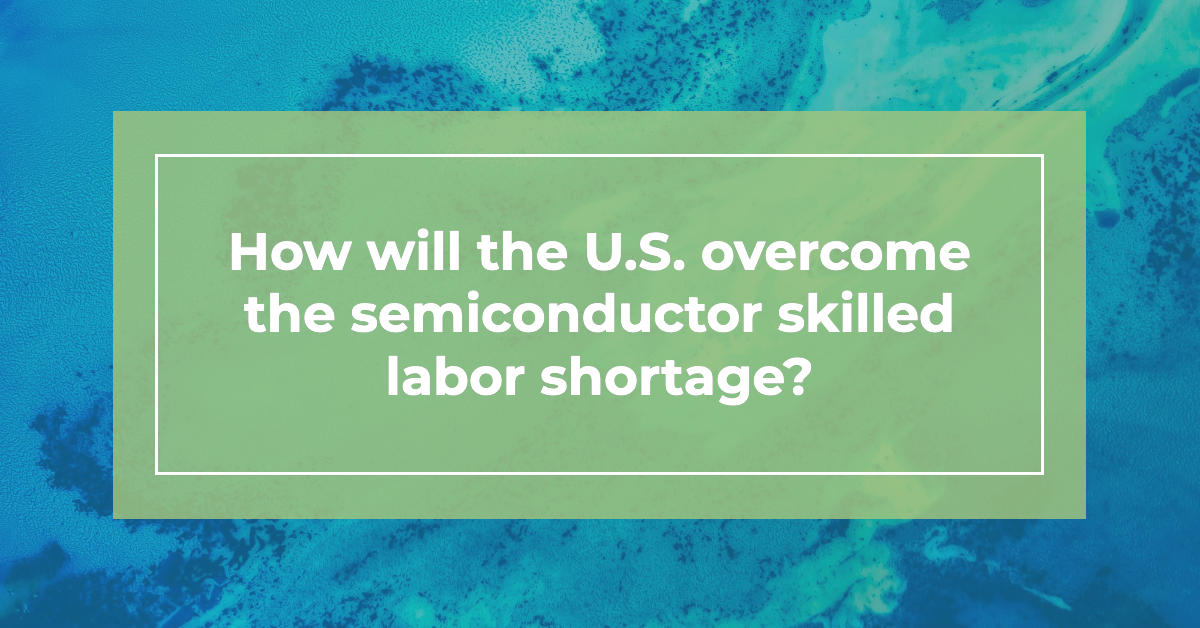 Job postings for electrical engineers in the U.S. semiconductor industry grew 78% from 2020 to 2021 — more than three times faster than growth for electrical engineers overall. What's more, the U.S. semiconductor industry will need between 70,000 and 90,000 new workers by 2025 to meet the most critical workforce needs, reported Eightfold.ai.
There are many strategies being aimed at helping the industry overcome today's unrelenting labor crisis. But will any of them work?
One thing is certain: something has got to work or the chip crisis could languish for much longer, impacting everything from vehicle production to national security. Without a fix, the threats could be devastating to the technology industry and other niche industries. Plus, the chip shortage complicates the current geopolitical challenges underway around the world.
A "flashing warning sign" for the future
The skilled labor shortage is one of the key reasons that the U.S. semiconductor industry is struggling to meet the critical demand for chips. A January Commerce Department report stated, "The semiconductor supply chain remains fragile," the report stated. "Demand continues to far outstrip supply."
According to Forbes, "The current shortage in semiconductors is a flashing warning light for the technological future of the U.S. The unpalatable reality is that over the years we've ceded global leadership in semiconductor production to foreign producers ― some in unstable areas of the world, some highly vulnerable to interruptions in extended global supply chains, and some in countries that do not share American geopolitical interests ― at a time when demand is growing sharply."
An April Commerce Department report stated, "Not only is U.S. economic growth and prosperity reliant on chips largely produced overseas, but also … advanced semiconductors are integral to an array of critical national security capabilities, including sophisticated weapons systems such as the Javelin antitank missiles the U.S. is supplying to Ukraine to defend itself against Putin's invasion."
The skilled worker shortage remains a challenge
The ongoing labor shortage could dampen the U.S. semiconductor industry's expected growth, just as policymakers are trying to boost funding for domestic manufacturing. For example, MediaTek, a Taiwanese company that develops chips, has been trying to grow its U.S. presence. But its plans are hampered by the shortage of skilled talent.
There are two primary solutions in the works: investment from public and private organizations and creative educational initiatives. Here is a look at some of the projects underway.
Solution: Public Investment
According to Brookings, "The chip shortage won't be fixed without major federal investment."
On March 30, the U.S. Senate passed the America COMPETES Act by a bipartisan 68-28 vote, creating more than $50 billion in semiconductor industry funding. The Creating Opportunities for Manufacturing, Pre-Eminence in Technology, and Economic Strength Act of 2022 primarily focuses on subsidies for scientific research and growing the U.S. semiconductor manufacturing industry to improve the nation's chip design prowess, increase supply-chain resiliency, and stave off another semiconductor shortage.
The Act includes the CHIPS for America Fund, which provides funds for the bill. CHIPS was established in the 2021 National Defense Authorization Act. It creates funding for private companies to construct semiconductor fabs, as well as for businesses that want to expand or modernize their existing fabrication capabilities
The European Union has a complementary initiative. In February, the EU proposed a new law that would increase investment in chips to increase Europe's share of global production. The European Commission launched the European Chips Act — a multi-billion euro attempt to secure its supply chains, avert shortages of semiconductors in the future, and promote investment in the industry. It still requires approval from EU lawmakers to pass.
Solution: Private Investments
Along with public investments, several private companies are also making major investments in the semiconductor industry including the following:
$20 billion

— Intel is building two fabs outside of Columbus Ohio

to make semiconductors.

$30 billion

— Texas Instruments plans to investment in four fab plants in northern Texas.

$6 billion

— Deloitte Global predicts that venture capital firms globally will invest more than $6 billion in semiconductor companies in 2022.
Solution: Creative Educational Initiatives
Along with public and private investment in semiconductor manufacturing, major investments are also being made to boost skilled labor educational opportunities. Several companies are contributing major investments in this area. Some of the other education investment initiatives include the following:
Intel plans to spend $100 million on improving semiconductor engineering education and research in the U.S., putting half into higher education institutions in Ohio over the next 10 years with the hope of lining up enough talent to help fill the 3,000 high-tech job openings when the first two fabs in the state open in 2025. The rest will be spread across America. Part of it will be used to create the Intel Semiconductor Education and Research Program, which will help develop new educational programs with an emphasis on "real-world experience" and semiconductor innovation.
"We need the very best talent available. That is why Intel is investing in educational and research programs in Ohio and across the U.S. to address the technical challenges and workforce shortages in our industry," said Keyvan Esfarjani, Intel's chief global operations officer.
IBM announced an investment in educational programs that includes $50M for Ohio schools and $50M for other nationwide programs.
Samsung Austin Semiconductor started a high school graduate internship program to help students enhance their skills, gain valuable experience, and explore careers in the semiconductor field.
Stanford University is training Ph.D. students for semiconductor jobs, giving them hands-on training on the most advanced scientific tools.
SEMI and the American Semiconductor Academy is creating a workforce development program designed to close the microelectronics industry's widening talent gap. The program will include a collaborative national education network of faculty at universities and colleges across the U.S. that are engaged in semiconductor research and education. Through the partnership they will bolster workforce education and training programs nationwide, targeting job skills, academic degrees, and continuing education. The goal is to grow and diversify the talent pool for the industry as well as to accelerate scientific innovation and technology commercialization.
Between massive public and private investments and creative problem solving to address the semiconductor labor shortage, a future with ample domestic semiconductor production might be within reach.
In the meantime, if your company is looking to hire the best available talent to help you reach your goals, we can help. Reach out to us today to tap into our Talent 101 Circuit and find the right people for your organization.