This morning I had an experience most of you probably find familiar. As I turned on my car, a couple of lights came on to let me know my car needed service. With the help of the car's internal technology, I was alerted that my car needed a "C" scheduled service, the brakes needed attention, and my tires needed more air to accommodate the coming cold weather. I made an appointment with my mechanic and then started to wonder how his job's changed in recent years and how it stands to change even more as auto technology evolves over the next few years.
Our work at Talent 101 has given us a glimpse into some of the changes to come. We've had the good fortune to work with companies in the automotive industry to provide development and testing services for the semiconductor technology they use.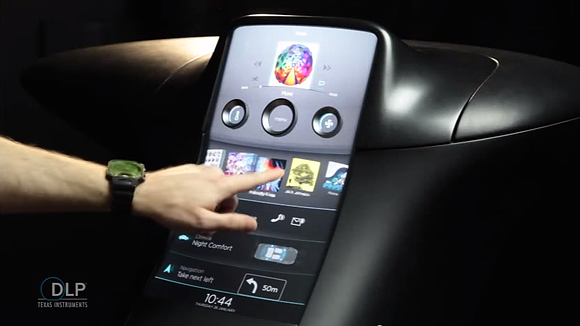 They picked a good industry. The global automotive semiconductor industry is predicted to be worth $35 billion by the end of 2014. Texas Instruments has already developed digital light processing (DLP) automotive solutions to power cars' consoles (as featured in image above). Freescale partnered with Chrysler, Jeep, Dodge, RAM and FIAT to work toward a vision of the car of the future that looks pretty exciting.
Most of us who drive daily are already benefitting from the technological solutions companies like these are developing, but what we see today is just the beginning. We'll all see an increase in the ways technology influences the experience of our daily commute and our awareness of the car's needs.
What does all this new technology mean for today's auto mechanic?
As cars evolve, the job of the people fixing them must too. Mechanics join the ranks of the professionals in many industries that continually see their jobs evolve due to technological advances.
For many years, the Talent 101 staff has participated in the Texas Scholars Program. The Texas Scholars Program is a joint effort between school districts and the business community to demonstrate the vital link between a strong academic foundation and success in the workplace.
A big part of our contribution is to get these students thinking about jobs that have not been invented yet. For students already looking ahead to their potential careers, it's not easy to predict which industries will develop anew in the years to come and anticipate how to start getting ready for them. Just as important is helping them understand the value of being adaptable in the jobs they do end up in to stay employed.
As the social security retirement age keeps moving up, basic math tells us that most current 8th graders can expect to work for more than 45 years after completing college. Advances in technology will likely lead to them changing careers at least five times. Students – and really, all their adult counterparts already in the professional world – benefit from understanding now how important it will be to adapt to the unexpected.
So what will the future car mechanic need to do to stay employed? Will it soon be considered a high-tech job that involves knowing code or requires intense specialization? If so, what will current mechanics need to do to keep up? Will they need to invest in continued education, or might some of their work be replaced by robots?
I don't know the answer to all these questions yet, but looking at the bill I got for the services, one thing's already clear. Mechanics are already adapting to the higher demands of auto technology in their pricing. The hourly labor rates for a car mechanic are more than a senior design engineer charges!
The semiconductor industry only continues to grow and change, and smart tech professionals should strive to stay on top of industry trends. Over 2,000 of those already turn to the Texas Semiconductor Professionals group on LinkedIn to help stay on top of things. Why not join us?