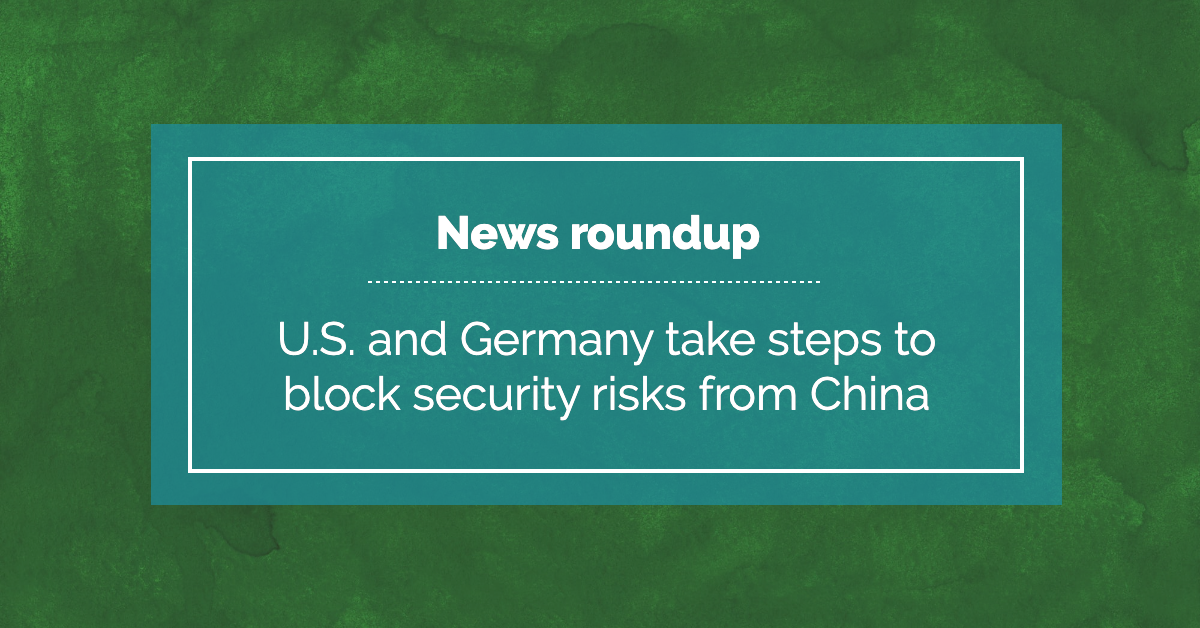 China remains the top challenge to U.S. national security interests, according to a recently-released National Defense Strategy report from the Pentagon. As a result, the U.S. government is taking steps to reduce or limit commerce with China. Germany and several other EU countries are similarly concerned about China's dominance and are changing their policies on doing business with China-based companies.
Reports of lawmakers in the U.S. and Europe considering and implementing strategies to contain the situation have been coming in for the past few months. Here is a roundup of some of the recent efforts (from newest to oldest):
U.S. lawmakers began asking questions about whether the government is prepared for the security threat posed by the coming influx of Chinese-made smart and autonomous vehicles to the United States.
The fear is that the massive amount of data being collected by the vehicles could give adversarial states an unprecedented vantage point into the U.S. and other Western nations. Beijing has already pioneered the use of big-data analytics to identify dissidents at home, and security experts are concerned that the same tactics could be deployed in the West.
The issue is particularly urgent because a Chinese startup backed by one of the largest state-owned car companies, AutoX, was already granted approval to put taxis on the roads in California.
"China is the only competitor out there with both the intent to reshape the international order and, increasingly, a power to do so," stated Secretary of Defense Lloyd Austin from the Pentagon.
A senior defense official, speaking to reporters about the new defense strategy on the condition of anonymity, said China continues to gain more "capability to systematically challenge the United States across the board: militarily, economically, technologically, diplomatically."
The "China challenge," according to Austin, has led to boosting defense capabilities across all warfighting domains, especially space and cyberspace, to make it clear to any potential adversary that "the cost of aggression against the United States or our allies and partners far outweighs any conceivable gains."
Three Chinese telecom companies were named as threats to U.S. national security by the U.S. Federal Communications Commission: Pacific Networks Corp, ComNet, and China Unicom. The designations are under a 2019 law aimed at protecting U.S. communications networks.
In March 2021, the FCC initially designated five Chinese companies under its "covered list," citing the fact that they are subject to the Chinese government's exploitation, influence, and control, including the associated national security risks.
Earlier this year, the U.S. regulator voted to revoke the authorization to operate in the United States for China Unicom, Pacific Networks, and ComNet, citing national security concerns. FCC Chair Jessica Rosenworcel said the move was critical to protecting U.S. communications networks from foreign national security threats. "We are taking additional action to close the door to these companies."
Germany took its first steps to create policies that would limit the risks involved in doing business with Chinese companies. The country's economy minister announced that its government was working on a new trade policy with China to reduce dependence on its raw materials, batteries, and semiconductors.
Although China has been Germany's largest trade partner for six years, the new government is worried about its dependence on Asia's economic superpower.
Policies will include several new measures to make doing business with China less attractive. Additional new measures will include a closer examination of Chinese investments in Europe, such as infrastructure. Further, the economy ministry was considering measures such as reducing or even scrapping investment and export guarantees for China and no longer promoting trade fairs.
This is a developing story, and we're likely to see more safeguards put in place by the U.S. and European governments to limit involvement with Chinese tech companies in the coming months. To stay up to speed on this and other semiconductor industry news stories, make sure you're subscribed to the Talent 101 Semiconductor blog.