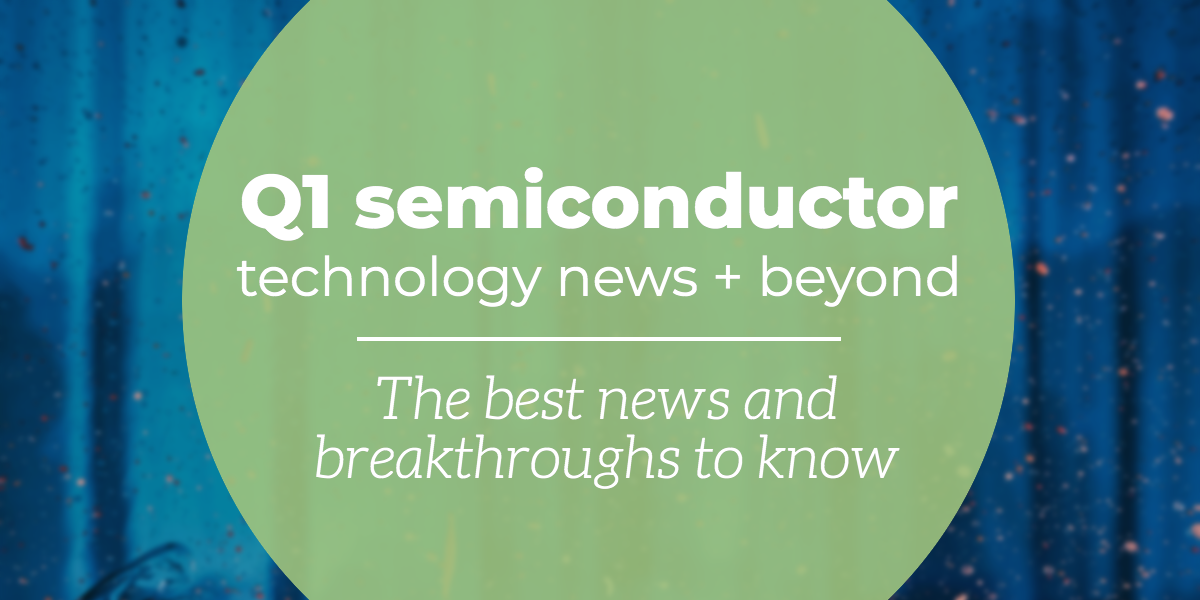 Global chip sales kicked off 2021 on a positive note, President Biden passed a plan to boost chip production, and researchers reported new solutions to address the biggest computing problems today. Read on for the latest news and technology updates in the first quarter of 2021.
Global semiconductor sales increase in January 2021
As the first quarter of the year passes, the World Semiconductor Trade Statistics (WSTS) releases its monthly sales data for the new year. In January 2021, global semiconductor sales reached $40 billion, an increase of 13.2 percent over the previous year's $35.3 billion.
"Global semiconductor production is on the rise to meet increasing demand and ease the ongoing chip shortage affecting the auto sector and others, and annual sales are projected to increase in 2021," said John Neuffer, SIA president and CEO.
Read more industry sales data here.
Executive order introduces a $37B plan to boost U.S. chip capacity
With today's long lead times for many semiconductors, major business groups and manufacturers are calling for funding solutions to help mitigate the resulting widespread chip shortages.
In February, President Biden signed an executive order that paves the way for the distribution of $37 billion federal government investment to address the supply shortfall. In his address, President Biden said, "This is about making sure the United States can meet every challenge we face in this new era — pandemics, but also in defense, cybersecurity, climate change, and so much more. And the best way to do that is by protecting and sharpening America's competitive edge by investing here at home." The order includes identifying and building surge capacity to help ramp up production, collaborating with industry allies, and investing in R&D.
Learn more about the new order here.
New diagnostic platforms help detect COVID-19 infections
In early January, scientists at the University of Rochester created a chip-on-a-card, an optical chip embedded on a disposable card, that can also detect multiple viruses at once. Additionally, the card will enable clinicians to understand potential relationships between previous infections and immunity to other viruses.
They're not the only chip innovators to lead the charge on COVID-19 detection technology; chip researchers at Carnegie Mellon University have developed a new antibody test using nanomaterial biosensing to detect antibodies in seconds. Researchers in Okinawa also combined light-sensing technology with a microfluidic chip to provide diagnoses within 30 minutes, even when antibody concentrations are low.
While antibody testing platforms are still in development, the potential use cases could impact how widespread infections can be treated.
New DRAM could break down the AI memory wall
For artificial intelligence (AI) to find faces, understand speech, and suggest searches, data needs to travel from DRAM memory chips to the processor. But memory is no longer able to keep pace with computing capabilities, creating a problem known as the "memory wall".
To break down the AI memory wall, research groups in the U.S. and in Belgium found a new type of DRAM solution. The new DRAM contains more area and energy savings when running larger neural nets. While it has its limits, it's fast, cheap, and consumes less power.
To learn more about the new DRAM solution, click here.
Chipmakers develop the smallest LiDAR camera
LiDAR is the practice of using light or non-visible electromagnetic radiation to detect and measure the distance to objects. The technology is also responsible for shaping visionary innovations like the Mars Perseverance rover.
To take LiDARs to the next level, Intel and STMicroelectronics teamed up to develop the world's smallest MEMS mirror with Intel-enabled spatial scanning of an environment. This system can provide high-resolution scanning for industrial applications like robotic movements, logistics, and 3D scanning.
Learn more about the camera here.
That's all for this quarterly roundup! Make sure to subscribe to our blog to keep up with the latest developments in the semiconductor industry.