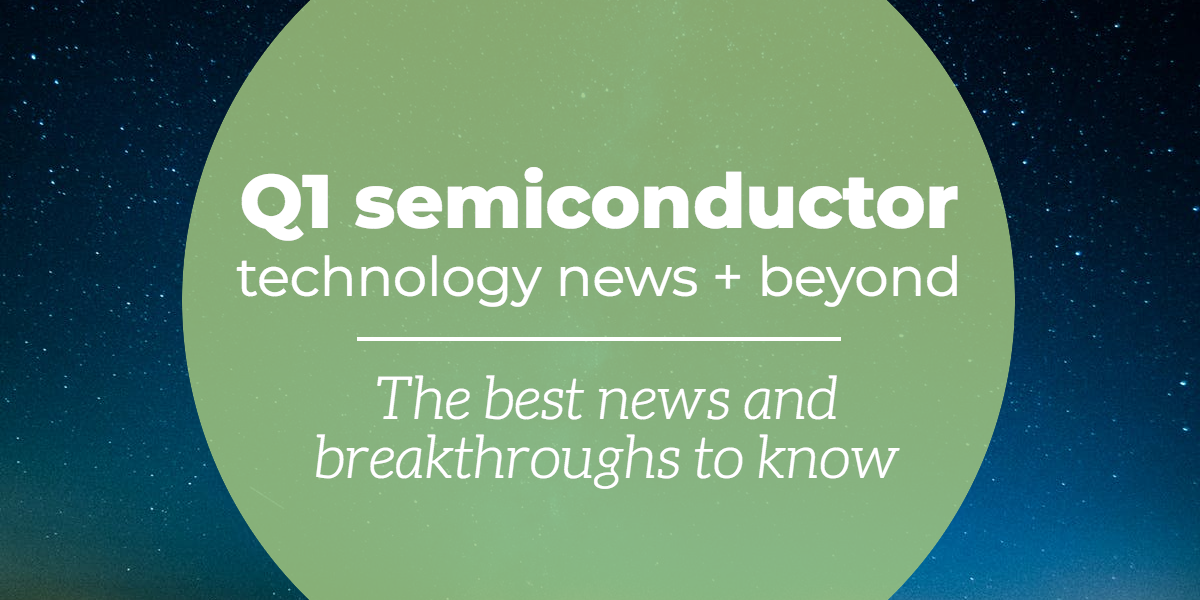 We're now three months into 2019, and a lot has happened in the semiconductor space. As we ramp up for the spring hustle, we've got a lot to celebrate, including new events and breakthroughs and record industry growth.
Every quarter, we like to highlight the latest news that impacts semiconductor companies. Our aim is to provide busy hiring managers with a quick rundown of all industry happenings. Here's what you need to know about what's happened in the first quarter of 2019:
Global semiconductor sales reached an all-time high in 2018
The 2018 numbers have come in, and they show that annual global semiconductor sales reached a whopping $468.8— the industry's highest-ever annual total. This represents a 13.7 percent increase over sales in 2017. According to SIA's press release, there were several product categories that stood out in 2018:
Memory was the largest category by sales with $158 billion in 2018, as well as the fastest growing segment.

Logic chips followed with $109.3 billion in annual sales.

Micro-ICs (integrated circuits) sold $67.2 billion in 2018.
Check out the press release for more details.
More than one trillion semiconductors sold in 2018
Many semiconductor leaders also celebrated another impressive number: about 1.004 trillion semiconductors were sold in 2018— the highest annual number to date. Thanks to artificial intelligence (AI), internet of things (IoT), and autonomous vehicles, semiconductors are growing at a faster pace than ever before. With new innovation, semiconductor sales are projected to continue this impressive growth in the coming months.
Read more about the report here.
New executive order aims to foster AI growth
With new applications and research developing constantly, artificial intelligence has helped advance chip technology significantly. To strengthen and cement American's position in the AI race, the Trump Administration launched a new executive order dubbed the "American AI initiative." The order aims to boost research and regulation efforts across the country's federal, academic, and private sectors.
The goals of the order are organized into five key areas:
research and development

open resources

ethical standards

automation

international outreach
While the executive order addresses a number of key concerns, details about funding remain unclear. The administration plans to elaborate on funding and timeline specifics in the next six months.
Check out this press release to learn more about the AI initiative.
Engineers develop a detection tool to support semiconductor manufacturing
Engineers from the Australian National University (ANU) created a new tool to help manufacturers spot defects in everyday technology. This invention helps identify issues by capturing high-resolution images of semiconductor materials within seconds.
A team of ANU researchers and scientists discovered that capturing light emitted from semiconductor materials can gather information about its properties. To test out this method, engineers took pictures of the optical bandgap, which can determine a chip's ability to absorb light and conduct electricity. While previous methods can render quality images in a week, this new tool can do it in seconds.
ANU researchers hope this will pave the path to a new generation of precise detection tools for both research and industry fields.
Read this article to learn more about this defect-detecting invention.
Houston physicists build stretchable semiconductors
Robotic skins and wearable technology have opened tremendous opportunities to track and improve personal health and fitness. Yet creating stretchable semiconductors has presented challenges due to the expense and difficulty of large-scale implementation— until now.
Physicists from the University of Houston invented a stretchable, high-performance chip device with integrated electronics and circuits. To tackle the challenges that typically come with stretchable chips, they developed a low-cost semiconductor material that retains both high carrier mobility and stretchability. To do this, the team used metallic carbon nanotubes to create a network of "highways." This network reduces the distances over which electronics travel, thus improving carrier mobility.
Read this article to learn more about stretchable semiconductors.
Physicists create a new platform to study quantum optical physics
In recent years, quantum technologies have shown up in headlines on top new sites and have garnered significant attention in the tech community. Many tech leaders and enthusiasts expect quantum devices to revolutionize information technology and accelerate performance. But to enable this innovation, scientists must develop more reliable and precise platforms to manipulate quantum particles (excitons).
Fortunately, a team of scientists from Washington, Hong Kong, and Tennessee universities have been experimenting with a novel platform that lets them control particles with a twist.
Excitons are extremely fickle and small, which meant scientists needed a platform to trap and isolate them. The team approached this challenge by changing the rotation angle between two different 2D semiconductors. The result is a superlattice structure called the moiré pattern, which is the first viable method to trap hundreds of excitons.
To learn more about this new quantum platform, check out this article.
That's all for this quarter's chip and tech rundown. To stay in the know about the latest semiconductor news, industry trends, and emerging issues, subscribe to our blog.