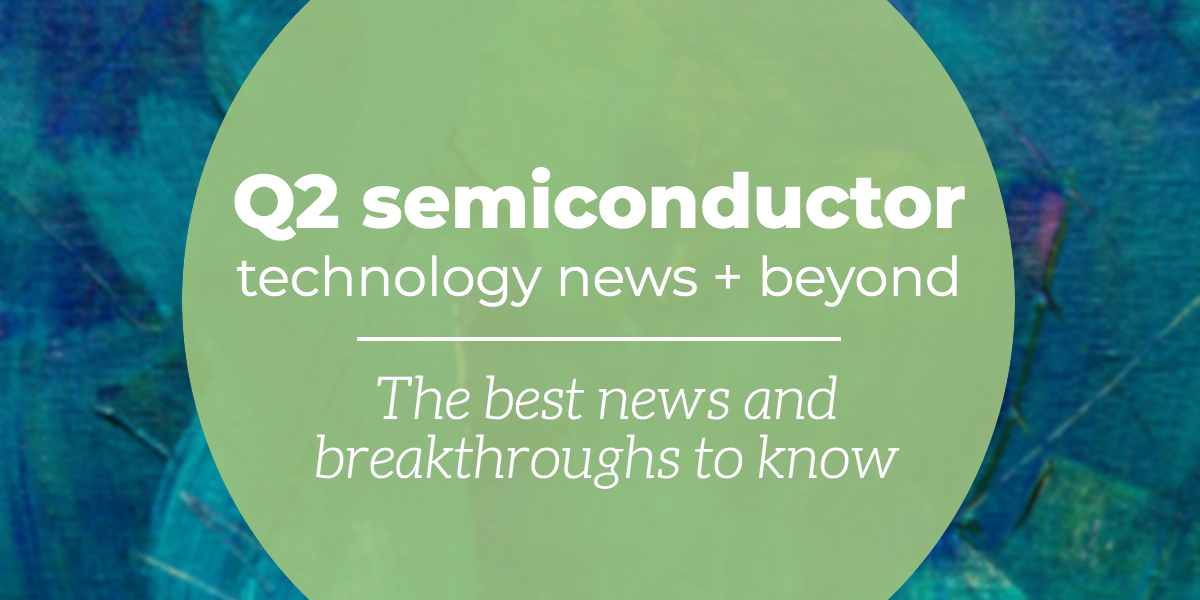 As we reach the halfway point of 2020, it's time to catch up on what's happened in the semiconductor space. While the pandemic led to an inevitable shakeup in many industry operations and consumer habits, new semiconductor developments have shown great promise for progress in the future. In the past few months, we saw big proposals impacting industry growth and leadership, record-setting solar breakthroughs, and even a new way to judge semiconductor progress.
In case you missed anything, here's a rundown of the the latest news and breakthroughs in the chip field:
Global semiconductor sales decrease in April 2020
Global sales of semiconductors reached $34.4 billion in April 2020. This is a decrease of 1.2 percent from the previous month, but it's still a 6.1 percent increase over April 2019. Although sales dipped slightly in the previous month, the numbers were in line with predicted seasonal trends.
SIA president and CEO John Neuffer said, "The global semiconductor market through April has shown early signs of resilience to the economic turmoil caused by the COVID-19 pandemic, but significant uncertainty remains in the months ahead."
Learn more about the semiconductor sales and forecasts here.
Legislation advances U.S. virtualized networks
A bipartisan group of senators launched the Utilizing Strategic Allied Telecommunications Act earlier in January, which aims to encourage the growth and implementation of virtualized cellular networks. This legislation seeks to foster the growth of wireless developments including open-architecture, software-based wireless technologies, and secure equipment adoption.
Bill propels innovation and funding in emerging technologies
Federal efforts to increase technology investments led to the debut of the Endless Frontier Act. The bipartisan and bicameral act would authorize $100 billion over five years and build on new jobs, science and technology R&D, and regional tech hubs. Additionally, the bill seeks to establish a new Technology Directorate to fund research in 10 key technologies including semiconductors, materials science, and quantum computing.
Tandem solar cell breaks world record
A new world-record-setting solar cell combines photactives layers, perovskite and CIGS, to monolithic "two-terminal" tandem cells. With this method, the Helmholtz-Zentrum Berlin (HZB) researchers hit a peak efficiency of 24.16 percent, surpassing the Solar Frontier's record of 23.35 percent.
Tandem cells can survive much longer in space and can be produced on flexible films. They're also extremely lightweight and stable against irradiation, and could be suitable for applications in satellite technology in space.
Read more about the tandem cells here.
Engineers invent a new way to track chip technology
Decades ago, the gap between what a process node is called and the size of the devices began to drift apart. This growing mismatch has caused problems. Nodes are roadmap markers that provide engineers with design and process guidance. Today, the sizes of nodes have lost meaning due to marketing and discrepancies among foundries.
Current pressure to quantify node numbers have led some of the most noted device engineers to propose a new way of tracking the progress of semiconductor technology. The idea is a set of three numbers, which increases as technology progresses rather than decreasing.
To learn more about this new way of tracking chip technology, read more here.
Hot qubits pave the way for commercial quantum computing
When quantum bits, or qubits, operate together with silicon chips, they can tackle challenges beyond the capabilities of everyday computers, like performing highly complex calculations, at low cost. But to enter commercial spaces, qubits can only operate at temperatures close to absolute zero.
To solve the temperature hurdle, a team of researchers from UNSW Sydney created a quantum processor unit cell that can operate at temperatures of up to 1.5 kelvin. With "hot qubits" in development, quantum tech can become a reality outside of confined laboratories.
Read more about hot qubits here.
That's all for this quarterly roundup. Make sure to subscribe to our blog to stay up to date on the newest developments in the semiconductor industry.