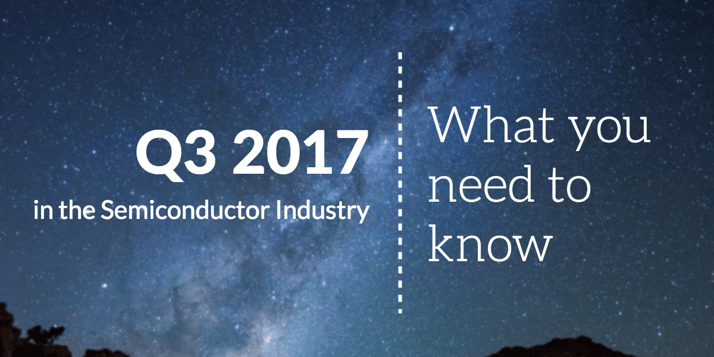 As Q3 winds down, we wanted to make sure you're fully caught up with recent sales numbers, technological advancements and economic developments within the semiconductor industry so you can be informed and prepared for what's ahead. We've kept a close eye on some of the most recent happenings in the field and we've put together a few quick summaries of the most important stories.
Let's jump into it!
Semiconductor Sales on the Rise
The industry has continued to see sustained growth as July marked the 12th month of consecutive growth for the global market. On September 5th, the Semiconductor Industry Association (SIA) announced that worldwide sales of semiconductors reached $33.6 billion for the month of July 2017.
That number signifies an increase of 24% from July 2016's total. All major regional markets posted year-to-year and month-to-month increases for July. The Americas market had the highest growth numbers with 36.1% year-to-year and 5.4% month-to-month (more info here).
AI Applications Expected to Drive Semiconductor Growth
According to TrendForce, AI is expected to create demand for new technologies that will open up fresh market opportunities and drive improvement of the semiconductor fabrication process. AI applications are forecasted to drive semiconductor revenue growth at a rate of 3.1%. The semiconductor industry is, of course, not the only tech field experiencing the effects of AI. Sensors, hardware accelerators, digital storage units and telecommunication services have all begun to develop new solutions.
The automotive market is one of the fastest-growing applications thanks to the emergence of autonomous, electric vehicles. But it's not just emerging applications that are affected — mainstream industries are changing as well. Smartphones, for instance, are now incorporating more AI-related features. The top three phone companies in the world have all offered software and hardware products that include AI accelerators, ICs and application development kits (learn more here).
Advancements in Semiconductor Chip Production
Thanks to Moore's Law, the tech industry continues to push the bounds of what is possible — constantly striving to make chip manufacturing processes and products smaller, faster and cheaper. For the automation industry, this has resulted in incredible power-to-size ratios. But this advancement has put considerable pressure on the semiconductor industry to keep up.
Creating ICs is an incredibly complex procedure. And because the process has so many working parts and different branches of evolving technology, it's too difficult for a manufacturing execution system (MES) to keep up with everything. Because of this, companies like Festo — who supply products and systems throughout the convoluted process — have begun to on automating the individual tool rather than the overall fab.
With fluctuating consumer demands, it's hard for manufacturers to recognize where to standardize and where to customize. For chipmakers like Intel who sell hundreds of millions of microprocessors per year, it makes sense to standardize production as much as possible. (read more)
Trump Blocks Deal Between Lattice Semiconductor and Canyon Bridge
On September 14th, President Trump officially blocked a Chinese government-backed firm's acquisition of Lattice Semiconductor — an Oregon-based company. Siding with advice from the Committee on Foreign Investment in the United States (CFIUS), Trump said he believes that the potential buyers of Lattice "might take action that threatens to impair the national security of the United States."
Lattice makes field-programmable gate arrays that allow other companies to put their own software on silicon chips for various uses. Though Lattice no longer sells chips to the U.S. military, their two largest rivals — Xilinx Inc and Intel Corp's Altera — still do. And critics of the deal warned that Lattice's chips could still have military applications. Although the potential deal was a small one (1.3 billion), it had been closely watched by companies around the globe who were looking to gauge whether or not the U.S. would be open to Chinese efforts for developing their own chip industry (more here).
The industry continues to move forward at an incredible pace. If you'd like to stay informed, subscribe to our blog for more information on semiconductor trends, developments and insights.