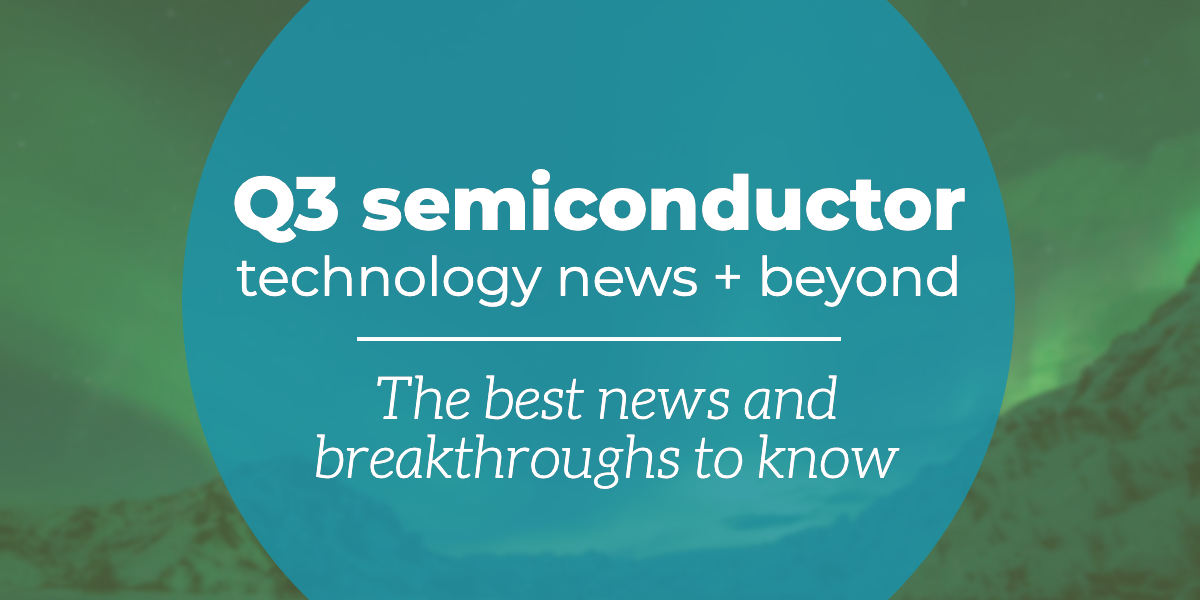 As we wrap up another quarter, it's time to look back on what's happened in the semiconductor industry in the last few months. In this quarterly round-up of semiconductor news: the White House continues to focus on semiconductor supply chains, the EU seeks semiconductor sovereignty, and more. Read on to learn more about the latest news and technology updates in the third quarter of 2021:
White House hosts semiconductor supply chain meeting
The Biden administration looked to the semiconductor industry to gather more information from companies struggling with the global shortage of semiconductors in an effort designed to ease bottlenecks. The request for voluntary information was made at a September 23rd semiconductor supply chain meeting of automakers, technology companies, and semiconductor producers.
U.S. Commerce Secretary Gina Raimondo and White House economic adviser Brian Deese hosted the semiconductor supply chain meeting from the White House. Guests included executives from Detroit's Big Three automakers, Apple, Daimler, BMW, GlobalFoundries, Micron, Microsoft, Samsung, TSMC, Intel, and Ampere Computing.
This meeting marks the administration's second substantive action to address rising prices in the auto industry and other sectors that rely heavily on semiconductors, since designating those chips as one of four critical supply chain bottlenecks earlier in spring 2021. Biden's infrastructure plan seeks to strengthen supply chains for chips and other important products, including $50 billion for semiconductor research and manufacturing.
Mexico considers southern states as location for semiconductor growth
In the face of ongoing chip supply chain issues, Mexico is seeking a potential new semiconductor production location in its southern states where there is greater access to water. "Mexico can contribute to the assembly, packaging, and wafers," said Economy Minister Tatiana Clouthier. The initiative meets two of the country's overriding goals: balancing the chip manufacturing supply chain and boosting the development of Mexico's poorer southern states.
At the High-Level Economic Dialogue (HLED) between the U.S. and Mexico, held in Washington last week, the neighboring nations agreed to make shared supply chains, especially for semiconductors, more competitive. Mexico and the U.S. agreed at the HLED to create bilateral working groups on supply chains for semiconductors, as well as on medical devices and pharmaceuticals, said Clouthier, who also met with the Semiconductor Industry Association and the Information Technology Council.
EU launches European Chips Act to boost semiconductor sovereignty
The global shortage of semiconductors is driving EU lawmakers' concerns about European capacity. As such, gaining greater autonomy and resiliency in chipmaking is now a key component of the EU's overarching digital strategy. In a move to bolster its resiliency and sovereignty in regional semiconductor supply chains, the bloc's president, Ursula von der Leyen, announced a forthcoming "European Chips Act."
The EU Chips Act will aim to link together the EU's semiconductor research, design, and testing capacities, and call for coordination between EU and national investments to help boost the bloc's self-sufficiency.
"The aim is to jointly create a state-of-the-art European chip ecosystem, including production that ensures our security of supply and will develop new markets for ground-breaking European tech," von der Leyen stated. "Today European satellites provide the navigation system for more than two billion smartphones worldwide. We are world leaders. So, let's be bold again, this time with semiconductors."
NVIDIA founder to receive highest semiconductor award
As a trailblazer in building accelerated computing platforms, NVIDIA helped build the gaming market into the world's largest entertainment industry. NVIDIA also ignited modern AI — the next era of computing — with the GPU acting as the brain of computers, robots, and self-driving cars. In August, the Semiconductor Industry Association (SIA) announced the company's founder and CEO, Jensen Huang, is the 2021 recipient of the industry's highest honor, the Robert N. Noyce Award. SIA presents the Noyce Award annually in recognition of a leader who has made outstanding contributions to the semiconductor industry in technology or public policy. Huang will accept the award at the SIA Awards Dinner on Nov. 18, 2021.
"Huang's extraordinary vision and tireless execution have greatly strengthened our industry, revolutionized computing, and advanced artificial intelligence," said John Neuffer, SIA president and CEO, "and he continues to advance technologies that will transform our industry and the world.
That's all for this quarterly roundup! Make sure to subscribe to our blog to keep up with the latest developments in the semiconductor industry.