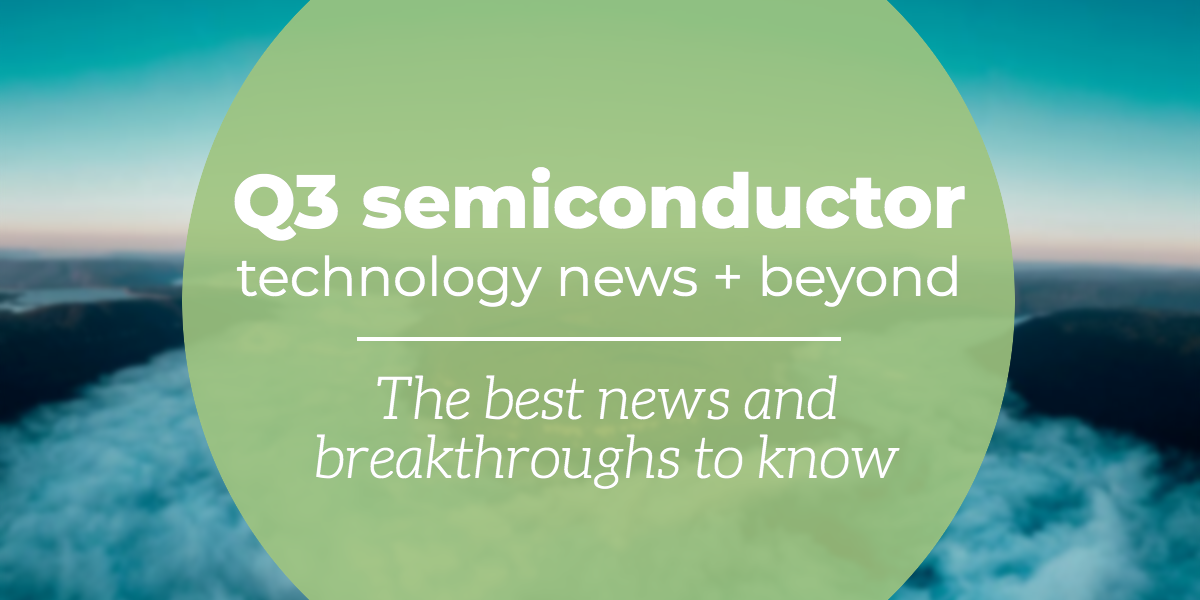 As summer winds down and we welcome fall, it's time to look back at the last few months in semiconductor industry news. In this issue, we'll look at mid-year semiconductor sales numbers, the bill to end the employment-based visa process, MIT's battery-free sensor, and Samsung's newest 5G technology.
Here what you need to know about what's happened in the industry in Q3:
Mid-year global semiconductor sales down 14.5% compared to 2018
The numbers for Q2 are in: global semiconductor sales reached $98.2 billion during the second quarter of 2019, which is a .3 percent increase from last quarter, according to the Semiconductor Industry Association (SIA).
Global sales for June 2019 totalled $32.7 billion, which is a decrease of 0.9 percent compared to May's total of $33 billion. Cumulatively, year-to-date sales during the first half of 2019 were 14.9 percent lower than in 2018.
"Year-to-year sales were down across all major regional markets and semiconductor product categories. One silver lining was that sales during the second quarter of 2019 narrowly outpaced sales during the first quarter," said SIA president and CEO John Neuffer.
Learn more monthly semiconductor sales data here.
House passes legislation to remove per-country immigration caps on employment-based visas
Under current U.S. immigration law, employment-based immigrant visas are granted based on where an applicant is born. Per-country limits and the low annual total limit of about 140,000 employment-based green cards can create long wait times for immigrants, especially those from India. All of this results in highly-skilled immigrants taking their talents to countries other than the U.S.
In June, the U.S. House of Representatives approved the "Fairness for High-Skilled Immigrants Act of 2019" with strong bipartisan support. This bill aims to eliminate counterproductive per-country gaps on employment-based visas for a fair "first come, first served" system. It also aims to raise the per-country limits from 7 percent to 15 percent for family-based immigrants.
Learn more about the new bill here and follow updates here.
MIT researchers introduce a battery-free underwater sensor
Historically, portable electronic devices have needed to consume power using a battery. However, in recent years, non-rechargeable alternatives like energy harvesting have introduced more solid possibilities for portable power sources. MIT recently took energy harvesting to another level by developing an underwater sensor without a battery.
MIT's underwater sensor relies on piezoelectric materials, which uses mechanical stress to generate electronic charge using a master transmitter and slave receiver. A master transmitter uses a piezo element to send out vibrations in the water which hit the slave receiver. This results in one of two actions: either the receiver will absorb the vibration and store the energy or reflect the signal back.
While today's underwater designs possess limitations in hostile environments, the potential of MIT's new battery-free sensor can provide a useful solution for marine studies and space exploration in the future.
Learn more about MIT's underwater sensor here.
Samsung introduces its first 5G-integrated mobile processor
In today's race for innovative advancement, releasing the newest 5G technology is a goal for most semiconductor leaders. Earlier this month, Samsung Electronics took the next step in 5G mobility with their latest mobile processor, the Exynos 980. This new processor is Samsung's first artificial intelligence (AI) mobile processor with an integrated 5G modem.
"With the 5G-integrated Exynos 980, Samsung is pushing to make 5G more accessible to a wider range of users and continues to lead innovation in the mobile 5G market," said Ben Hur, vice president of System LSI marketing at Samsung Electronics.
Exynos 980 features:
Reduced power consumption and increased space efficiency within a device.
Better data privacy and security.
Compelling camera performances with resolution support.
The Exynos 980 is expected to begin mass production by the end of this year.
Learn more about Samsung's first AI-powered 5G mobile processor here.
That's it for this quarter's semiconductor industry updates. To stay up to speed on the latest semiconductor news and trends, make sure you subscribe to our blog.