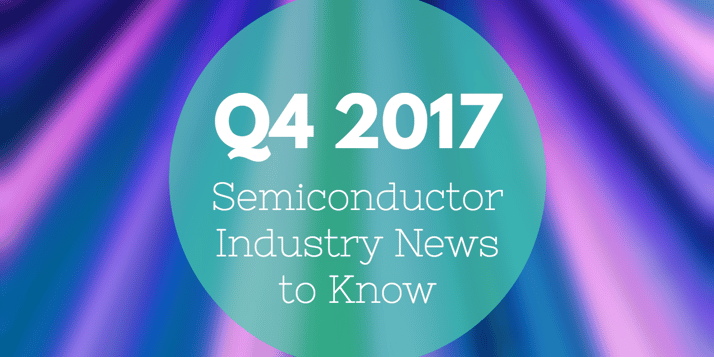 After posting the highest-ever quarterly sales in Q3 2017, the global semiconductor industry boasted another $37.1 billion in worldwide sales in October to kick off Q4 2017. October 2017 saw a 21.9 percent increase from the previous year and a 3.2 percent increase from September 2017. That means Q4 2017 began with the highest-ever monthly sales total for the industry. With these record-breaking figures, Semiconductor Industry Association (SIA) president and CEO John Neuffer believes the global market is "poised to reach its highest-ever annual revenue in 2017."
As we near the end of the year and the final quarter of 2017, let's take a look at the industry's latest news. Read on for the latest on growth, research and development, and other important updates that will finish out one of the biggest years for the industry.
Consolidation movement still strong in the industry
For a while, it seemed a new merger or acquisition happened in the industry every week. Then, the industry appeared to reach a lull at the beginning of the year—but that didn't last long. As Qualcomm moves to acquire NXP, Broadcom put out a bid for Qualcomm, and Marvell Technology Group sealed the deal to acquire Cavium, a Broadcom rival. Though Qualcomm initially rejected Broadcom's bid, sources say Broadcom has not bowed out of the fight yet, and plans to offer a more enticing deal to Qualcomm in the near future.
The M&As won't stop there. The reduced costs and expanded product lines resulting from consolidation in the industry will only fuel more companies to pursue opportunities to acquire other semiconductor players. Finance news site TheStreet.com, predicts five more acquisitions that could unfold soon: Xilinx Inc., Cypress Semiconductor Corp., Mellanox Technologies Ltd., Qorvo Inc., and Microsemi Corp.
Automotive as major growth driver
Move over, PCs. Automotive has taken the reins on driving semiconductor industry growth.
Yes, PCs, the long-running ultimate growth driver in the semiconductor industry, have seen their sixth year in sales decline. Meanwhile, the semiconductor industry is bursting at the seams. As new apps move in to take the place of the PC market, one application stands out as a major growth driver: automotive.
As the amount of semiconductor content per automobile continues to rise, so does the prominence of automotive in driving semiconductor industry growth. According to research from IC Insights, the automotive sector of the semiconductor market will be "the strongest end market for chips through 2021." Advancing technology that supports electric cars, in-vehicle innovation, self-driving cars, and vehicle-to-vehicle and vehicle-to-infrastructure systems all contribute to the increased demand in electronic systems in cars. And with demand for electronic systems comes a demand for semiconductors. IC Insights believes this could lead to increasing automotive IC sales by 22 percent in 2017 and an additional 16 percent in 2018.
Semiconductor Industry Association names 2018 chair
In keeping with their commitment to represent U.S. leadership in semiconductor research, design, and manufacturing, SIA elected Matt Murphy, President and CEO of Marvell Semiconductor, Inc., to serve as SIA Chair in 2018. SIA also elected Sanjay Mehrotra, President and CEO of Micron Technology, Inc., to serve as 2018's Vice Chair.
In addition to his leadership at Marvell, Murphy brings extensive leadership experience from Maxim Integrated to his new role. As 2018 Chair, Murphy aims to "support research, boost competitiveness, and promote global trade" in the semiconductor industry.
SanDisk co-founder and former president and CEO, Mehrotra's experience in the semiconductor industry spreads over multiple decades. He also has over 70 patents and published articles on nonvolatile memory design and flash memory systems.
SIA's president and CEO, John Neuffer, believes this pair will be a winning combination for SIA. "Together, their skills and accomplishments will be a major asset to advancing SIA's priorities in Washington and around the world," said Neuffer.
Semiconductor industry leaders release report calling for a national IoT strategy
SIA, along with the Information Technology Institute Council and other industry leaders, released a national strategy report on the Internet of Things (IoT) in Washington D.C. This report urges policymakers to take a serious look at the transformative benefits of the IoT and its many applications. The report identifies semiconductors as the "key enabling technology" for the IoT.
In order for the U.S. to lead the world in the IoT, the report recommends the government collaborate with the semiconductor industry to establish a long-term strategy. To make this collaboration successful, the U.S. government will need to invest in and support the research and standards for the IoT as well as approve the Developing Innovation and Growing Internet of Things Act (DIGIT Act) that lays the groundwork for national IoT strategy. The report also recommends incentivized multi-layer protection of IoT solutions and data-driven infrastructure solutions. SIA is committed to working with policymakers in Washington to develop and advance the national strategy for the IoT.
To stay in the know about the latest semiconductor news, subscribe to our blog.