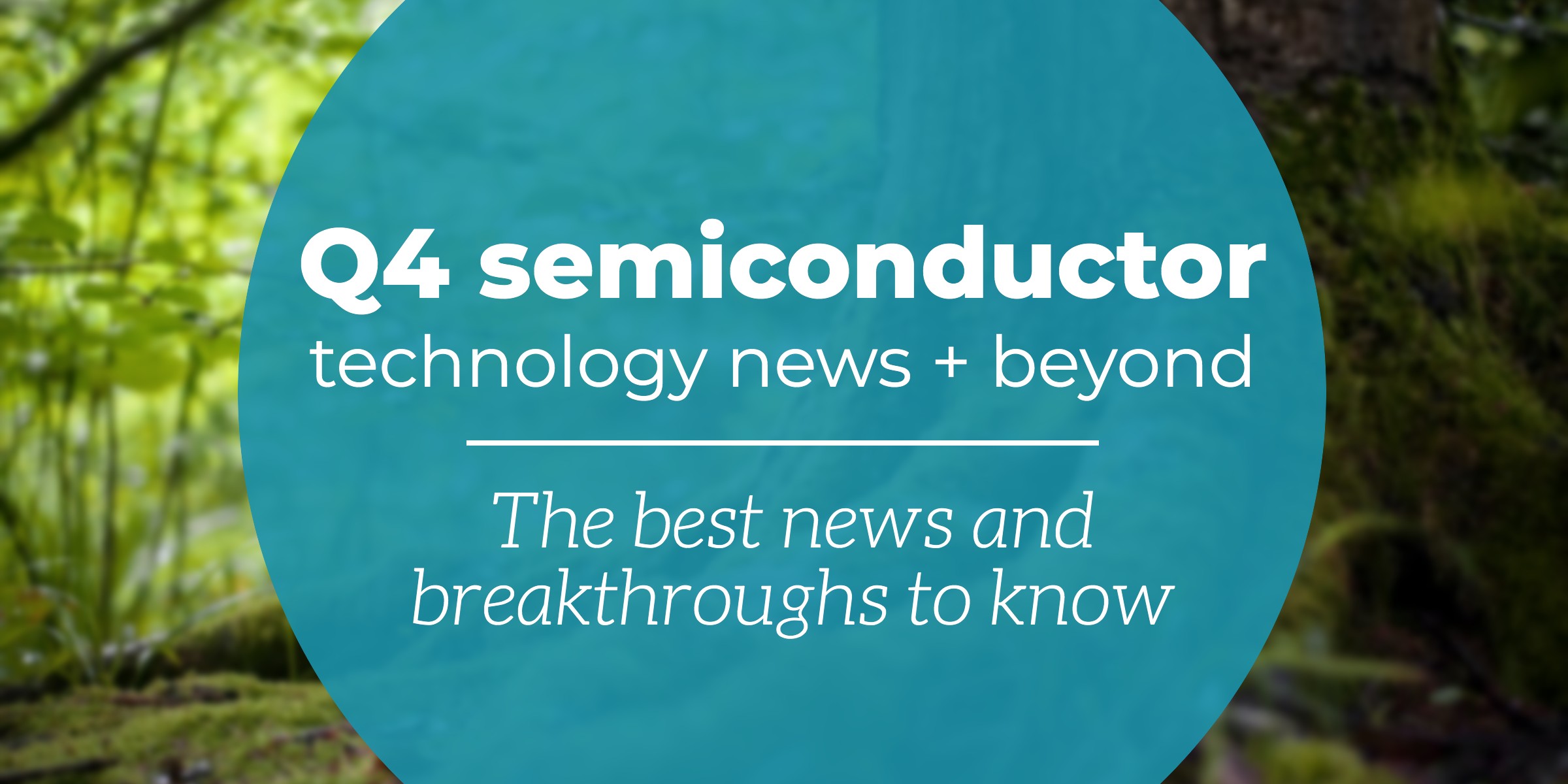 As we wrap up another year, it's time to look at what happened in the past quarter with a roundup of news, technological breakthroughs, and industry trends. This was a busy quarter, with legislation updates for scientific funding, an energy-efficient device that bends light, a new method for transforming silicon, and more. Let's take a look at what's happened in the last few months:
Semiconductor sales increased 8.2 percent in the third quarter and 2.9 percent in October
The Semiconductor Industry Association (SIA) announced that worldwide sales of semiconductors reached $106.7 billion in the third quarter of 2019. This is an increase of 8.2 percent from last quarter, but 14.6 percent less than the third quarter of 2018. In October, semiconductor sales reached $36.6 billion— an increase of 2.9 percent from the previous month, but down 13.1 percent compared to October 2018.
"While the global semiconductor market has slumped somewhat in 2019 compared to the record sales posted in 2018, the recent trend is more positive, with month-to-month sales increasing in October for the fourth consecutive month," said John Neuffer, SIA president and CEO. It's also predicted that global sales will rebound with moderate growth in 2020 and 2021 according to a newly released forecast from World Semiconductor Trade Statistics (WSTS).
Senate approves a bill to fund semiconductor research agencies
The United States Senate approved major funding for agencies supporting semiconductor research, including the National Science Foundation (NSF) and the National Institute of Standards and Technology (NIST).
Based on a House Committee on Appropriations press release, NIST will receive $1.04 billion in the bill, which supports the Manufacturing Extension Partnership program and core research activities. The legislation funds NSF at $8.64 billion which helps provide resources for advanced manufacturing, physics, mathematics, and cybersecurity as well as scientific infrastructure. The bill also funds NASA at $22.32 billion to continue space development and Science, Technology, Engineering, and Mathematics (STEM) engagement.
Duke University engineers bend photons of light around tight corners
By the year 2040, there won't be enough power in the entire world to run all of our electronic devices according to SIA. However, engineers at Duke University developed a solution to save energy, process faster, and have higher bandwidth using massless photons.
This new device directs photons of light around sharp corners with virtually no losses, which is a key property to develop light-based electronics. It's also not so sensitive to fabrication errors allowing its waveguide to be compatible with modern semiconductor technologies.
Read more about this device here.
U.S. researchers develop a new way to grow 2D semiconductors
Researchers at John Hopkins University have potentially found a faster and cheaper way to produce next-generation semiconductor crystals for microchips. This new method uses specially-treated silicon surfaces to tailor the crystals' size and shape. The result is a highly uniform, modular, and precise nanoscale material.
"Our method could save substantial processing time and money," said Thomas J. Kempa, a chemistry professor at Johns Hopkins University who directed the research. "Our ability to control these crystals at will could be enabling of applications in energy storage, quantum computing, and quantum cryptography."
Read more about this new method here.
Dialog Semi launches the "world's smallest and most power-efficient" Bluetooth SoC module
Dialog Semiconductor has announced its latest product, the DA14531, which aims to power one billion devices. They also assert that the chip, also known as the SmartBond TINY, is the world's smallest and lowest-power Bluetooth 5.1 SoC, which bases its claim on data from the EEMBC, the Embedded Microprocessor Benchmarking Consortium.
The three main features of Dialog Semiconductor's product are its size, power consumption, and price. It uses half as much energy as its predecessor, and at its small size (1.7 x 2.0mm), it's usable for many low-profile applications. The module can be transformational for design engineers who not only look for inexpensive solutions but also a way to accelerate development time.
While it's still in production, you can read more about the module here.
That's all for this quarter's semiconductor news roundup. For more industry news and best practices, make sure to subscribe to the Talent 101 semiconductor blog.