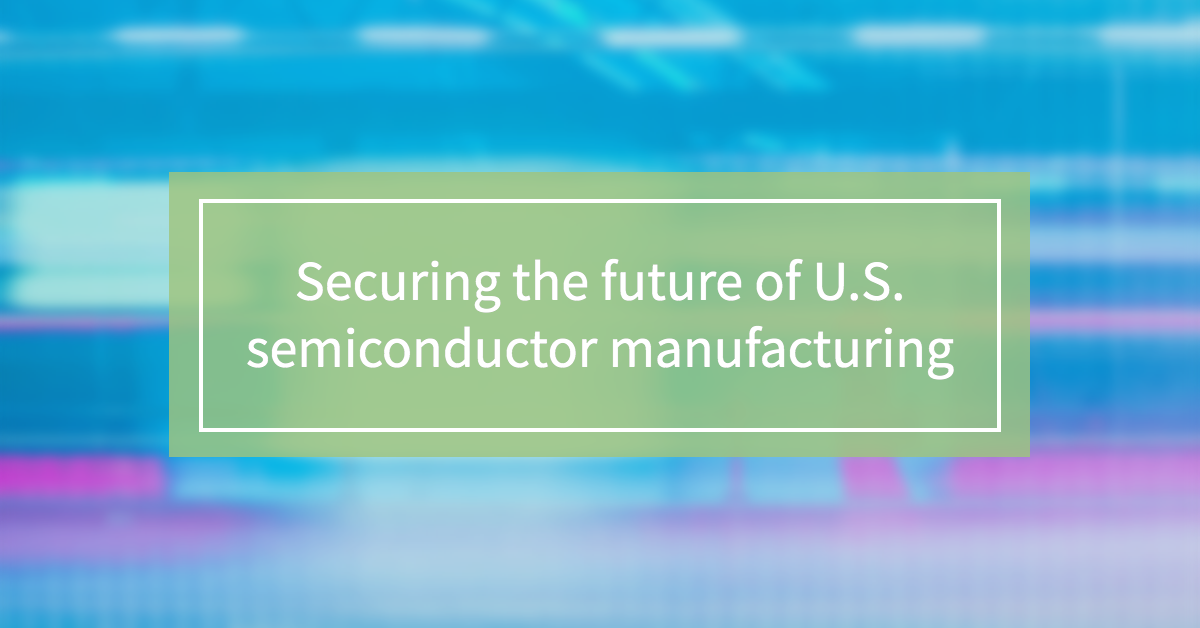 For years, semiconductor manufacturing in the U.S. remained stable. But now chip capacity growth in other regions has started to outperform American output. More semiconductors are now manufactured in Asia than anywhere else, and China is on track to become the largest semiconductor manufacturing location in the world.
While the U.S. leads the world in chip design and R&D, the ongoing decline of domestic chip manufacturing poses huge challenges for national security, the supply chain, and technical leadership. Many cutting-edge technologies like artificial intelligence and quantum computing depend on advanced chip design and production. With a slower rate of U.S. chip production capacity, rival nations are poised to become strongholds of innovative transformation.
In this article, we'll look at what's caused this downward trend in U.S. semiconductor fabs and capacity, and what leaders are doing to rebalance the scale.
Understanding the decline of U.S. semiconductor manufacturing
The U.S. is losing traction on chip manufacturing for two reasons. First, the U.S. foundries like Intel are slow in process technology— a critical part of chip scaling— compared to Asian fabs like TSMC and Samsung. Second, there's a sharp decline in new U.S. fabs and capacity.
Today, the U.S. share of semiconductor manufacturing accounts for 12 percent of global capacity, compared to 37 percent back in 1990. Additionally, only 6 percent of new global capacity in development will be located in the United States. With more than 80 percent of production happening in East Asia, the U.S. needs to find proactive ways to ensure U.S. leadership stays resilient in defense, technology, and intelligence industries.
Shaping solutions to boost domestic chip production
Experts reported two key solutions to boost competitiveness and innovation:
Establishing a new manufacturing grant program to propel the construction of chip manufacturing facilities (like cutting-edge logic foundries and advanced memory and analog fabs) in the U.S.
Providing tax incentives for semiconductor manufacturing, such as refundable investment tax credits for new chip manufacturing equipment.
According to Boston Consulting Group's analysis, a $20 to $50 billion government program of grants and tax incentives for fabs can do more than regain the edge for chip manufacturing: it can spur 19 state-of-the-art fabs, create 70,000 direct jobs, and improve the U.S. trade balance in goods. But the cost of building new fabs is much more expensive in the U.S. than in Asia or Europe, where they offer better incentives. In addition to an ambitious agenda, strengthening semiconductor manufacturing will require the help of other creative strategies.
So far, several solutions are in place to improve the United States' chip manufacturing position. Among them:
Making a shift in the U.S. chip industry
A high-tech economy and booming innovation require resilient leadership, from chip research and development down to the assembly line. Going forward, policymakers need to support ongoing efforts to increase semiconductor manufacturing fabs and capacity as the U.S. continues to fuel mission-critical technology. Together with the U.S. stronghold in chip design and R&D, a strengthened role in chip manufacturing would position the U.S. to open doors to new technologies and economies.
To keep up with the latest semiconductor news and updates, subscribe to the blog.