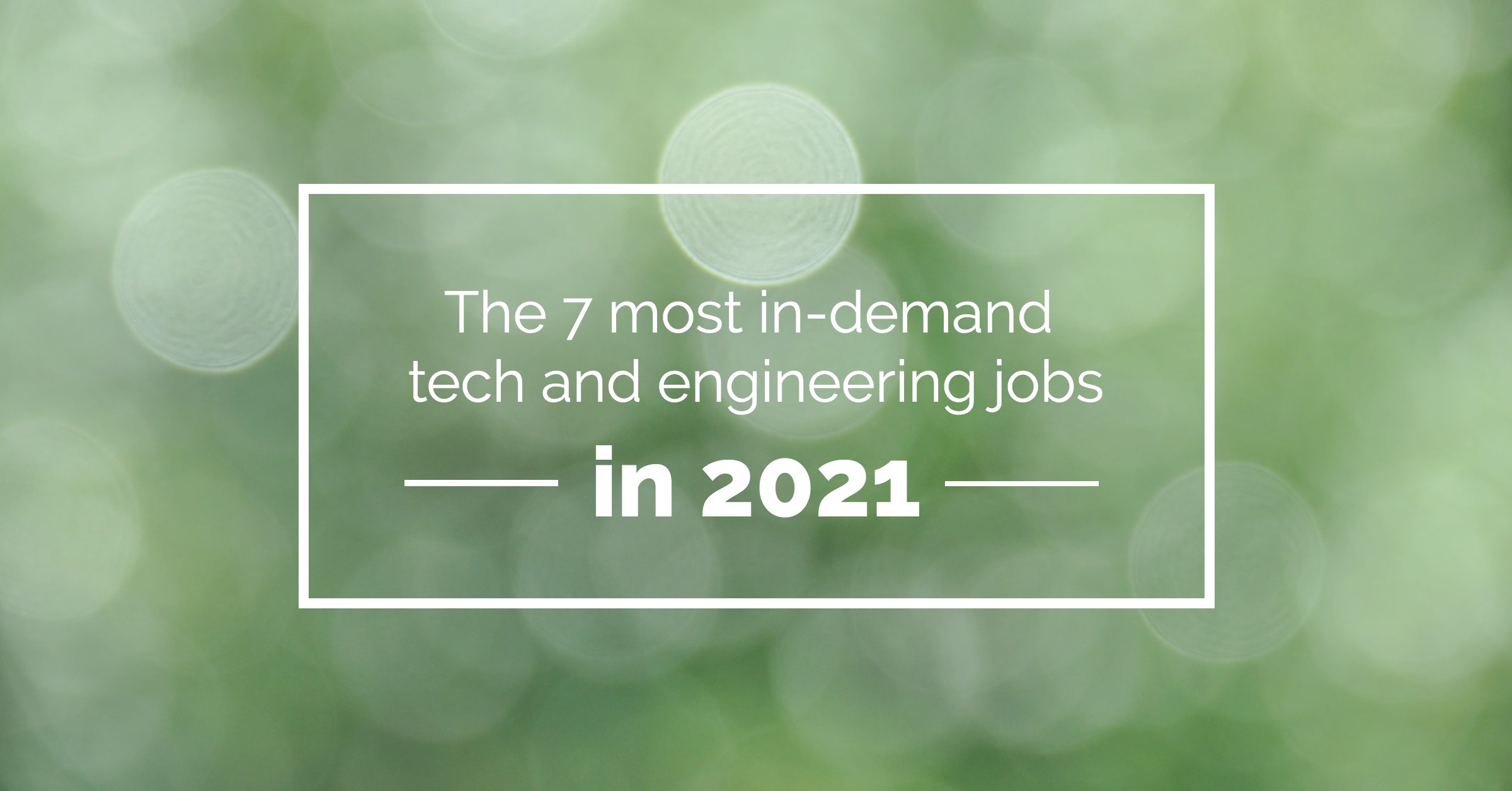 Even in an unpredictable labor market, engineers remain exceptionally high in demand across a myriad of industries. According to the U.S. Department of Labor data released in 2020, the total number of engineers will increase 4.8 percent from 2018 to 2028. Among them, several engineering roles stand out as the most in-demand gigs in 2021.
Let's look at the top seven engineering jobs and in-demand technical skills in 2021 based on a compilation of recent analyses and trends:
7. Mobile Applications Developer
Average base salary: $73,404
Technical skills needed: PHP, MS/SQL, Java, HTML
According to App Annie's The State of Mobile in 2020, the mobile app development industry shattered records for subscription, streaming, and gaming apps in recent years – creating more employment demand for Mobile App Developers. To keep up with demands, mobile application developers should have a robust working knowledge of mobile user interface design, language programming skills, and cross-platform app development.
6. Database Administrator
Average base salary: $93,750
Technical skills needed: SQL, Extraction Transformation and Loading (ETL), Oracle
In nearly all sectors of the economy, storing and organizing data are highly necessary skills. As a result, the U.S. Bureau of Labor reports opportunities for Database Administrators are projected to grow 10 percent from 2019 to 2029, much faster than the average for all occupations. These roles must be adept at database servers, structure, and configuration as well as securing the organizational data.
5. DevOps Engineer
Average base salary: $95,469
Technical skills needed: AWS, Azure, Jenkins, Ansible, Kubernetes, Docker
As more and more technology lives in the cloud, the need for IT and development becomes more important. That's where DevOps engineers come in. DevOps engineers thrive in dynamic environments to deliver rapid software and security updates, both internally and to customers. A good DevOps engineer needs to be adept at Linux/Unix system administration, cloud platforms, automation technologies, and coding/scripting.
4. Cloud Architect
Average base salary: $128,418
Technical skills needed: Linux/Unix, TCP/IP, IP addresses, HTTP, DNS, Java/Python/C#
The role of Cloud or Network architects is to migrate existing IT infrastructure into cloud services. Often, Cloud Architects are the technology team's go-to resource to bridge the gaps between complex business problems and cloud solutions. Like DevOps engineers, Cloud Architects have to possess strong command of at least one operating system and programming language, in addition to having networking and security foundations.
3. Information Security Analyst
Average base salary: $72,836
Technical skills needed: Java, C/C++, Certifications like CompTIA Security+ or Certified Ethical Hacker
Behind every piece of sensitive information, there are cybercriminals waiting to exploit it. An information security analyst acts as a crucial line of defense to counter data breaches, hacking, and other emergencies related to computer networks and systems. To plan defenses, assess risks, and stay abreast of compliance requirements, these roles require network and system administration experience, familiarity with security regulations, and an understanding of prevention tools.
2. AI/ML Engineer
Average base salary: $112,552
Technicals skills needed: Tensorflow, Hadoop, Python/Java/Perl, spaCy
AI/ML engineers topped Indeed's best jobs list in 2019 and on LinkedIn's list in 2020 – and for good reason. Touted by analysts as a "future-proof" job, Artificial Intelligence (AI) and Machine Learning (ML) engineers are continuously on the rise to match the high demand for automation. Making it as an AI/ML engineer requires neural network architecture knowledge, programming skills, and an understanding of signal processing techniques.
1. Data Scientist
Average base salary: $96,289
Technical skills needed: Python, R, Hadoop, SQL, Spark, Tableau
Data scientists aren't just in one of the top careers in terms of job satisfaction and salary— their skills are also in demand across many industries. Given the rapid adoption of the cloud and IoT (Internet of Things), Data Scientists hold key positions in global organizations to compile, clean, and transform data into actionable insights. Competent candidates in these roles have a background in computer science and expertise in mathematics, statistics, and software engineering.
Innovation in tech impacts how we work, build skills, and pursue career paths. Many skill sets will remain crucial in developing products and services, while others will evolve over time. To remain competitive, organizations and engineers must keep a close eye on how the tech and engineering industries will shift and what will be needed from the talent pool.