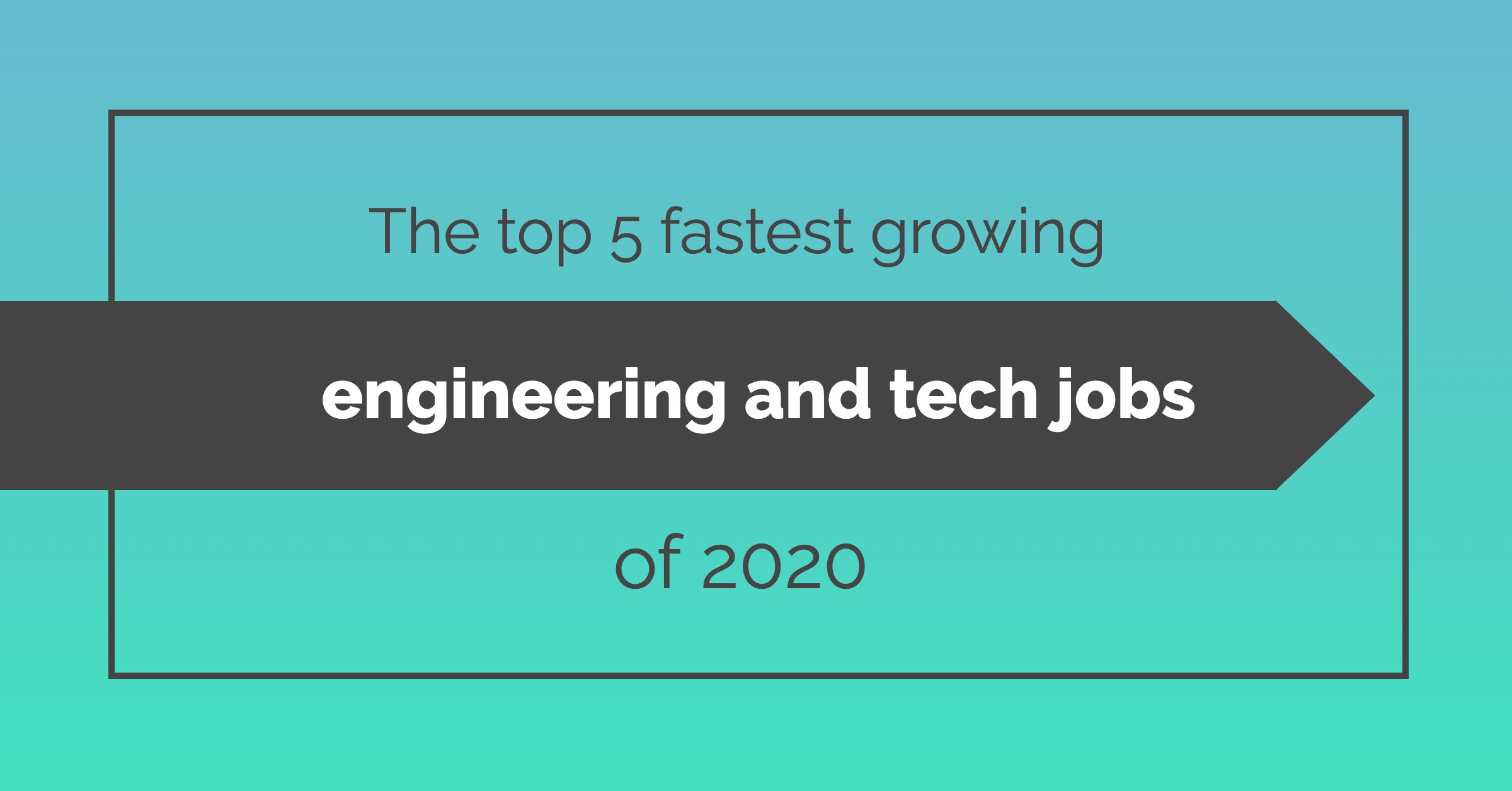 According to LinkedIn's 2020 emerging jobs report, it's a great time to be an engineer. In this recent report, more than half of the top emerging jobs in the U.S. are in engineering fields. For job seekers looking to shift into an up-and-coming career path, it's a good idea to invest in some of the most in-demand engineering skills.
In our research and findings, we gathered information based on salary, annual growth, top skill sets, and industry forecasts to give you a list of the five fastest-growing engineering and tech jobs of 2020.
5. Site Reliability Engineer
Annual growth: 34%
Average base salary: $117,571
Skills needed: Amazon Web Services, Ansible, Kubernetes, Docker Products, Terraform
Site reliability engineers (SREs) are responsible for creating a bridge between development and operations. As Google puts it, the ultimate goal for SREs is to "automate their way out a job." When operations have smooth processes, continuous delivery, and infrastructure automation, you can thank SREs for that.
Much of an SRE's time is spent writing code, building systems, and supporting development teams. As technology impacts the way we work, SREs are in a strong position to fix problems by merging code skills and large-scale systems management together.
4. Full Stack Engineer
Annual growth: 35%
Average base salary: $114,316
Skills needed: React.js, Node.js, JavaScript, AngularJS, Cascading Style Sheets (CSS)
The rising complexity of applications has taken the game of full-stack development to a whole new level. This means full-stack engineers who are knowledgeable in all layers of an application are invaluable assets for any business.
To succeed in this role, full-stack engineers need to have a good command of multiple programming languages, databases, and server systems. Knowledge of diverse coding languages and frameworks will set engineers up for success in a full-stack engineering role.
3. Data Scientist
Annual growth: 37%
Average base salary: $131,389
Skills needed: Python, R, Apache Spark
Data science has topped the emerging jobs list for three years running according to the same LinkedIn report — and for good reason. Data powers many significant transformations in the tech industry as it turns cutting-edge technology into actionable insights. However, organizing the flood of big data isn't a cakewalk. This is where data scientists shine in the limelight.
To thrive in this space, data scientists need solid experience in infrastructure design, cloud computing, data warehousing, and programming languages such as Python and R.
2. Robotics Engineer
Annual growth: 40%
Average base salary: $99,007
Skills needed: Robotic Process Automation, UiPath, Blue Prism, Automation Anywhere
With 40 percent in annual growth, robotics engineers are more in demand than ever. Robotics is changing the global business landscape, especially in retail, logistics, healthcare, mining, and agriculture. According to GlobeNewswire, the robotics market was valued at over 17 billion dollars in 2019, with no signs of slowing down in the future.
Careers in the robotics field can vary between hardware and software roles, but proficiency in computer-aided drafting and design (CAD) tools will give robotic engineers a competitive edge in any role.
1. Artificial Intelligence Specialist
Annual growth: 74%
Average base salary: $146,085
Skills needed: Tensorflow, Python, Natural Language Processing
Demand for AI specialists has risen 74 percent in annual growth over the past four years, with both major chipmakers and startups in need of their expertise to build smart AI applications. There are a variety of paths AI specialists can take, from software development to research scientists, but all play a key role in designing and enhancing computer smart systems.
As innovation drives rapid change in these career paths, every high-impact employee should continually learn new skills to make themselves versatile and useful across disciplines. In all of these industries and positions, it's more important than ever to stay up to date with the latest and greatest happenings in tomorrow's world.