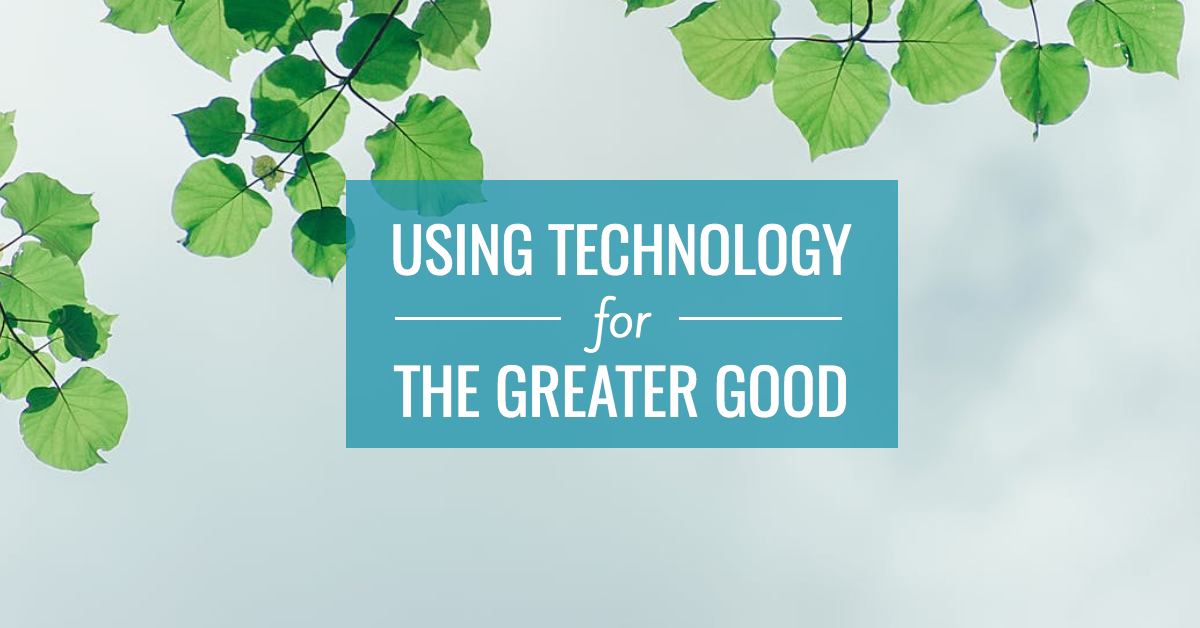 We all know that technology has helped boost workplace productivity, streamline complex systems, and connect us with people everywhere, instantly. However, at its best, technology doesn't just make society more efficient and economically powerful; it also creates opportunities to do more good in the world.
According to McKinsey's Tech for Good report, new technological developments have enormous potential to improve societal, economic, and environmental welfare in over 600 use cases. This isn't a surprise, as recent movements like Global Climate Strikes and carbon-neutral commitments put the topic of sustainability as a top priority. Turning towards sustainable practices also makes good business sense: 88 percent of consumers have expressed willingness to invest more in companies focused on social and environmental impact.
While recognizing the benefits of responsible technology is important, putting it to action is key to make a difference. In this article, we'll explore four major applications where emerging technologies can contribute to the greater good.
Natural disasters
In times of crisis, accurate information and alerts can save lives. That's the goal behind new technologies that make emergency information and disaster alerts more accessible. Google's Public Alerts and SOS alerts use AI (artificial intelligence) to activate more than 200 SOS alerts and tens of thousands of public alerts, which have been viewed more than 1.5 billion times. Additionally, Google's flood forecasting system uses machine learning to create better models that predict when and where floods will occur. For search and rescue efforts, NASA has also developed specialized radar technology, FINDER, to locate people under rubble during times of disaster relief.
Education
Technology is also transforming education by improving learning outcomes, reducing the administrative burden, and closing the gap in underserved areas. GradeScope uses computer vision and AI to grade students' work faster than manual scoring. Students all over the world can now use Google expedition, an AR (augmented reality) and VR (virtual reality) app, to explore new places and ideas without ever leaving the classroom. Labster gives students access to virtual labs via VR simulations to practice their skills in a fun and safe environment. Additionally, virtual schooling offers an accessible learning option for some students not well-served in a traditional classroom environment.
Health
Technologies that improve health outcomes are among the most valuable innovations to consumers. People can now take an active role in their personal health by using wearable devices to monitor their physical activity, heart rhythms, and blood pressure. An emerging solution to healthcare access is telemedicine or telehealth, which enables remote communication with a doctor to enhance care delivery and distribution. According to Regence data, consumers can save $100 on average based on time, mileage and claims cost by using telehealth.
Additionally, AR and VR have revolutionized existing surgical training. With a range of applications like Audmedics' xvision or Medivis' SurgicalAR, surgeons can practice their procedures in complex or unfamiliar cases before taking their skills to the operating room.
Environmental sustainability
When it comes to saving the planet, technology has helped many players across industries take huge strides in sustainability. Retailers and consumer brands are using blockchain to reduce overproduction waste, agricultural impact, and water usage. Farmers can use sensor technology to reduce chemicals in their fields. Currently, AI powers an autonomous floating garbage truck to clean up trash in the ocean. And energy companies like Nnergix and Xcel help improve the accuracy of renewable energy forecasting by using machine learning.
At the start of a new decade, technology is already contributing significantly toward the greater good, with more potential applications emerging constantly. From education to environmental sustainability, innovative technologies can solve some of humanity's greatest needs in unique ways.