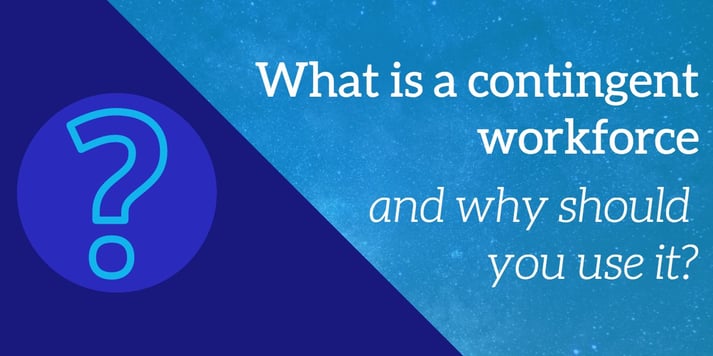 Contractors, also known as freelancers or contingent workers, are employees that are brought in for a short period of time or a specific purpose. They can be used to fill in for an employee who is out for a specific time (such as family leave), or work to support a team just long enough to complete an important project.
Contract employees are not necessarily any more or less skilled than your full-time employees, although they can sometimes have a highly specialized skillset that makes them necessary for a short time. What sets contractors apart from the rest of your workforce is that they are employed in an on-demand capacity. Think of a contingent workforce like a water faucet: you turn it on when you need it, and turn it off when you don't need it any more.
This work situation has increased in popularity in the past decade or so. In 2006, 30% of the workforce was made up of contract workers. Ten years later, contingent labor makes up 40.4% of the total workforce, and that figure stands to continue growing. Some figures estimate that 80% of large corporations plan to increase their use of contractors in the next few years.
There are several reasons for the popularity of this arrangement. One major draw for companies is that hiring contractors allows employers to specify what skills they need, and for what amount of time. For departments that have trouble getting approval to hire another full-time employee, hiring a contractor for a short period of time can be easier to sell to those with budget authority. The ability to only pay for the skills or deliverables necessary makes contingent workers a budget-conscious choice.
Even for companies who are actually looking to hire another permanent team member, hiring contractors can be an excellent way to test whether a potential full-time employee is a good fit with their potential coworkers. Hiring a contractor for a short trial period allows managers to ensure a candidate has the right skills, experience, and personality for the company before committing to bringing them on permanently.
Contract employees often like this work arrangement for similar reasons. They have flexibility to try out different companies for short periods to determine whether they like the culture, management, and goals before settling in and investing a significant amount of time. This also allows them to sharpen certain skills, get more experience, and expand their professional networks.
While the practice of hiring contractors is a convenient and cost-conscious move, it's important to create a mutually positive experience for your company as well as the employee. Because contract employees are often chosen for specific skills that they can bring to a company, many employers assume they can just jump right in on day one and start contributing.
However, it's a good idea to still create a positive onboarding experience. Try to be as welcoming and committed to training and growth with your contractors for the duration of their time with your company as you would be with a full-time hire. Treating contract employees well protects your corporate culture and your reputation as an employer, and can put you in the right position to attract strong candidates in the future. If you can create a positive work experience, your contractors can become great ambassadors about your workplace to other talented people in the field.
The major challenge of bringing in a contingent workforce is keeping a steady supply of warm leads. Sourcing and maintaining an adequate number of highly-skilled candidates to contact when necessary is a time-intensive task. That's where a workforce solutions provider like Talent 101 can help.
At Talent 101, we source strong candidates with a wide array of skills and experiences in the semiconductor industry and maintain relationships with them so that we can connect them with the right job. We can find and deploy the right person for your company, right when you need them.
Subscribe to the CIRCUIT blog to get profiles of some of our highly-qualified candidates delivered right to your inbox, or contact us today to discuss how we can help you find the right person to join your team.