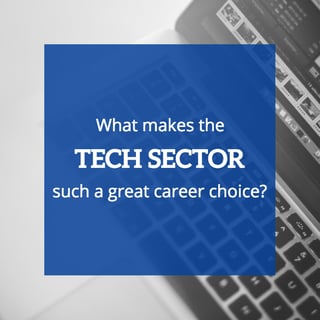 Choosing a career path has always been a daunting task for students. Two of the most important factors to consider at the beginning of a career are unemployment rates and average salary. The tech industry is full of excellent careers to pursue on both counts.

The tech industry, unlike many other fields, has a wide variety of job openings at every level. Graduates fresh out of college generally have an easier time finding work in the tech industry than their peers looking for work in other fields. With an unemployment rate of 2.3% in 2015, the tech sector saw about half the unemployment rates of the US economy as a whole.
Tech jobs are also a lucrative choice for most job seekers. The average starting salary in the tech industry is also in the $60,000 range, making it a higher-paying option than entry-level jobs in other fields. Some careers in the tech industry average six-figures; analog designers, for instance, make an average of nearly $100,000 annually. More seasoned senior designers or engineers in all areas routinely make well over that amount.
For those with a computer science background, software development can be an excellent choice. Even entry-level software development salaries are well over $60,000 on average, with the average salary for software developers at $86,226. Students who have majors and backgrounds in art and design can find their talents in high demand as front-end developers— if they're willing to supplement their skills by learning to code— with average salaries of $74,426, according to Glassdoor.
Within web development, there is high demand for designers who can create visuals that engage users. The field of user experience (UX) has grown so much in the past few years that most web design companies employ at least one or two UX designers to collaborate on most projects. With an average salary of $90,000, and the field of UX still relatively new, this is an attractive option for anyone willing to commit to becoming a user experience expert.
The technology industry has also evolved over the past few decades to require more candidates with traditional business skills. Information technology managers, for whom management skills are crucial, make an average of $112,800 a year.
In a time of such rapid technological development, the tech sector is an ideal place for new graduates or for those looking to change career paths. There is excellent pay and consistent demand for specialists; the only requirement is that every prospective job seeker stay up to date on the latest trends. Knowing how to code is a great starting place, but the tech industry is about more than just 0's and 1's. Candidates with a variety of skills and backgrounds can find themselves well-suited for a job in technology.