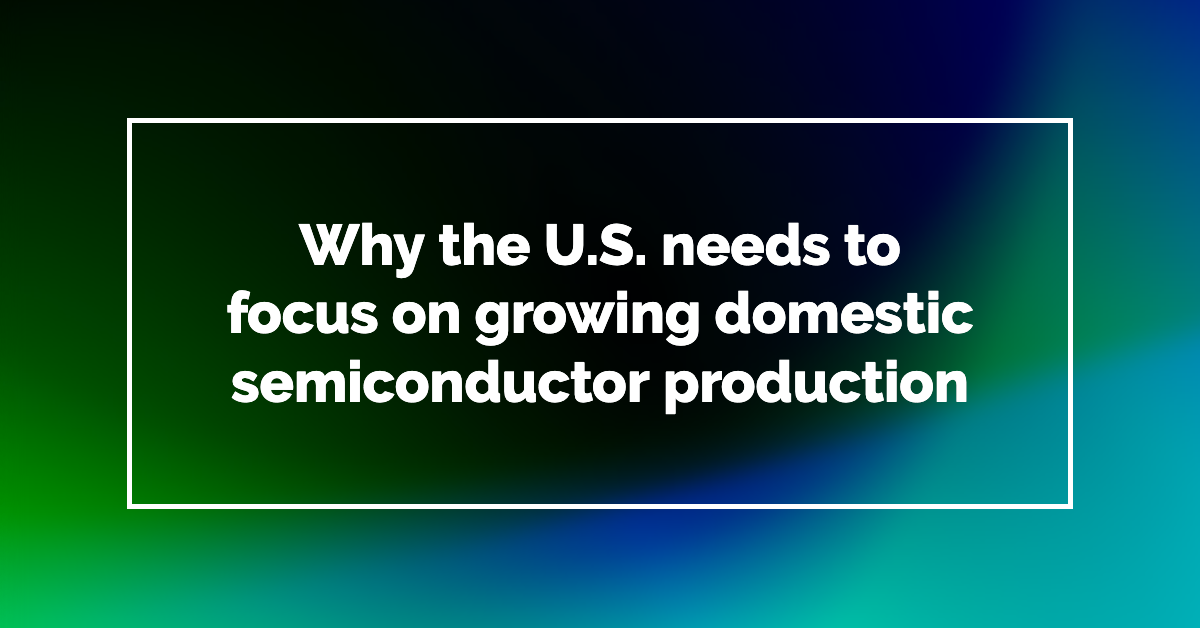 By now, the world is fully aware of the impact of the semiconductor chip shortage — the industry, businesses, and the economy have taken enormous hits. But there is another looming concern that industry leaders say threatens the U.S. semiconductor industry — national security.
The problem, as many see it, is that the U.S. has become too dependent on chip manufacturing in Asia. Both the recent war in Ukraine and long-brewing tensions between countries in close proximity to China are making national security an increasingly urgent issue.
"The U.S. remains dominant in the design, equipment, and materials stage of the chip-making process and is well-positioned for the future," stated Focus Investment Banking. "But we fall woefully short in the actual manufacturing of silicon wafers that are used to make chips."
Democratically ruled Taiwan dominates chip manufacturing in the east. But the country is in constant danger of a takeover by China — "certainly our biggest threat economically and possibly militarily as well."
To offset the imbalance, new investments are being made in U.S. manufacturing by the federal government and by large corporations such as Intel.
Potential geopolitical problems mount
In March, Intel CEO Pat Gelsinger stated that the Russia-Ukraine situation "reinforces the geopolitical instability and the urgency around building supply chains that are geographically balanced across the U.S., Europe, and Asia."
To this end, under Gelsinger's leadership, Intel has made an aggressive push to geographically diversify chip manufacturing. In recent months, Intel has announced massive investments to build new fabs in the U.S. and Europe. Intel also started work last year on two chip factories in Arizona.
Intel wants to build a "far more resilient for the digital future" in the U.S., Gelsinger said. "Everything digital runs on semiconductors, and it is just essential that we build these fabs where we want them."
Intel has invested $100 billion in building chip manufacturing plants in Ohio and $36 billion in building plants in Europe.
Shortages will persist throughout 2022
Naturally, the new plants will take time to build and ramp up production in the complex semiconductor industry. As a result, many experts predict the industry will be facing shortages through the end of 2022 due to multiple variables complicating the recovery at all stages of the supply chain — from chip machinery manufacturers to end-product suppliers.
In late 2021, the world's largest maker of the high-end machinery used to manufacture chips, Applied Materials, said it could not find some chips for its own production due to snags in its supply chain, according to Electronic Design.
"That is the definition of a vicious cycle," noted Chris Richard, supply chain expert and principal analyst at Deloitte. "You can't make more equipment to put in factories because you don't have a chip that gets made in the same factory."
Vehicle manufacturing still struggling
While all digital product manufacturing has been impacted, vehicle production has become a bellwether issue. Due to the pandemic-induced chip shortage, auto manufacturers built 1.7 million fewer vehicles in 2021 than in 2019, according to Consumer Reports.
What's more, the war in Ukraine has disrupted the global supply of neon gas, which is used to make semiconductors. The myriad supply-side factors are causing automakers to pause production in some areas. For example, Toyota announced it would pause production at five Japan-based factories for three months.
"It's looking increasingly likely that vehicle supplies won't return to something we might consider normal until the end of 2022 at the earliest, and possibly well into 2023," said Sam Abuelsamid, an analyst at Guidehouse Insights.
Will demand slow down this year?
While the pandemic lit a match in 2021 to an already growing demand for digital devices, demand is predicted to slow down sometime in 2022, according to Electronics Sourcing. The slightly slower demand and eventual uptick in manufacturing could help ease the pressure on the industry.
"More capacity is coming online which will help alleviate long lead times for some semiconductors and help stabilize prices. Overall, integrated circuit prices will increase 1% in 2022 after increasing 3% on average in 2021."
Clearly, the semiconductor industry will remain one of the most dynamic and important in the world. As the issues ease up, it will be poised to flourish, making it one of the best opportunities for skilled talent.
If your company is looking for talent to help you meet your production goals, don't hesitate to reach out so we can find the right people for your team.