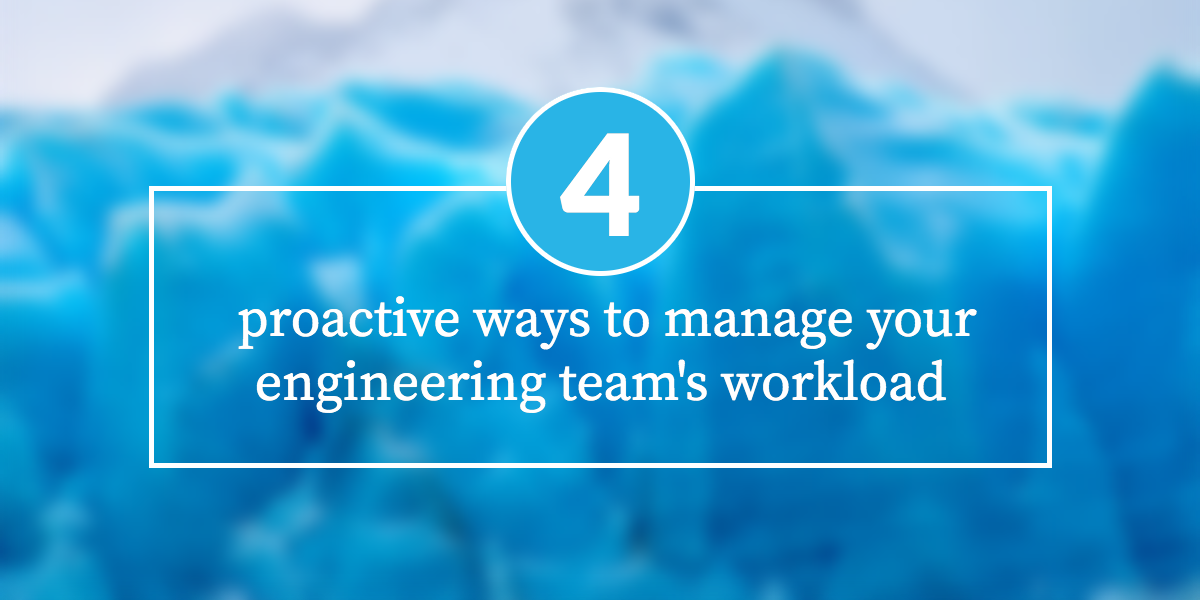 Over the past few years, organizations have had to face increasingly taxing challenges in the tech industry and the labor market. This year is no exception. When the competition for talent is rising and the work in the tech industry becomes more complex, project managers need to make proactive decisions to engage engineers and assess their workload.
With the start of 2020, now is the perfect time to set the right intentions and chart the best course for your team. Here are a few ways to do that:
Assess the team's capacity by setting the right goals
Failure to set the right goals can confuse engineers and mislead project deliverables. Ensure that the metrics you're tracking are tied to the product's purpose. When projects shift and change, it's a good idea to hit pause, recalibrate, and clarify any new direction with your engineers. Make it a company norm to review metrics and goals regularly; this will help teams align workloads and deadlines and celebrate the right wins.
Have transparent conversations
How do you keep engineers motivated and excited in their work when it may be tedious or boring? This isn't a new problem for semiconductor engineers. Many ambitious or talented engineers seek learning, growth, or impact in their career path. It's understandable that they might become frustrated or unmotivated when tasks become uninteresting for long periods of time. It's important for project leaders to recognize that engineers need purpose-driven goals and challenges to keep them on their toes.
Start by having regular one-on-one discussions to check in with your project members and integrate personal or career goals with the work they're doing. Additionally, set up engineers with the right mentorship and guardrails to solve new or complex problems, and provide a clear framework for career promotion or lateral changes for engineers who wish to grow out of their current role.
Foster self-sufficiency in your team
Empowering your team to make decisions is a crucial tool to encourage motivation and productivity. Once a team is accustomed to shifting ownership on all tough decisions, it can become challenging to balance the workload between engineers and managers. Instead, project leaders should aim to equip people with the right resources for confident decision-making. The result is higher engagement, ownership empowerment, and better productivity.
Give your employees full responsibility to make their own decisions by encouraging them to bring their own solutions during code or product reviews. Welcome any opposing thoughts or new ideas to the table and have engineers support their assessments with key tools. In addition to consistent encouragement and feedback, you can also assign key responsibilities to engineers. Explicitly outlining decisions that employees will have to make offers clarity and initiative to their work.
With greater employee self-sufficiency, engineering leaders can create opportunities for engagement, valuable skill-building, and forward movement.
Have a change protocol in place
No project is risk-free, especially for chip engineers, so it never hurts to prepare for the unexpected. Semiconductor operations are full of potential industrial health and safety hazards, and scope creep often impacts engineers' workload on a frequent basis. To manage unforeseen changes, it's helpful to have a change protocol in place.
Start by conducting a risk assessment and develop a strategy to make sure you're prepared. To do this, have an expert or a team determine the scope of the risk, the resources, type of analysis measure, relevant stakeholders, and any codes that may apply. Tackle high-risk items early in your project timeline in case any changes become necessary, and create time buffers around project timelines in case of delays.
With the start of a new year, engineering leaders may want to commit to improvements for their role and their team. Starting off the year in the right direction with these proactive actions can set the tone for future success. For more news and updates in the semiconductor field, subscribe to the semiconductor blog.