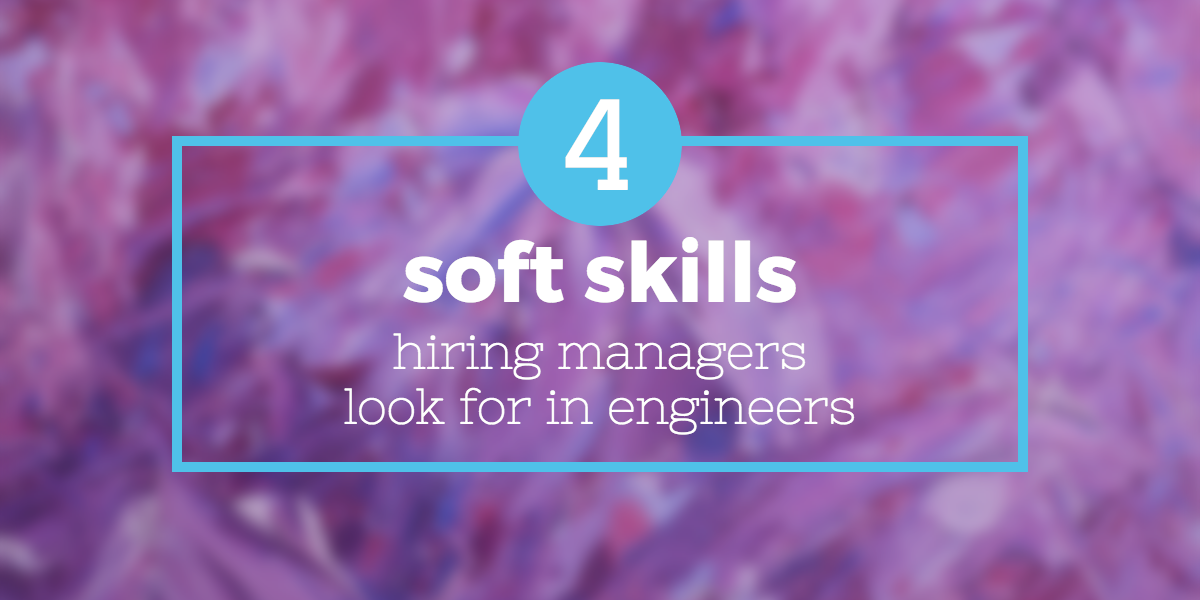 Study after study (after study!) have shown which attributes companies value most in leaders and new hires. The results are clear: soft skills matter.
Devin Fidler, research director at the Institute for the Future, predicted, "As basic automation and machine learning move toward becoming commodities, uniquely human skills will become more valuable." Most modern engineering jobs will require unique and specialized skills, but having technical chops are only half the battle. In the eyes of recruiters, engineers with a healthy mix of technical abilities and soft skills stand out from the crowd.
Let's look at how these four soft skills can give you a competitive edge in the job market:
Communication
It's a common myth that an engineer doesn't need to be a "people person." In fact, engineers communicate with fellow team members, other departments, upper management, and clients on a regular basis. While being a great orator isn't part of the job description, having good communication skills is vital to solve problems and keep the organization in sync.
Engineers take part in brainstorming, project meetings, product design and testing, and problem solving. Effective communication makes it possible to transform requirements into functional solutions. It also ensures consistency and transparency with relevant stakeholders. In a climate of continuous feedback and constant iterations, engineers must be able to coordinate people, tasks, and resources to meet goals. Whether it's conflict resolution, ethical considerations or project collaboration, good communications skills help engineers deliver exceptional work and build healthy relationships with people.
Adaptability
Innovation waits for nobody. The workforce of the future will need to adapt to new technology and markets. Engineers who can keep pace with changes in the industry will thrive.
When things don't go as planned, engineers need to be able to roll with the punches and look for alternative solutions. Mistakes and obstacles arise with almost any project. Resources can be depleted, and essential team members can call in sick. Often, workloads shift around, and engineers have to take on different roles and responsibilities. Rather than pushing forward with an inadequate strategy, the best engineers will have a broad understanding of different approaches and a strong capacity for change.
Critical thinking
Thinking is skilled work. Without a structured process of thought, engineers may resort to assumptions and biases that misguide their work. Engineers need a sound approach to shape decisions, present ideas, and make recommendations for a variety of circumstances and problems.
Critical thinking skills give engineers the ability to analyze a concept and present objective proof for their ideas. It's self-directed, self-disciplined, self-monitored, and self-corrective thinking. Critical thinking helps engineers produce their highest quality work. To grow and enhance this skill, engineers should:
Ask questions to gather relevant information

Evaluate all available data relevant to a problem or circumstance

Collaborate with fellow team members and ask for feedback

Generate a variety of possible implementations and determine the best solution

Review the results and make changes where it's possible
Creative problem solving
Problems exist for a reason: they aren't easy to solve. And sometimes the best solutions aren't the obvious ones. Engineers have to be creative and use their knowledge, tools, and expertise to solve the world's biggest problems.
Creativity is the quality of making, inventing, or producing imaginative ideas into reality. Starting with a broad consideration of all kinds of approaches, novel or unconventional, will help engineers solve problems faster, better, and cheaper. But engineers don't just respond to existing issues, they also think outside the box to predict and prevent future problems.
While all engineers use codes and standards, creative engineers use "what if" or "I wish" thinking to spark creativity in the process and design of new products.
The industry never stagnates
...and neither should you. The evolution of technology, market complexities, and demographic shifts constantly shape and impact the world of work. Knowing what mix of skills and experience they'll need in the future helps engineers stay ahead of the game right now. Engineers who train their interpersonal muscles will see major personal and career success across any industry and role.
For more advice and updates about what's happening in the semiconductor space, subscribe to our semiconductor blog.