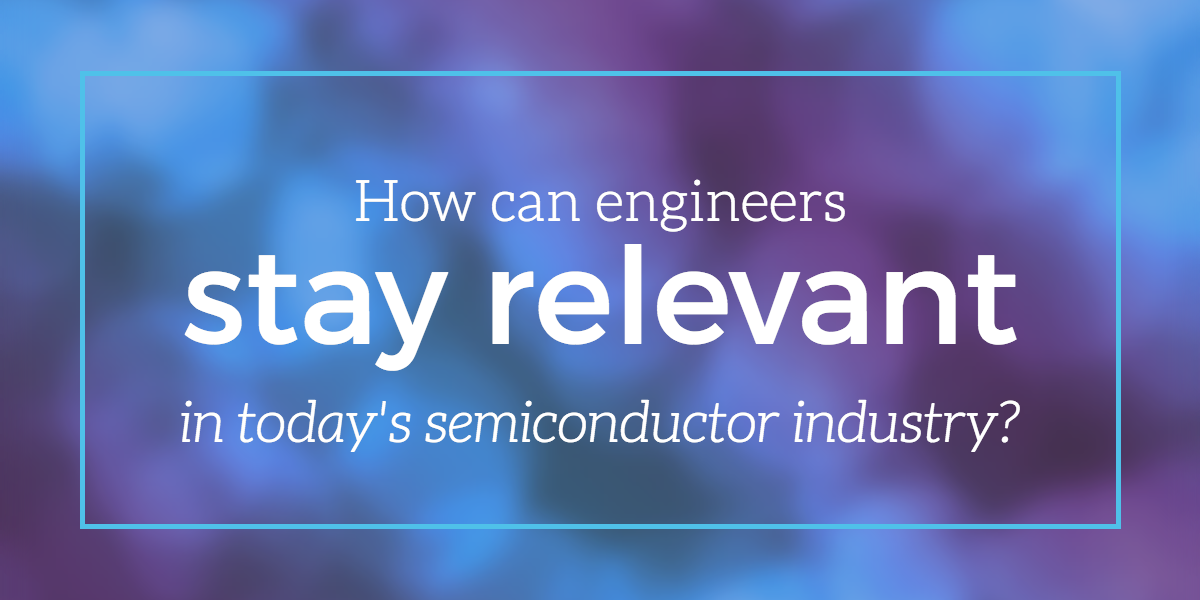 Engineers, developers, and designers must keep up with technology for the same reason any professional keeps up with technology—to stay relevant in the job market. But with the fast-paced world of advancements and competitive labor markets, it can certainly be a challenge to keep up.
In this article, let's explore three simple ways for engineers to take advantage of growth opportunities and sharpen their skills in the world of work.
LEARN
It's time to wipe off the rust and build on what you know. Keeping up with the latest and greatest happenings is easy if you climb upwards from the fundamentals. As a key player in the semiconductor space, nothing stays the same when everything seems to ask for innovation-on-demand. The best goal you can have for yourself is the commitment to make yourself better. But engineers and developers don't have to go back to school to keep their skills up-to-date. Here are several ways engineers can learn without the expense of another degree:
Conferences and meetups
Whether it's the well-known veterans and companies of the trade, or the learning opportunities with community peers, immersing yourself in what you do can be rewarding and enlightening. Attending gatherings—from large, exciting conferences to intimate, local meetups— is a great way for enthusiasts to share tips, learn, and pick the minds of experts in your field.
To check out engineering, usability, design, or programming niches, peruse

meetups

in your city.

Consider conferences that fit your current and future interests and endeavors. Think about what you want to get out of it—brushing up on core concepts or trying out the newest tech?
These assemblies help you learn about job opportunities and keep you informed about new technology and practices. With specialized workshops and training, conferences and meetups are a great way to apply hands-on knowledge and digest insights.
Online courses
When you need to coordinate different programs and use skills in tandem, you're bound to run into skills you don't have in your arsenal. With educational tech on the rise, the emergence of MOOC (massive open online courses) offers a convenient way to meet the market of online, remote learners. Online learning sites like Udemy, Udacity, and Coursera transfer knowledge, skills, and best practices for students to be well-equipped in their field.
At work
Put skills and initiatives to the test where you practice your profession. Use opportunities in your career to learn the business and communicate effectively as an industry leader. Don't just rest on company's laurels; propose a new project or take the lead on a new assignment. As organizations value soft skills in the hiring process, the ability to collaborate with others and network with industry professional weigh heavily on future ventures. Work the room, and ask your fellow developers and mentors how to solve a problem and honor it by listening and working together.
CONNECT
Depending on your field of expertise and career path, connecting with other like-minded professionals pushes you ahead of the game. Sharing your knowledge and working with others is one of the best ways to hone your skills. From online communities to open-source platforms, here are some places to contribute beyond your work and stay connected with gurus:
Github

: If you're an engineer or developer, GitHub may sound familiar. Each user holds their own profile, which acts as a resume of past work and contributions to other projects. Post examples of your applications, seek help from fellow developers, and follow interesting work to inspire and spark new ideas.
Reddit

: Self-proclaimed as the "front page of the internet", Reddit is the hub of interesting, zany, and relevant content. Check out career threads on subreddits like

/r/AskEngineers

or resources and news like

/r/programming

or

/r/technology

. In addition to posting questions and helping other members, engineers and tech enthusiasts may discuss trends, ideas, and career insights with each other.
Slack

: A platform for team communication and collaboration. True to its purpose, Slack is a collaboration hub that extends communication to workspaces around the world. Need help with something? Take a gander at these

slack communities

ranging from testing and QA to programming and hardware.
Social Media:

LinkedIn

and

Twitter

are some of the best ways to connect with influencers and experts in your discipline. Following your favorite people and organizations gives you a personalized feed of relevant content. Having a profile not only puts your best face forward with a resume-ready portfolio, but also forges a brand that allows you to build an online presence.
READ
Start adding more bookmarks to your browser, because we've got reading materials for your gain. With a lot happening in daily news, you should be keeping tabs on what's happening in the chipmaking and tech industries. Some news sites to peruse through include:
InfoQ

: A

community news site focused on facilitating the spread of knowledge and innovation in professional software development.
DZone

: Hundreds of free publications including

programming, web development, and devOps news, tutorials, and tools for beginners to experts.
Hackernews

:

A social news website focusing on computer science and entrepreneurship.
Stay up to date with semiconductor industry news, trends, and educational resources when you subscribe to the Semiconductor blog. Skilled job seekers can go the distance in the field equipped with the right knowledge and tools of the trade. Whether it's navigating through:
Knowing the today's market and tech complexities will help you grow and find opportunities in the future.