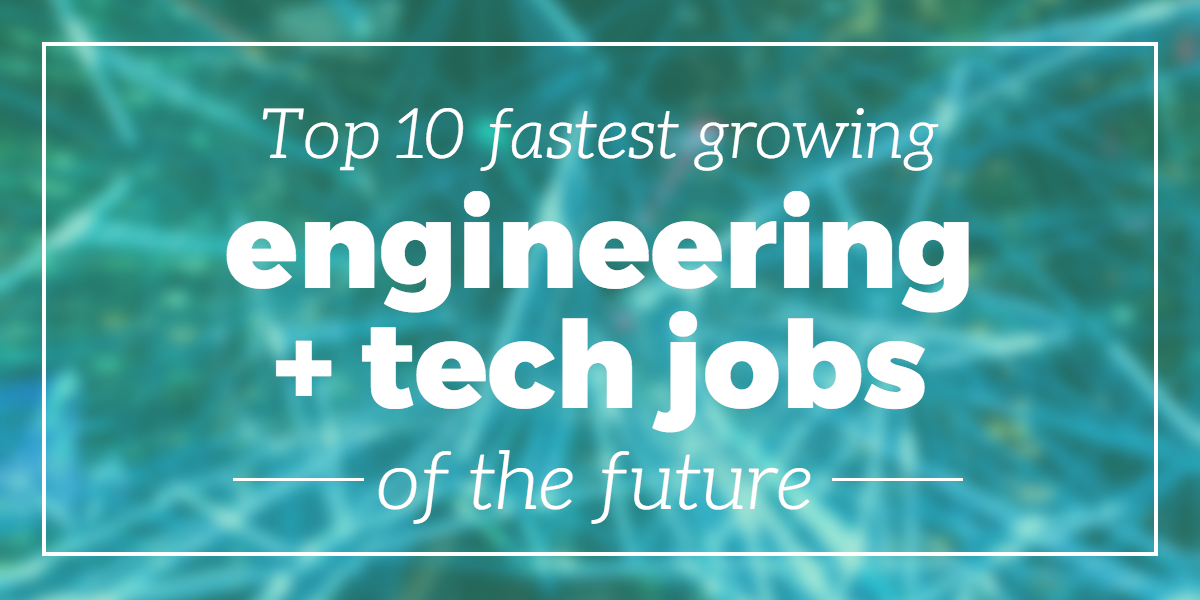 Ever wondered which engineering or tech jobs are in-demand this year? Thanks to the Bureau of Labor Statistics (BLS) and US News, we have an idea of the hottest gigs emerging in 2018.
Last year, we laid out the 10 most in-demand jobs and skills in engineering in 2017. With 2017's four percent employment increase in the semiconductor field, we head into 2018 with a projected growth of seven percent overall employment increase. According to the BLS, employment is projected to increase by 11.5 million over the 2016 to 2026 decade.
Keeping up with our latest research and findings, we gathered information from reports and handbooks to give you an idea of the best in-demand engineering & tech jobs. To determine this list, experts selected jobs with the largest projected numbers of openings from 2016 to 2026 as determined by the BLS. High median salary, low employment rates, significant growth scores, and higher job prospects ratings are also considered.
Top 10 Best In-Demand Engineering & Tech Jobs in 2018
10. Architect
Employment growth between 2016-2026: 4%
New positions generated: 5,100
Architects build the places you eat, sleep, shop, dine, and learn. They are visionary builders grounded in reality. Architects plan and design houses, factories, office buildings, and other structures. Using their design, management, and technical skills, they create purposeful spaces in different scopes from libraries and schools to airports and parks.
The BLS predicts their growth rate of four percent during the ten year period. Demand for architects endures steady growth especially in traditional areas such as commercial, government, residential, and other construction projects. As population ages and conservation needs arise, healthcare facilities and sustainable design will heed the value of architects. Advancing technology also affects the architect workforce. Digital design and informational modeling are valuable skills for an architect to expedite projects.
9. Computer Network Architect
Employment growth between 2016-2026: 6%
New positions generated: 10,400
Also known as Network Engineers, Computer Network Architects design and build data communication networks, from larger cloud infrastructures (likes LANs and WANs) to smaller intranets to serve multiple customers. Network architects need to know the ins and outs of business plans and objectives to manage budgeting network design, staff training, and system upgrades.
According to the BLS, the computer network architecture profession is growing at a rate of six percent from 2016 to 2026, resulting in 10,400 potential new jobs. As organizations expand their IT networks, they'll rely on network architects and engineers to build new networks and improve existing ones. With the popularity of cloud computing, the need for this profession will increase.
8. Mechanical Engineer
Employment growth between 2016-2026: 9%
New positions generated: 25,300
Mechanical engineers research, design, develop, build, and test mechanical and thermal sensors and various devices. Thanks to innovations like 3-D printing and new developments of engineering materials like carbon fiber composites, mechanical engineers have an exciting future ahead.
According to the BLS, employment in the field is expected to grow by nine percent between 2016 and 2026. This generates around 25,300 new positions. With a solid understanding of tools like MATLAb, Ansys, and CATIA, aspiring mechanical engineers can expect a promising future in new industrial pursuits such as automation or robotics. Nanotechnology, architecture, and remanufacturing will also offer opportunities for employment growth as semiconductor talents strive to innovate computer chips.
7. Computer Systems Analyst
Employment growth between 2016-2026: 9%
New positions generated: 53,000
Computer system analysts live in the intersection of business and information technology. They study the organization's computer systems and procedures, and design solutions for organizations to run more effectively and efficiently. These professionals also oversee program upgrades, new installations, systems tests, and IT training for their organization. Computer systems analysts mingle with different departments as they collaborate closely with stakeholders for technology customizations.
In this profession, BLS predicts nine percent employment growth with 53,000 jobs opening up. The future of computer systems analysts looks fruitful as more organizations and businesses rely on information technology to support their work and management. Smaller companies will more likely hire cloud service providers or specialized IT service providers for contract work. This job growth thrives in data processing, hosting and computer systems design industries.
6. Civil Engineer
Employment growth between 2016-2026: 11%
New positions generated: 32,200
Civil engineering is a broad field, dipping into multiple specialties. They design, build, supervise, operate, construct, and maintain infrastructure projects and systems in the public and private sector. This includes roads, bridges, water, and energy systems as well as airports, railways, and tunnels. From the beginning of design to construction and oversight to completion, civil engineers have a hand in every step.
Employment of civil engineers is projected to grow 11 percent from 2016 to 2026. A whopping 32,200 new positions will open up. There are future challenges that will demand the talents of civil engineers. The American Society of Civil Engineers' (ASCE) 2017 report finds that the nation's infrastructure averages a "D", implying a "strong risk of failure" and poor conditions. Given these circumstances, the call for civil engineers will be needed to manage, repair, and upgrade structures. In addition, renewable-energy projects such as building solar arrays and wind structures will beckon more workers.
5. IT Manager
Employment growth between 2016-2026: 12%
New positions generated: 43,800
You depend on your IT manager to fix your devices in an ever-increasing digital workplace. They also have to coordinate technology related software and upgrade releases for a company. Aside from having technical chops, they also negotiate with vendors for the service or purchase of products and outline strategic technology solutions.
The BLS expects this profession to grow 12 percent between 2016 and 2026. That generates 43,800 new positions. While high-profile jobs are in computer systems, almost every industry needs IT managers. The opportunity for this growth lies with organizations needing new and faster security upgrades to prevent cyber threats.
4. Petroleum Engineer
Employment growth between 2016-2026: 15%
New positions generated: 4,900
Petroleum engineers design and develop methods for extracting oil and gas from deposits deep beneath the Earth's surface. They also seek new methods for extracting oil and gas from older wells. Often, petroleum engineers work with geoscientists (or other specialists) to understand geologic formations and determine drilling methods and equipment for operations.
During the period of 2016 to 2026, the profession is slated to grow 15 percent, which shakes out about 4,900 new jobs. Employment growth depends on oil prices. If the prices are high, oil and gas companies may increase investment in new facilities and expand existing production operations. Companies will also look to expand exploration for new reserves of oil and gas.
3. Cartographer
Employment growth between 2016-2026: 19%
New positions generated: 2,400
Cartographers make maps for a living. They collect, measure, and interpret geographic information to produce maps and charts for regional planning, education, emergency guides, and other purposes. The age of storytelling is not lost upon mapmakers. Cartographers prepare web mapping using programming languages and mapbooks with data-driven pages. Their talents may involve programming, database management, and spatial analysis.
The BLS projects this profession to grow by 19 percent from 2016 to 2026. This results in 2,400 new jobs over the ten-year period. In the age of digital and intelligent technology, the demand for accurate maps across web-based platforms is growing. Cloud-based services, open source resources, and user experience design will drive this job growth.
2. Software Developer
Employment growth between 2016-2026: 24%
New positions generated: 302,500
Software developers are the masterminds behind the products you use every day. They develop the applications that allow people to complete specific tasks on a computer or electronic device. From checking bugs to collaborating with other developers and designing models for an integrated system, software developers wear multiple hats besides designing programs.
The BLS reports the employment of software developers to grow 24 percent from 2016 to 2026. Over the ten year period, 302,500 jobs will open up for application and system software developers alike. Software developers are in high demand as the need for new applications and computer software increases. In the near future, health and medical care need innovative technology to manage digital policy enrollments.
1. Information Security Analyst
Employment growth between 2016-2026: 28%
New positions generated: 28,500
An information security analyst is the guard between the user and security risks. They plan and execute security measures to protect an organization's computer networks and systems. These professionals secure against cyberattacks, hacks, and infiltration, which are becoming more commonplace.
Employment within this position is expected to grow 28 percent within the ten year period, with about 28,500 jobs opening up. With growing security breaches and headlines heeding caution, the demand for information security analyst is expected to skyrocket. Sectors such as financial institutions, healthcare facilities, and corporations will need to increase their security to safeguard client and patient confidentiality. As the adoption of cloud services increases, the need for information security analysts will grow.
Stay Plugged In…
Skilled workers equipped with the right knowledge and tools of the trade can go far in the industry. While these rankings show promising growth in these careers, the evolution of technology, demographic shifts in the workforce, and today's market complexities continuously shape and impact the world of work. Across all of the industries and positions, it's crucial to stay up-to-date with the latest and greatest happenings in tomorrow's world. Amid these elements, the semiconductor climate moves forward with optimism and opportunities for innovation and growth.
Looking for highly-qualified candidates to fill vacancies in your organization or work on an upcoming project? Check out our Talent Circuit where we have a rolling database of top talent in the semiconductor industry updated throughout the week.