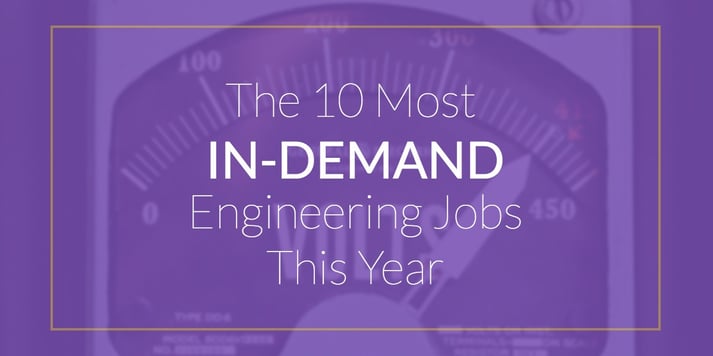 Great news for engineers: your skills are in demand and job availability is increasing. The Department of Labor projects employment of engineers in the US will grow by 4% from 2014 to 2024. While technology advances and the economy continues to rebound, more companies need engineers to achieve their mission objectives.
We gathered data from reports and whitepapers along with our own customer needs to bring a list of the most in-demand engineering jobs and skills in 2017. This field is experiencing a considerably lower unemployment rate compared to other industries in the United States. However, hiring an engineer can be a lengthy process— a vacancy that takes the longest time to fill compared to positions in other industries.
Randstad, global provider of HR services, and other HR experts weighed in on the most promising jobs in semiconductors and engineering in a recent report. In this article, we will take a look at ten jobs and the recommended skills for success in the recruitment process. To determine this, experts looked at number of qualified candidates and the positions that are available, salary range, employer demand, and market growth.
The 10 most in-demand jobs and skills in engineering this year
Validation Engineer
Through measurement, analysis, and calibration, validation engineers test the systems used to develop and manufacture products and ensure quality in manufacturing results. Validation engineers often work with medical and pharmaceutical equipment. As the economy grows, experts expect businesses to increase production which could lead to an increase in validation engineering positions in the coming year.
Employers are looking for validation engineers skilled in Python, Process Validation, Quality Assurance (QA), Good Manufacturing Practice (GMP), and C/C++. Randstad recommends certifications in Six Sigma Green Belt (SSGB), Design for Six Sigma (DFSS), ISO Standards (ISO), and Accreditation Board for Engineering and Technology.
Embedded Software Engineer
An embedded software engineer designs and develops software that works with hardware for devices with time and memory constraints. In October 2016, Randstad reported nearly 1,500 job postings for embedded engineers in US metropolitan areas, with a promising 15% suspected increase in job growth this year.
Employers are looking for embedded engineers skilled in embedded software and systems development, C/C++, Linux, and Python.
IT Security Engineer
Today, cybersecurity is a growing issue for businesses. Companies will turn to IT security engineers to develop and implement strategies to protect their data. IT security engineers combine operational security with software engineering to develop architecture for secure and protected systems. The Bureau of Labor statistics expects an 18% increase in the number of IT security engineers by 2024.
Employers are looking for IT security engineers skilled in computer science, web-related protocols, File Integrity Monitoring, and data loss prevention. CCRI Certification is a plus.
Layout Engineer
The work a layout design engineer does can vary greatly depending on the specific field or project in which they're working. In the semiconductor industry, layout design engineers are typically working with the design of the PCB or the semiconductors themselves. Work with integrated circuit layout can be divided into two subcategories: analog and digital.
Employers are looking for layout design engineers skilled in Cadence Virtuoso, CMO, Digital Signal Processor (DSP), System on a Chip, ASIC, Digital to Analog Converters (DAC), Phase Lock Loops (PLL), VHDL, and SystemVerilog.
Software Engineer
Software engineers develop computer software by applying principles of engineering, computer science, and mathematics to the design and development of the software. As more companies grow in the tech space, more employers are looking to fill these software engineer roles.
Employers are looking for software engineers skilled in Java, C/C++, SQL, Linux, and XML.
Robotics Engineer
Robotics engineers design and develop systems to control robots and research opportunities to expand the application of robots. Robotics engineers need strong creative problem-solving skills and proficiency in computer programming while keeping up with technological trends. According to Randstad, as of October 2016, there were less than 5,000 potential candidates in the workforce. We can expect that number to increase over the next few years as the available jobs increase by more than 20%.
Employers are looking for robotics engineers skilled in C/C++, Python, MATLAB, Machine Learning Techniques, and Linux.
Controls Engineer
A controls engineer designs, develops, and manages complex systems that are automated in order to perform actions without human interaction. Combining engineering and mathematics, a controls engineer works to make complex systems work efficiently and predictably.
Employers are looking for controls engineers skilled in AutoCAD, instrumentation, MATLAB, supervisory control and data acquisition, and Simulink.
Site Reliability Engineer
A relatively new addition to engineering roles, site reliability engineers, or SREs, developed out of a marriage of software engineering and operations when Ben Treynor Sloss was tasked to run a production team at Google. Essentially, SREs develop software systems to solve complex problems.
Employers are looking for site reliability engineers skilled in UNIX system internals and networking, Linux, Python, Bash, Apache, and Shell Scripting.
Construction Project Manager
A construction project manager plans, executes, and oversees construction projects to completion, including managing teams, budget, and time constraints. Thanks to the rebounding economy, construction projects are increasing in the U.S.—and these projects need an engineer to manage them.
Employers are looking for construction project managers skilled in quality control, quality assurance, AutoCAD, scheduling software, and project management software. To make themselves competitive, candidates should have certification in the following: Occupational Safety & Health, Administration Certification, Project Management Professional (PMP), and a Professional Engineer (PE).
IT Project Manager
An IT project manager (like a construction project manager) plans, executes, and oversees projects to completion. They manage teams, budget, time constraints, and other aspects of IT projects while also researching and implementing strategic IT solutions.
Employers are looking for IT project managers skilled in computer science, data center management, quality management, quality assurance, and scheduling and project management software. We also recommend the following certifications: Project Management Professional (PMP), Projects in Controlled Environments (PRINCE II), and Information Technology Infrastructure Library (ITIL).
Are you looking for highly-qualified candidates to fill vacancies in your organization or to work on an upcoming project? See our Talent Circuit, updated throughout the week with top talent in the semiconductor industry.
-