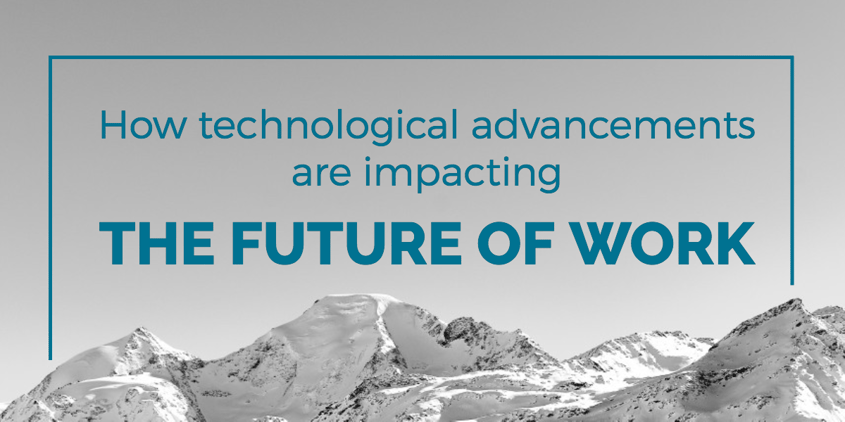 Today, emerging technologies join us at our hips. We walk around with the latest smartphone in our pockets, connected to smart homes and smart vehicles, with access to the cloud everywhere we go. As chip innovation grows, the scope of its technological counterpart affects our jobs. Take a look around, and you'll see these changes all around you: self-driving trucks, workflow engines, and self-service kiosks.
With the onslaught of new technology, many worry about the threat of a jobless future. But that's not the whole picture. Automation helps us accomplish specific tasks; complementing our workload and freeing our time to focus on other projects. It provides a stepping stone to even greater advancements.
And it doesn't stop there. Technology and automation don't just advance our work—they change the way we work.
Our next job may require a new set of core skills uncommon in today's workforce. In the future, an older, diverse and more educated labor force will make up our workforce DNA. Developments in emerging technology such as AI, machine learning, 3D printing, and robotics transform the way individuals, organizations and public policies govern work. At the helm, players like Google, Amazon, Microsoft, and Apple joined the battle of chips— driving innovation and revolutionizing our work and living spaces. Together, these elements breed implications for the Future of Work.
That buzzword, "the Future of Work," completes the sentence of every emerging technology conversation. This suggests the story isn't conclusive; it's much more exhaustive. As we're undergoing a fundamental transformation, the future of work asks us to consider important questions. What changes are taking place with new innovation? What is our place in the automated world? What can we do to prepare for the future?
If it seems like you're swimming in a current of multiple forces, you're not alone. We're living in a multidimensional world with breakthroughs sensationalizing our news feed everyday. In this article, let's look at how the "Future of Work" came about, what it may look like, and how we can respond to it.
Forces shaping our future
To understand our circumstances, we need to explore some of the factors impacting our ecosystem.
Technological advancements
Digital technology is more abundant, accessible, and adaptive than ever before. With such rapid changes, more human tasks will become automated. According to McKinsey, about 60% of all occupations have at least 30 percent of activities that are automatable, based on current technologies. While the flux of emerging technology improves lives, raises productivity, and offers room for personal fulfillment, the question of equal economic and social conditions remain ambiguous. As noted in the PWC Mega-Trends Analysis, artificial intelligence, augmented reality, blockchain, and 3-D are some of the many maturing technologies that push the complexity of our workforce dynamics.
Shifting demographics
The supply of workers is rapidly evolving as a result of the size, distribution, and age profile of the world's population. The rising popularity of encore careers and the increasing average retirement age will affect business models, talent management, and pension costs. Due to changing policies and cultural priorities, a more diverse workforce has taken center stage. Major tech companies have already set examples of diversifying by reporting statistics, partnering with organizations that promote underrepresented voices, and restructuring hiring practices.
Rapid urbanization
Seattle, San Francisco, Washington D.C., New York, and Austin have been meccas for technological innovation. Think Google, Amazon, Facebook, and a whole slew of startups we may know as the bigwigs of tech today. Migration to megacities around the world gains traction as these hubs drive innovation, capital, and resources. The duality of both rapid urbanization and sophisticated technology sparks a significant increase in the world's population moving to live in cities. Take a look at the cities vying for Amazon's HQ2 and the impact that will have on the winning location.
Amazon says HQ2 will add 50,000 jobs to the chosen city along with $5 billion in investments.
Workforce implications
Not all industries are created equal. As these forces shape our future, we also need to address how this affects different fields, professions, and growth. According to a PWC study, four worlds will emerge in the wake of increasing technological advancements by 2030.
Let's take a look at how technology reshapes working conditions, talent acquisition, and values within the four realms.
Red World: Innovation
On-demand takes on a whole new meaning in the red world. Organizations strive to hand people what they need in that instant. In alignment with innovation and winning ideas, highly-skilled workers are most sought after. In this world, technology and big data power new products and encourage constant refinement of business models. Larger companies use AI and talent strategists to search for the next serial entrepreneur.
Yellow World: Humans
The yellow world embraces and celebrates humanness. A strong sense of purpose unifies members of the yellow world. Its future workers gravitate toward companies driven with meaning and relevance. These socially responsible organizations reap rewards through ethical and fair practices. Emerging technology helps lower barriers to entry and provides access to global markets and capital. Companies leverage innovation to communicate values and ideas in hopes of attracting the right people to their field.
Blue World: Corporations
In the blue world, corporate is king. Capitalism reigns, and organizations seek power and influence over the collective good. High performing employees are in demand despite the use of automation and AI for enhanced productivity and heavy data. A breed of elite super-workers will grow as the need to maximize exceptional human capital is continually measured.
Green World: Sustainability
Social conscience, environmental responsibility, and human rights shape the green world. In this landscape, companies focus on purpose over profit. To address their commitment to cause, the heart of their strategy centers on sustainability and regulations. Automation and machine learning are crucial elements in their green agenda. This technology allows them to reduce their carbon footprint and cut environmental waste. Because travel is a heavy contributor to climate change, workers adhere to efficient methods of transportation as well as ethical compliance.
So what does this all mean for…
Individuals?
You don't learn to work anymore — you work to learn. Individuals should engage in ongoing training and reskilling to continue in life-long education. When career changes become the norm, mid-career retraining will be critical in professional development. As personal success becomes dependent on adapting to changes, lifelong learning is imperative.
Organizations?
To live with the company of machines in the workplace, organizations need to redesign for technology and learning. Leaders should equip employees with technology, encouraging machine-human collaboration. It's wise to reassess workforce strategy as data becomes paramount to measure shifting demographics, digital innovation, and workforce composition goals.
Policy makers?
It's necessary for policy makers to reevaluate legal and regulatory policies to keep up with the pace of changes in the future of work. Because of increasing contractor work, governments might consider redefining employment contracts for health, pension, and social benefits. As entrepreneurship grows, updating regulations smooths the transition to a contemporary economy. Public institutions should focus on facilitating ongoing education across all employees including marginalized populations and older generations.
It may seem that technological growth is running faster and smarter than our human capabilities. In truth, the relationship between machine intelligence and human capabilities can solve the world's most pressing problems with creative problem solving. This new age will likely lead to a change of rules for work, the workforce, and the workplace. Like all revolutionary chapters, we have to learn, grow, and adapt to the advances that work for the betterment of humanity. While the impact of digital technologies seems unsettling, the Future of Work has the choice to evolve alongside new realities of innovation.