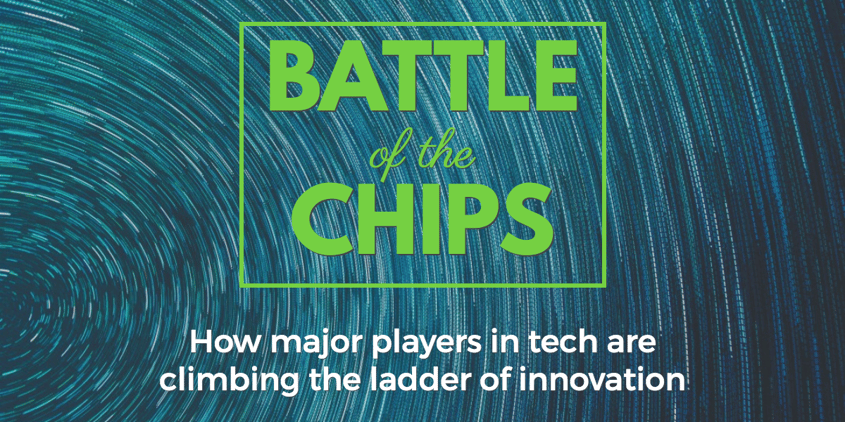 For the major players in the semiconductor industry, everyday is a race—a battle of the chips .
Last month, Samsung became the world's largest chipmaker in revenue. Before, Intel held that prestige for several decades. As AI, deep learning, and machine learning take the world by storm, chipmakers capitalize on future technology. Last year, Nvidia reported an 82% increase in shares when they repurposed their chips from gaming rigs to machine learning. As a result, their capabilities in the AI space and innovative technology cultivated their title as the "smartest company in the world" by MIT. Amid the crowd, Intel invested $15 billion in MobileEye, which produces technology for self-driving cars. AMD released a new line of processor chips that delivers greater performance on cloud and machine intelligence workloads.
The whirlwind of emerging technology is dizzying. Especially when power players are vying to be champions of the chips. Creating the cutting-edge technology for tomorrow's world is a feat that's mobilizing fast despite technical challenges. Many new technologies need specialized chips to process huge quantities of data. Leveraging large data centers and GPUs, like those championed by Nvidia and AMD, gives companies the upper hand to train AI operations in a sensible time frame. As they're racing ahead, established powers have entered the field with software and hardware packaged together. With the democratization of AI, enterprises seek to make mobile devices, operating systems, or the cloud the ideal platform to build new software using AI.
How are the major players climbing the ladder of innovation?
Google
Google created its own chips called Tensor Processing Units (TPUs) made to run machine workloads faster to process its open source software library, TensorFlow. The opportunity resides in its energy efficiency, which uses less power than standard GPUs. Recently, Google allowed select companies to use their AI chips via their cloud platform, albeit in limited quantities.
Microsoft/Partnerships
Microsoft and Amazon decided to raise the stakes with their own open-source deep-learning library. In tandem, the two launched Gluon, which enables coders to build and train neural networks. At the end of 2017, Microsoft and Qualcomm revealed that Windows would begin running on Qualcomm's Snapdragon mobile chipsets. This would give PCs the brain of a smartphone and the long battery life of a laptop, boasting "all-day battery life" and lower power drainage.
Apple
Apple's in-house chip design currently develops its A-series application processors. Their newest A11 Bionic chip manages facial, image, and speech recognition including its audio products such as Airpods and Beats headphones. As a result, they tighten their integration without depending on third-party vendors.
Amazon
Amazon's cloud service, AWS, rolled out a new batch of AI tools aimed to help developers build smarter apps. AWS doubled down on AI with four services:
Amazon Transcribe can transcribe speech into clean, time-stamped text files.
Amazon Rekognition tracks people, movements, and objects in real-time video feeds.
Amazon Comprehend detects positive or negative sentiment in text.
Amazon Translate uses deep learning to translate text in seven different languages.
While these four technologies are not earth-shattering, the goal is to provide new developers with the tools to innovate within Amazon's cloud platform. The firm also launched an AI development platform called Sagemaker. This platform is a service that provides a framework for developers to build and train their own neural networks. Equipped with Sagemaker, DeepLens is a programmable video camera intended for users to understand the capabilities of AI when combined with hardware.
But the uphill climb to innovation comes at a price. In the beginning of 2017, Apple and Qualcomm engaged each other in a lawsuit over Qualcomm's licensing practices of Apple's baseband chips. While Apple is suing the chipmaker in three different countries, Qualcomm continues to fight back with countersuits.
As technology grows more complicated, security weaknesses become possible. Researchers discovered two major flaws, "Meltdown" and "Spectre", in hardware. These security holes could infect the processors across all electronic devices, and allow hackers to exploit sensitive information. For devices using Intel, AMD, and ARM chips, this leaves software companies scrambling to address threats.
Can these chipmakers and tech giants sustain their place in the race for newer, faster, and smaller chips? There's no doubt competition creates new possibilities despite whoever is on top of the food chain. But for the sake of humankind, how can we address the implications of new technology for those who work with it?
Subscribe to the blog for updates in next part of the series, where we'll discuss how this all impacts the Future of Work.