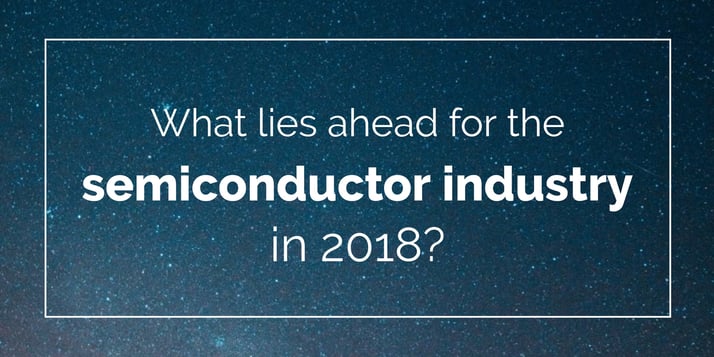 It's been 50 years since Intel's co-founder Gordon Moore gave us his prediction that would become a rule for chipmakers: the number of transistors per square inch on an integrated circuit doubles every two years. In recent years, Moore's Law seemed to be shaking hands with the Grim Reaper in the world of semiconductors. Many questioned what would happen to the industry when Moore's Law reached its end.
Yet, not only has the industry been able to sustain through the final years of the law, but also flourish seeing record setting growth for the global market. So what can we expect from the semiconductor industry in 2018? Let's weigh in on what experts are saying about the semiconductor industry this year.
Consolidation
We saw the trend in mergers and acquisitions in the semiconductor industry spike in 2016. And after a short lull at the beginning of 2017, the M&As came back strong. Companies engage in these mergers and acquisitions for several reasons, usually to increase scale and diversity in their businesses. With 2017's IPO disappointments like Snap, Inc. and other market conditions, expect more M&As in 2018. While Qualcomm rejected Broadcom's initial buyout offer worth $130 billion, Broadcom has not given up the fight to acquire the semiconductor and telecom equipment company. We will see how that plays out in 2018, as Qualcomm still finalizes its $47 billion acquisition of NXP semiconductors announced in late 2016.
In a recent report, Susquehanna Financial Group analyst Christopher Rolland noted, "With debt still relatively cheap, we think the consolidation trend will continue in 2018, and perhaps accelerate as many serial acquirers have reduced leverage and may be looking to strike again." Market experts like KeyBanc Capital Markets predict Cypress Semiconductor, Teradyne, Ambarella, Silicon Labs, Nanometrics, and Micron Technology to be among the companies to be acquired in 2018.
IT Security
After the security breaches of 2016, many of us hoped 2017 would be different. We believed cyber security would be a top priority for companies to mitigate risks of future security breaches. While some companies did take steps to make this a priority in 2017, we still saw devastating hacks on Equifax, Uber, and OSHA, to name a few. It's clear not only how significant this issue is, but also how difficult it can be to implement a strong and effective cyber security strategy. As hackers become smarter and IoT grows in popularity among businesses and consumers, IT needs to become more secure. Currently, IT security cannot keep up with the rate at which IoT devices are falling into the hands of consumers who are often naive to the security risks and their ability to lessen those risks with something as simple as changing a default password.
This increased vulnerability means we need more strategic design, an adaptive security architecture to act as a bridge between servers and the cloud, and an increased expertise in cyber security in the workplace. In 2018, we expect to see more IoT devices made secure by design rather than products that need retroactive security.
Tech
Artificial Intelligence has become a buzzword spreading its reach beyond the tech world. There's been a lot of talk of the future and the possibilities AI could bring. In 2018, conversations will shift from what will be to what is now. AI is here, and the push to utilize it will only grow stronger in 2018. As Analog Devices CEO Vincent Roche says, "AI at the edge will begin transitioning from a novelty to a norm through innovation related to low-power processing."
Autonomous vehicles and IoT in the automotive industry will continue to be a major driver for semiconductor growth this year. IC Insights reported that the automotive sector of the semiconductor market will be "the strongest end market for chips through 2021." From a consumer level, we're seeing more and more cars include electronic and 'smart' components that need semiconductor content. In 2018, more business will likely follow the lead of UPS and PepsiCo and pre-order Tesla's all-electric semi-trucks. While these Tesla trucks will not be in production until 2019, more companies will recognize the cost-saving and environmental benefits of these alternative fuel vehicles, boosting the demand of semiconductors.
While the semiconductor industry experiences massive growth, it hasn't all been for bigger, better products and smaller chips. Tech as a whole has been recognizing its role in helping better the world and the people in it. In an inaugural celebration and program launch, Tech for Global Good honored five Laureates for their social innovation and humanitarian projects that use technology as a tool to address critical humanitarian needs. The Tech Museum of Innovation will also have an exhibit showing films about the five Laureates to "show how real people used technology to create innovative solutions to problems on a global scale." From crisis text hotlines and medical data collection to software that enables people with disabilities to communicate, tech as a whole is turning to solve global problems—and the semiconductor industry will play a role in that social innovation.
Keep up with semiconductor industry news, trends, and educational resources when you subscribe to the Semiconductor blog.