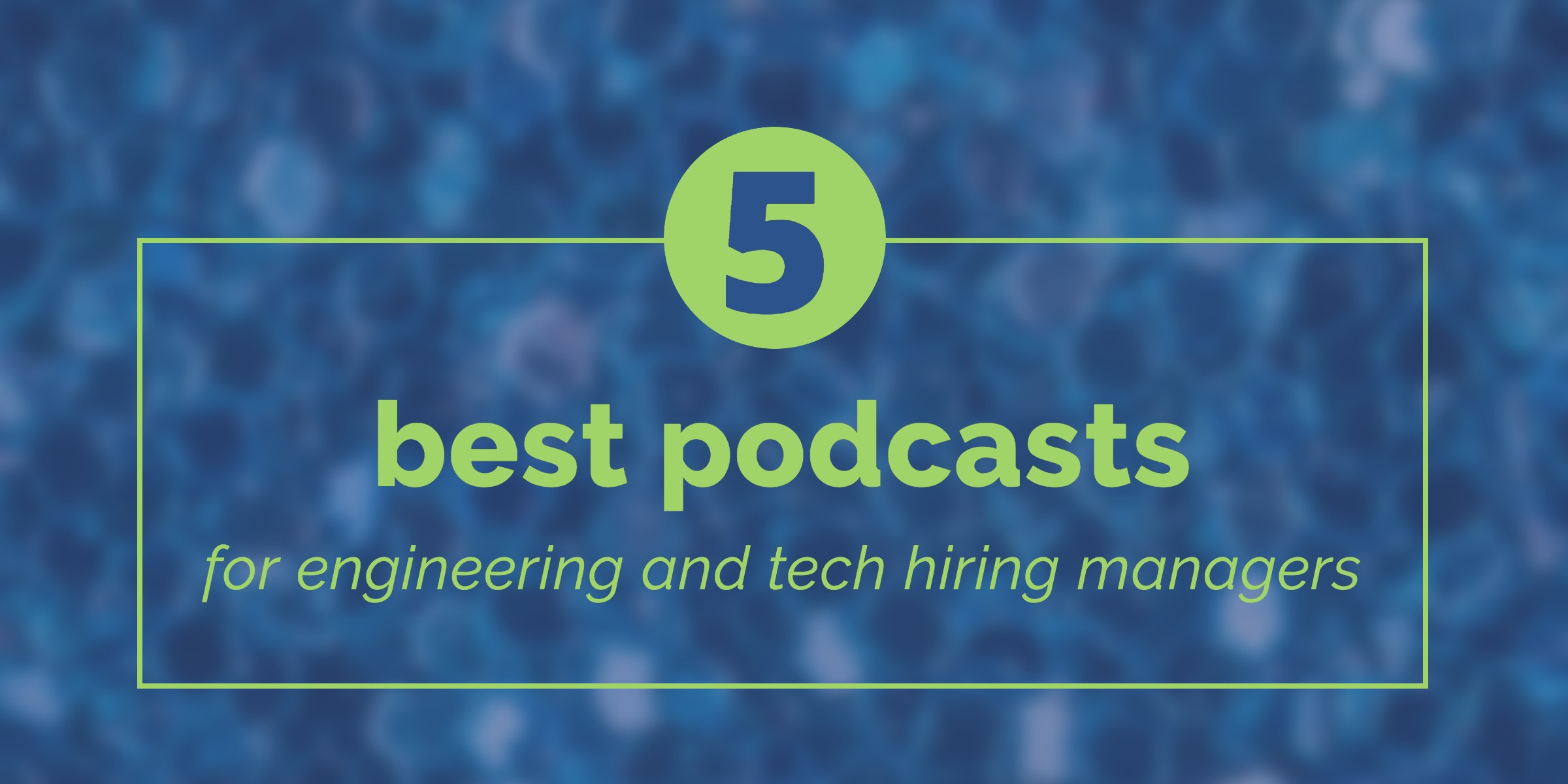 The best leaders and managers are always looking for ways to sharpen their skills and gain fresh perspectives. Aside from attending conferences, workshops or exploring the internet, there's another channel of discovery and education that's popular with passionate learners: podcasts.
Whether you're commuting to work, working out, or taking a lunch break, podcasts are an incredibly economical and convenient way to invest in yourself and transform your day. With hundreds of topics from popular culture, comedy, education, politics, sports, technology, and more, there's no limit to what you can learn as an avid listener—or as a professional hiring manager.
Here are a few reasons why tapping into podcasts is a great way to power your expertise:
The benefits add up to a worthwhile investment in the long run. While there's no shortage of noise in the digital space, podcasts promise direction and guidance in stories and conversation.
Pop in a pair of earbuds because we've prepared a list of the five best podcasts for engineering and tech hiring managers to sculpt management and leadership skills.
Recruiting Future
Hosted by recruitment marketing expert Matt Adler, Recruiting Future is a weekly podcast dedicated to innovation and futurology in recruitment and HR. With Matt's killer interviewing skills, his conversations touch upon valuable skills for the future, job market automation, recruiting challenges, potential technology opportunities, and more. From HR leaders to authors and CEOs of agencies and companies, the show is loaded with intuition from different experts—all packed in 20 to 30 minutes.
We recommend these episodes:
HR Happy Hour
HR Happy Hour is the longest running and top downloaded HR podcast, and for good reason. Spanning from a wide variety of topics like human resources, management, leadership, and workforce technology, HR Happy Hour is hosted by Steve Boese, the Co-Chair of the HR Technology Conference and Trish MacFarlane, author of the HR Ringleader blog. As gurus of the HR world, the hosts discuss interesting and informative topics with innovative companies and leaders. Shows range from short and sweet to thoughtful and comprehensive. Perfect for long commutes or coffee breaks, any episode will surely give you something to think about.
We recommend these episodes:
Hiring on All Cylinders
Entelo, a technology company specializing in recruiting automation software, built out its very own HR podcast with in-depth topics from hiring and recruiting to everything in between. Hosted from the people at Entelo, Rob Stevenson and various members of the talent team sit down with movers and shakers in the HR industry to examine trends, challenges, and solutions to some of the industry's most pressing questions. Notable guests such as the Director of Talent Acquisition of Hillary Clinton's presidential campaign or former Google SVP of People were in previous featured episodes.
We recommend these episodes:
HBR IdeaCast
Harvard Business Review (HBR) takes their brilliant publications to another level in their intuitive podcast show, IdeaCast. HBR IdeaCast is a weekly podcast featuring thought leaders in business and management. Although not always specifically about recruiting or hiring, talking points explore matters of human awareness, psychology, emerging trends and technology, leadership qualities, company culture, and much more. As HBR editor Sarah Green Carmichael navigates listeners around ideas, trends, and tools for growth, anyone can benefit from these episodes to become effective contributors and leaders.
We recommend these podcasts:
Nine to Thrive
Nine to Thrive is a podcast produced by the Human Capital Institute. The show features experts and practitioners discussing the latest trends and strategies of talent recruitment and management. Leaning toward a more scientific approach, each episode is akin to a short case study, which helps managers put their knowledge to practice in tactical steps. If you're looking to level up your game, give this show a go to snag actionable insights for your organization.
We recommend:
Listening to podcasts can be a great solution to maximize your productivity and optimize for time. As an HR or hiring manager professional, you're often busy focusing on organizational goals and core competencies. But staying in tune with relevant industry trends, tools, and approaches will not only help you grow but also prepare you with the right knowledge and skills to push you forward as a better leader. At Talent 101, we bring you the know-how to help you achieve goals in pursuit of excellent talent management.