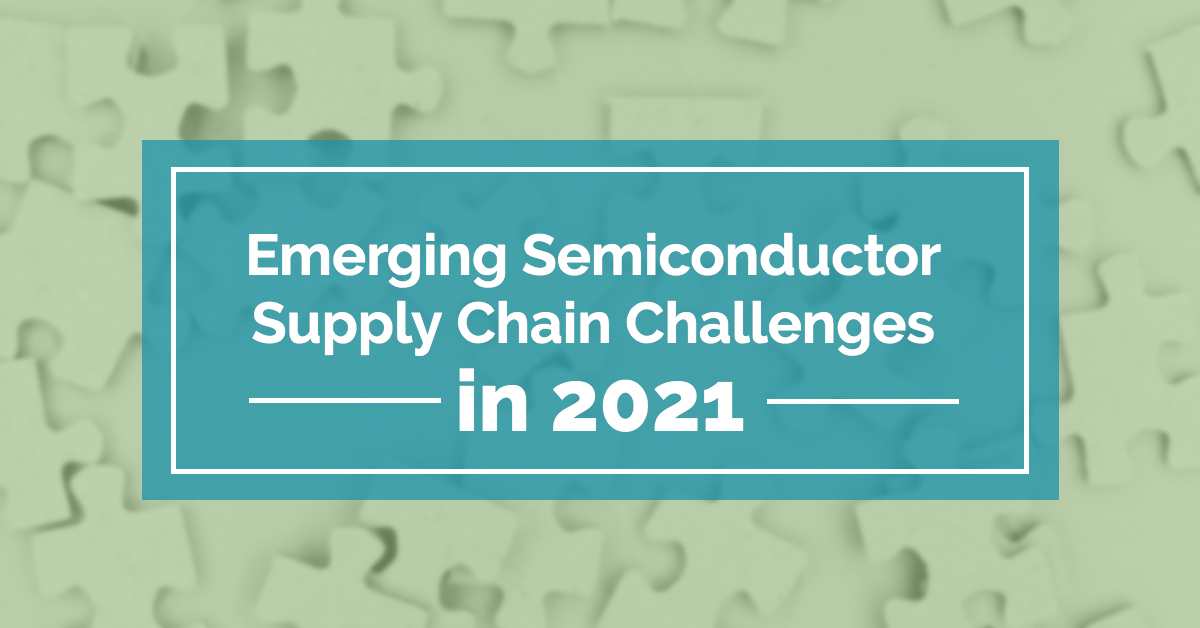 When the world went into lockdown, it quickly became clear that no industry would be exempt from the impact of the pandemic— including the semiconductor industry. In 2021, chip manufacturers and suppliers face more challenges than ever before, juggling both ongoing and new problems that impact the supply chain network.
Here are three emerging challenges in the semiconductor supply chain in 2021, and what to do about them:
Counterfeit chips
Counterfeit chips threaten the integrity and reliability of products. Unfortunately, the counterfeit chip market is growing with a worldwide value of 75 billion dollars according to Semiengineering.
Counterfeiting chips involves relabeling chips or replicating and reselling them. It also includes providing defective or used parts from scrapped assemblies to manufacturers. Since semiconductors are used in military devices and medical equipment, using fake semiconductor projects can have a dangerous impact on the health, security, and safety of users. Additionally, it can also damage manufacturers' productivity and reputation.
Counterfeiting can occur when Original Equipment Manufacturers (OEMs) turn to unreliable suppliers or vendors in times of panic. Once fake chips are created, it's difficult to track them in the supply chain. With pressure to meet deadlines and customer demand for quality products, semiconductor leaders can't afford to inspect each device without risking delays and cost.
While not all solutions are fail-proof, there are several ways to combat fake chips. Some manufacturers use yield management software to collect and analyze the test data for each node of the operation. Other companies rely on computer vision cameras and blockchain technology to trace and identify fakes.
Geopolitics
Increasing tensions between the U.S. and China have also raised the stakes in the global trade and technology conflict.
In May 2020, the Trump administration passed a rule to cut off U.S. chip supply to Huawei without a license granted by the U.S. Department of Commerce. Since this restriction, European allies and other major economies have been under pressure to curb 5G rollouts with Chinese chip providers. A separate U.S. initiative is aimed at encouraging Taiwan Semiconductor Manufacturing Company (TSMC) to build facilities on American soil, escalating strain for Taiwan and China, who rely on TSMC for fabrication.
If the U.S.-China tech tensions persist, they may delay the digital transformation of industries, widen the digital divide, and even affect the production of military and medical equipment. Keeping a pulse on the political and technology dynamic in U.S.-China tech cold war will help chip leaders stay in the know for emerging company, market, and global supply chain risks.
Component shortages
In the months after COVID-19, shipment delays and factory closures everywhere led to global shortages of supplies and critical parts.
For the automotive industry, the worldwide outbreak led to a staggering drop off in sales but rebounded in the third quarter with electric vehicles (EVs) as a key driver of the recovery. In 2021, market analysts project an increase of 70 percent year-over-year. While the resurgence in auto production spells good news for the chip industry, the disruption in the supply chain had shorted the availability of components. Consumers can expect auto prices to fluctuate and limited vehicle capacity as a result throughout 2021.
Fifth-generation data networks also hit setbacks in 2020 with delayed releases and revenue gaps. Yet disruptions were short-lived as mobile connectivity, telehealth, and entertainment increased demand for 5G applications. GlobeNewswire reported 47 percent growth in 5G by the end of Q3 in 2020. And according to Canalys, analysts predict 5G phone shipments to grow by 95 percent in 2021. Like the automotive market, the market conditions for 5G technology will remain tight with limited wafer and substrate capacity.
With society's deep reliance on semiconductor devices, the impact of supply chain disruptions can have lasting effects. But anticipating threats or risks can help company leaders determine how to best mitigate them, by localizing production, coordinating inventory, or making other changes.
Want more on the latest on semiconductor operations and forecasts? Subscribe to the Talent 101 semiconductor news blog.